Did Alt-Right Tank 'Star Wars: The Last Jedi' Rotten Tomatoes Score? Trump Fan Unhappy with 'Feminist Agenda' and 'Gay' Luke Skywalker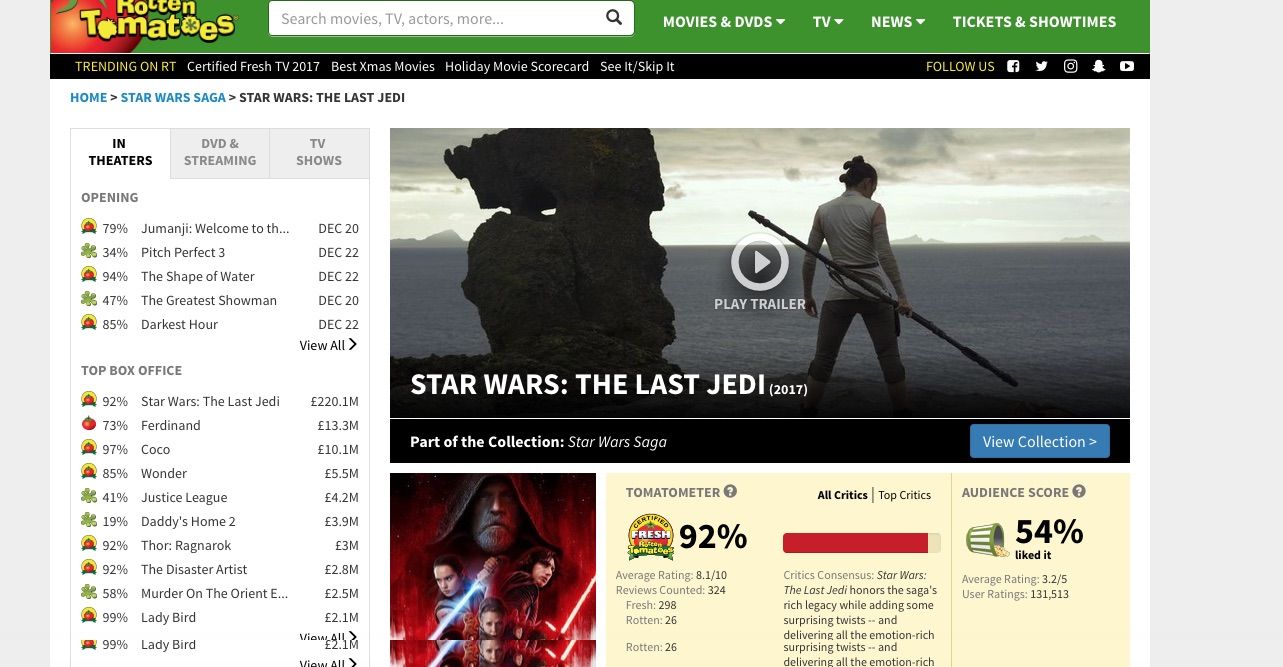 Did the "alt-right" tank Star Wars: The Last Jedi's Rotten Tomatoes audience score? That is what one person has claimed, anyway.
A disgruntled Star Wars fan who runs an anti-Disney Facebook page has said he deployed spam bots to leave negative reviews of Last Jedi, which, despite critical acclaim, has a dubious audience score of 54 percent on the review aggregation website. In comparison, 2015's Star Wars: The Force Awakens scored 88 percent approval from fans and last year's Rogue One: A Star Wars Story received an 87 percent positive reaction.
The unnamed man claiming responsibility for the low score told the Huffington Post he is unhappy with Star Wars' "feminist agenda" and the perceived emasculation of lead characters Luke Skywalker—played by Star Wars veteran Mark Hamill—and Poe Dameron, played by Oscar Isaac.
The self-professed alt-righter decried the emphasis on female protagonists, saying Poe Dameron was a "victim of the anti-mansplaining movement" and that Poe and Luke Skywalker were emasculated in the movie and were therefore in danger of being "turn[ed] gay."
On the Facebook page Down With Disney's Treatment of Franchises and its Fanboys, the man bragged on December 17 that he was responsible for Last Jedi's low audience score. He said he used fake accounts via Facebook to post negative reviews.
"Thanks to friends of mine who taught me a thing or two about Bot Accounts, I used them to create this audience score through Facebook accounts created that subsequently logged into Rotten Tomatoes who rigged this score and still keep it dropping," he wrote.
As for his reasoning, the Down With Disney founder told HuffPost: "Regarding female heroes: Did you not see everything that came out of Ghostbusters? That is why. I'm sick and tired of men being portrayed as idiots. There was a time we ruled society and I want to see that again."
Rotten Tomatoes vice president Jeff Voris said the website is skeptical about Down With Disney's claims. "These things happen from time to time where somebody opportunistically seizes on a moment and says, 'Oh, that thing? Yeah, I did that,'" he told HuffPost.
On Tuesday, a spokesperson for Rotten Tomatoes told Forbes that they had no reason to be suspicious of Last Jedi's audience score.
"We have several teams of security, network, and social database experts who constantly monitor reviews and ratings to ensure that they are genuine," spokesperson Dana Benson said. "They haven't seen anything unusual with The Last Jedi, except that there has been an uptick in the number of written user reviews submitted. Aside from that, everything is normal and we don't see any unusual activity. We looked at The Last Jedi compared to other blockbusters and it has been consistent with those past films."
In spite of some fan backlash, audiences are continuing to flood theaters to see Last Jedi. The movie opened last weekend to $220 million in the U.S. and another $230 million around the world.
As of Thursday, Last Jedi has topped $500 million worldwide in just under a week of release.