Did AR-15 Sales Surge After Uvalde? What We Do Know, What We Don't
From the Fact Check team at Newsweek
As devastating new details from the Uvalde school shooting continue to emerge, lawmakers are debating how the rifle used to kill 19 children and two adults at Robb Elementary School, Texas, should be sold.
Calls for bans and massive tax hikes on weapons, including the AR-15 assault rifle, have faced steady resistance, as has the push for stricter regulations, such as proposals to increase the minimum age for purchasing the weapon.
In spite of the swathes of the negative media coverage in the wake of Uvalde, some claim sales of the AR-15 have skyrocketed, reinforcing its reported popularity among gun owners.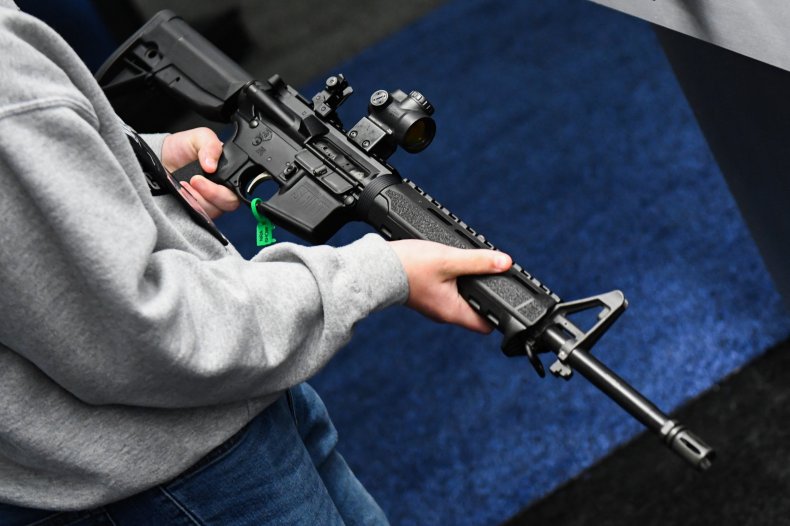 What We Do Know, What We Don't Know
On June 6, 2022, Nick Adams, a conservative commentator who refers to himself as "PRESIDENT TRUMP'S FAVORITE AUTHOR," tweeted that sales of AR-15s were "through the roof right now."
Since it was posted his tweets have received more than 15,000 interactions. Newsweek contacted Nick Adams for comment.
Although not stated explicitly, the timing of the tweet suggests he is referring to sales of AR-15s in the aftermath of the Uvalde shooting as debate rages about guns in America.
The suspected Uvalde shooter, Salvador Ramos, bought two AR-15 rifles after his 18th birthday (the earliest opportunity he could do so legally), which he then used at Robb Elementary.
Coverage of the incident repeatedly mentioned the weapons used, which drove public discussion in the days after the killings.
But despite the critical coverage across mainstream media, some outlets reported a counterintuitive trend emerging.
One news story, by ABC news affiliate 11Alive, posted on June 3, 2022, claimed a gun retailer in Georgia had seen a 30 percent increase in sales the week after the Uvalde shooting, with the number of assault rifles sold tripling.
A man identified in the article as a store manager said: "Especially first thing this morning, folks were waiting at the door to purchase AR-15s."
While this may be where Adams' sourced his claim, the news report was entirely anecdotal, only supported by the claim of one retailer. Furthermore, the report was isolated to one store in Georgia, which may not reflect a nationwide (or even statewide) trend.
Past studies have also shown that mass shootings (and ensuing debates on tightening gun control) have resulted in temporary, mostly localized spikes in gun acquisitions, though the longer-term effect on the nationwide weapons sales figures is still debated.
The 2017 study by Studdert et al concluded that more "research is needed to examine whether repeated shocks of this kind lead to substantial increases in the prevalence of firearm ownership."
But another study highlighted 2012 as a watershed moment, from which a clear link between shootings and gun sale spikes began to emerge. "Gun sales are more frequent since 2012, with an additional increase following both mass shootings and legislative changes enacted in response to these shootings," its authors concluded.
Regardless, the most recent publicly available and relevant AR-15 sales data does not show the purported spike in gun sales after Uvalde and is at best inconclusive.
Namely, data available through the FBI's National Instant Criminal Background Check System (NICS), which estimates the number of background checks carried out for weapon sales, does not appear to support Adams' claim.
The data comes with some caveats, stating that figures "do not represent the number of firearms sold," as due to varying state laws and purchasing regulations "a one-to-one correlation cannot be made between a firearm background check and a firearm sale."
It also uses broad definitions to classify weapons and does not include records about individual weapon types or manufacturers.
Under these definitions, the AR-15 is a "long gun," being a "weapon designed or redesigned, made or remade, and intended to be fired from the shoulder... to use the energy of the explosive in (a) a fixed metallic cartridge to fire a single projectile through a rifled bore for each single pull of the trigger..."
As it stands, there were 365,102 "long gun" checks in May 2022, the lowest number recorded since July 2019 (267,906). Total firearm sales across the U.S. have been on a downward trend for at least a year, according to the NICS data, after skyrocketing through the first two years of the pandemic.
These data alone don't necessarily invalidate Adams' claim: AR-15 purchases may well have increased against plummeting sales of other "long guns," or perhaps data for June, once available, will show a different picture.
For now, however, there isn't enough evidence available to support the gun sales "gone through the roof" claim or corroborate other sale spikes reported following Uvalde.
Unless Adams has access to data unavailable elsewhere, his claim remains unsubstantiated.
Newsweek has contacted AR-15 manufacturer Daniel Defense to ask if it had seen a recent rise in sales since Uvalde. Newsweek has also contacted the National Shooting Sports Foundation for national sales data.