Did Curt Schilling's Political Views Cost Him a Red Sox Reunion?
The 2004 team will always hold a special place in the hearts of Boston Red Sox fans as the group that broke an 86-year wait for a World Series title.
The Red Sox, however, appear to have no intention to associate themselves with one of the pivotal players of that team—Curt Schilling.
The 51-year-old wrote himself into Red Sox and baseball folklore in Game 6 of the 2004 American League Championship series when he played with a torn ankle tendon sutured back into the skin in what has since become known as the bloody sock game.
Despite the impromptu procedure, Schilling pitched well and the Red Sox secured a crucial win at Yankee Stadium to level the series at 3-3 on their way to become the first—and so far only—team in MLB history to win a postseason series after trailing 3-0.
Terry Francona's men then swept the St. Louis Cardinals in the World Series to claim a first title since 1918, securing their place in Red Sox's history.
However, Schilling is now seemingly persona non grata in Boston. On Wednesday night, the Red Sox invited players from the 2004 team to throw out the ceremonial pitch for Game 2 of the World Series against the Los Angeles Dodgers at Fenway Park.
David Ortiz, Pedro Martinez, Kevin Millar, Tim Wakefield, Jason Varitek, Keith Foulke and Alan Embree all made an appearance but Schilling was nowhere to be seen, despite the fact he lives in the area.
According to Dan Shaughnessy of The Boston Globe, the Red Sox did not invite Schilling.
"We did not reach out to him, but it was not out of spite," Shaughnessy quoted a Red Sox executive as saying.
" It was originally just going to be Pedro and David and Wake and Millar, but we heard from a few others and they are included."
The omission left many Boston fans puzzled, particularly as last year Schilling was invited to take part in the celebrations of the Red Sox team that won the 2007 World Series.
While the Red Sox are yet to offer any details behind their decision—and might in fact not do so at all—the suggestion Schilling was not invited because of his political views was immediately floated.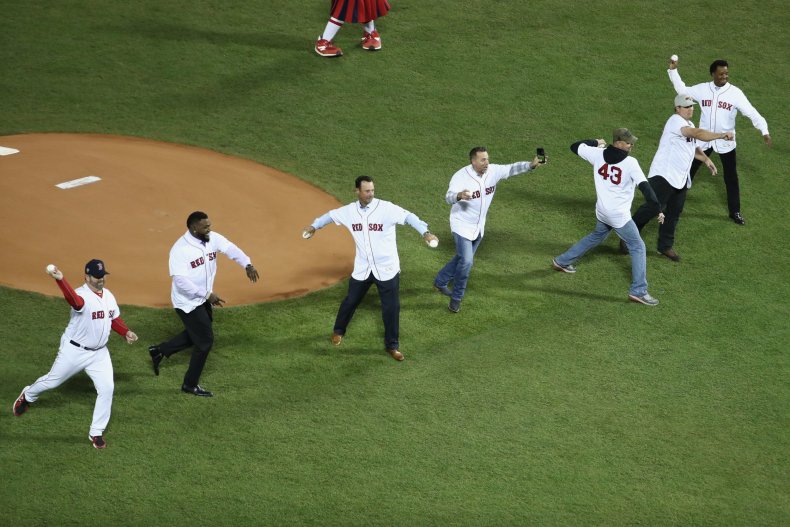 In December last year, Schilling invited Paul Nehen as a guest on his Whatever it Takes radio show hosted on far-right outlet Breitbart.
According to news website ThinkProgress, in the weeks leading up to the interview Nehen regularly used the phrase "It's OK to be white," which has been adopted as a motto of white supremacists, including former KKK grand wizard David Duke .
The report also added that Nehen, a congressional candidate at the time, had also promoted his candidacy on Gab, a social media network that caters to white nationalists whose app was banned by Google and Apple for hate speech.
Breitbart swiftly deleted the podcast and distanced themselves from Nehen who used to write for the website. Steve Bannon, the former White House advisor who formerly served as executive chairman at Breitbart, also cut ties with Nehen.
ThinkProgress also claimed it had obtained audio of the podcast in which Schilling, who has publicly supported President Donald Trump on various occasions, allegedly agreed and endorsed some of the points made by Nehen.
It is not the first time the lines between baseball and Schilling's political views have become blurred. In 2015, ESPN suspended the former Red Sox pitcher from calling a Little League World Series game after he shared a post on Twitter that suggested extremist Muslims were comparable to Nazis.
A year later, Schilling was fired by the broadcaster after comments he made on Facebook in favor of the North Carolina law that bans transgender people from using bathrooms and locker rooms that don't correspond with their gender of birth.
The 2004 team's presence clearly was a good omen for the current Red Sox as Boston beat the Dodgers 4-2 to take a 2-0 lead in the series ahead of Game 3 on Friday night in Los Angeles.