Fact Check: Did Dog the Bounty Hunter Fly 'Aloha Brian Laundrie' Banner Over Florida?
The search for Brian Laundrie, who vanished shortly before his fiancée Gabby Petito was found dead, remains ongoing.
Television star Dog the Bounty Hunter, real name Duane Chapman, has joined officials in looking for the 23-year-old in Florida, focusing his own search near Fort De Soto Park.
The Claim
A Twitter user shared a photo on the social network on September 29, purportedly showing a plane in the air with a banner reading: "Aloha Brian Laundrie - Dog."
The user claims that Chapman hired the plane to fly the message over Florida.
"This junction of the Gabby Petito murder investigation feels like an absolute fever dream," the post read.
"You have Dog the Bounty Hunter who's tracked Brian Laundrie down to a tropical island and is now taunting him by flying a banner around the island in hopes of flushing him out."
The post received more than 25,000 likes and 4,000 retweets at the time of publication.
Other versions of the picture, including some that replaced Dog with "MTG," the initials of Rep. Marjorie Taylor Greene (R-GA), have also been circulating on Twitter, but to a lesser extent.
The Facts
Dog the Bounty Hunter's team has said that neither they nor Chapman have flown any banner over Florida in the search for Laundrie.
Speaking to Newsweek via email on Thursday morning, Chapman said: "Frankly, I wish I had thought of that, but it wasn't our team.
"I'd love to shake the hand of whoever is behind the banner, I'll tell you that."
It was not immediately clear whether the "Aloha Brian Laundrie" banner had been flown at all, or whether the picture had been created using a picture editor.
Chapman is in the Fort De Soto Park area and said he has not seen any such banner.
"We're out here at the island," he said in a video posted to Twitter on Wednesday.
"This would be and could be a perfect spot for him to hide. Not too many people out here, but there's a lot of environmental things that we're gonna fight. So, here we go. The search now is really on. The search has just begun."
The Ruling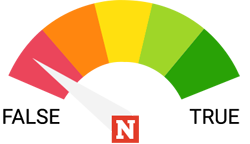 False.
FACT CHECK BY NEWSWEEK
No, Duane Chapman, aka Dog the Bounty Hunter, did not fly a banner over Florida with the message: "Aloha Brian Laundrie."
It is unclear whether any such banner was flown.