Did Donald Trump Denounce QAnon?
During a town hall meeting in Miami hosted by NBC News Thursday night, President Donald Trump said he knew "nothing" about QAnon.
QAnon adherents believe that Trump is waging a secret war against Democrats who engage in child trafficking, pedophilia and Satanic worship. The FBI designated QAnon a domestic terror threat in August 2019, saying that the theories propagated by the group could lead people to commit "criminal or violent acts."
"Let me ask you about QAnon," town hall moderator Savannah Guthrie said. "It is this theory that Democrats are a satanic pedophile ring and that you are the savior of that. Now can you just once and for all state that that is completely not true and disavow QAnon in its entirety?"
"I know nothing about QAnon," Trump said.
"I know nothing about it," Trump added. "I do know they are very much against pedophilia, they fight it very hard, but I know nothing about them."
Trump did, however, repeat his denunciations of U.S. protesters. "I know about antifa and I know about the radical left and I know how violent they are and how vicious they are," Trump said, "and I know how they have been burning down cities run by Democrats."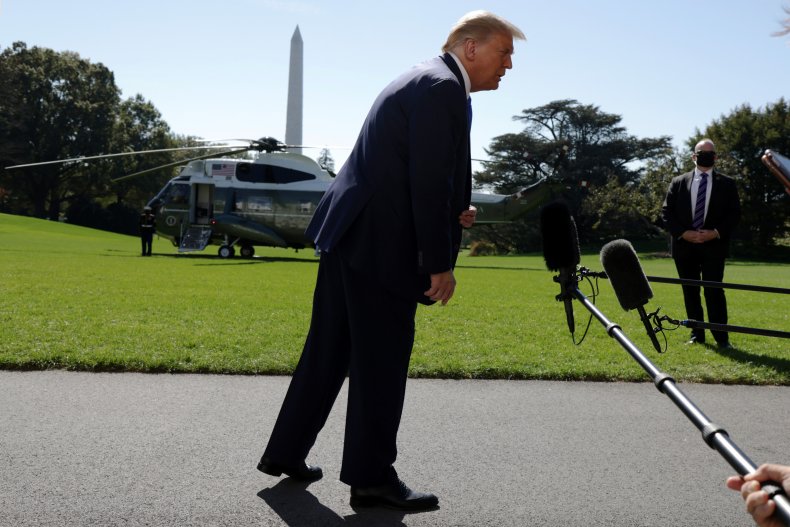 Trump has mentioned QAnon as recently as August although he did not attempt to distance himself from the group. "I've heard these are people that love our country," Trump said during a coronavirus task force briefing. "So, I don't really know anything about it other than they do supposedly like me."
Guthrie also asked Trump why he posted a tweet that appeared to espouse a conspiracy theory that Navy SEAL Team 6 killed an Osama bin Laden body double in 2011. That fact was allegedly concealed by the administration of Barack Obama. According to the theory, the Obama administration ordered the deaths of the SEALs involved to cover up their actions. There is no evidence to support the authenticity of those claims.
"Why would you send a lie like that?" Guthrie asked.
"That was a retweet," Trump said. "That was an opinion of somebody and that was a retweet. I'll put it out there, people can decide."
"I don't get that, you're the president—you're not someone's crazy uncle," Guthrie replied.
Republican Virginia Representative Denver Riggleman told CNN that Trump's retweet was "the kind of thing we cannot do."
"There are technical terms for that," Riggleman added. Let's be honest, let's use the technical term for what's going on here, and it's batsh*t crazy."
Newsweek reached out to the Trump campaign for comment.