Did Donald Trump Vote in the 2018 Midterm Elections?
President Donald Trump reportedly didn't vote on Tuesday. He did, however, vote in the 2018 midterm elections.
Quartz reported he voted early via an absentee ballot for his home state of New York. The president voted "absentee a couple of weeks ago," White House spokesman Hogan Gidley told the outlet on Tuesday.
Trump famously cast his ballot in person at a school in the Manhattan borough of New York City in the 2016 presidential elections that he, of course, went on to win over Democratic nominee Hillary Clinton. Twitter had a field day joking about a photo of Trump seemingly looking over at the ballot being filled out by his wife, Melania Trump.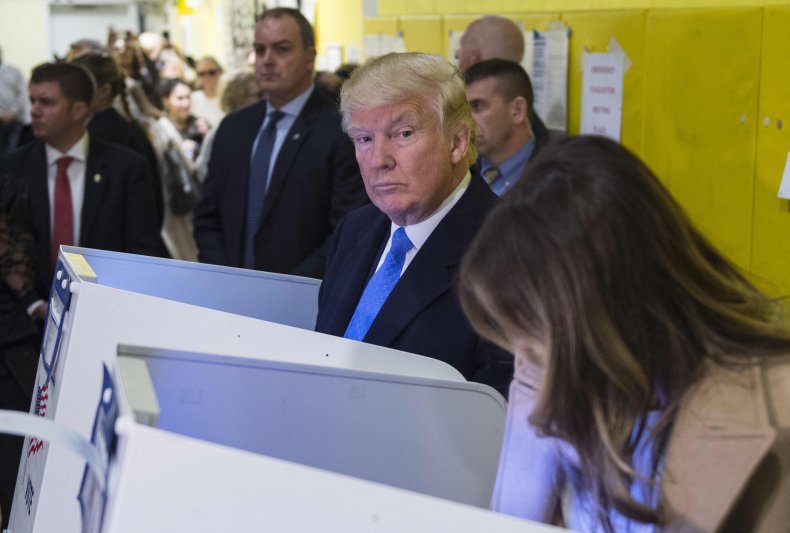 While the president might not have voted in person on Tuesday, his daughter, Ivanka Trump, did make an appeal for others to get out and vote—while, interestingly, not specifically urging folks to vote for Republicans.
"One of the great privileges of being an American is having your voice heard," she said in a video posted to Twitter. "Get out and vote. Don't let the rain stop you."
Members of the Trump family, including Ivanka, have publicly failed to vote in a prior election. As the New York Daily News reported in December 2017, the president did manage to get an absentee ballot in for New York's mayoral election last year (albeit with an incorrect birthday). Melania Trump, meanwhile, forgot to sign her envelope which meant her ballot did not count, while Ivanka mailed hers too late and her husband, Jared Kushner, didn't send back his ballot at all.
The president likely hopes his family got their votes in for Tuesday's election. The 2018 midterm could help shape how the next few years look for Trump. Projections have shown that Democrats have a strong chance of taking back control of the House of Representatives, while Republicans would likely hold onto control of the Senate.