'Game of Thrones' Battle of Winterfell: Spoilers, MVP and Did A Dragon Die?
The battle against the dead is over on Game of Thrones, and Winterfell is still standing. The 80-minute episode was full of drama, dark moments and death, but a few scenes stood out as unforgettable. Here's everything you need to know about the third episode of Season 8.
Who Died?
Though the battle was hectic, confusing and scary, most of the leading Westeros names survived the fight. The third episode did, though, give some of the first, big deaths of the eighth season. Here's the full list of everyone who died in the episode:
'Dolorous' Edd Tollett
Lyanna Mormont
Beric Dondarrion
Theon Greyjoy
Ser Jorah Mormont
Melisandre, The Red Witch
The Night King
All The White Walkers
Who Killed The Night King?
Arya Stark killed the Night King to end the Battle of Winterfell. The skillful Stark snuck up on the icy leader while he was getting close to her brother, Bran Stark. Arya jumped to stab the Night King in the back, but he grabbed her by the throat. Arya then dropped her dragonglass dagger into her lower hand, and stabbed the king in the stomach, killing him and all of the White Walkers.
Did A Dragon Die?
Twitter users seem confused about the fate of Daenerys' dragons at the end of episode three. At the end of the episode, as the battle has ended, it appears Rhaegal did not return to safe ground after he crashed while Jon Snow was riding him. This led many viewers to assume the dragon may have died in battle. The last image of Daenerys in the episode shows her with Drogon and the dead Jorah in her lap among a sea of dead White Walkers.
Some Twitter users, however, think Rhaegal may be alive after all because of an episode four teaser. A clip that aired at the end of the third episode teased the upcoming fight for the Iron Throne, and seemed to show two dragons flying in the sky. This would imply Rhaegal is very much alive since Viserion was turned into an ice dragon, and died along with the army of the dead.
The fourth episode in Season 8 will premiere next Sunday, May 4
The graphic below, provided by Statista, shows the number of deaths in Game of Thrones per season.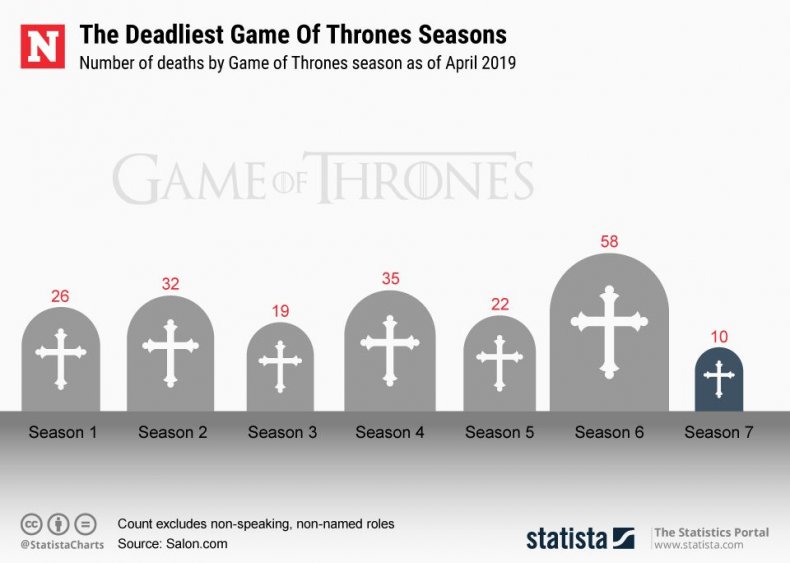 This article was updated to include an infographic.