Did EPA Chief Scott Pruitt Violate Propaganda Laws to Revise Clean Water Rule?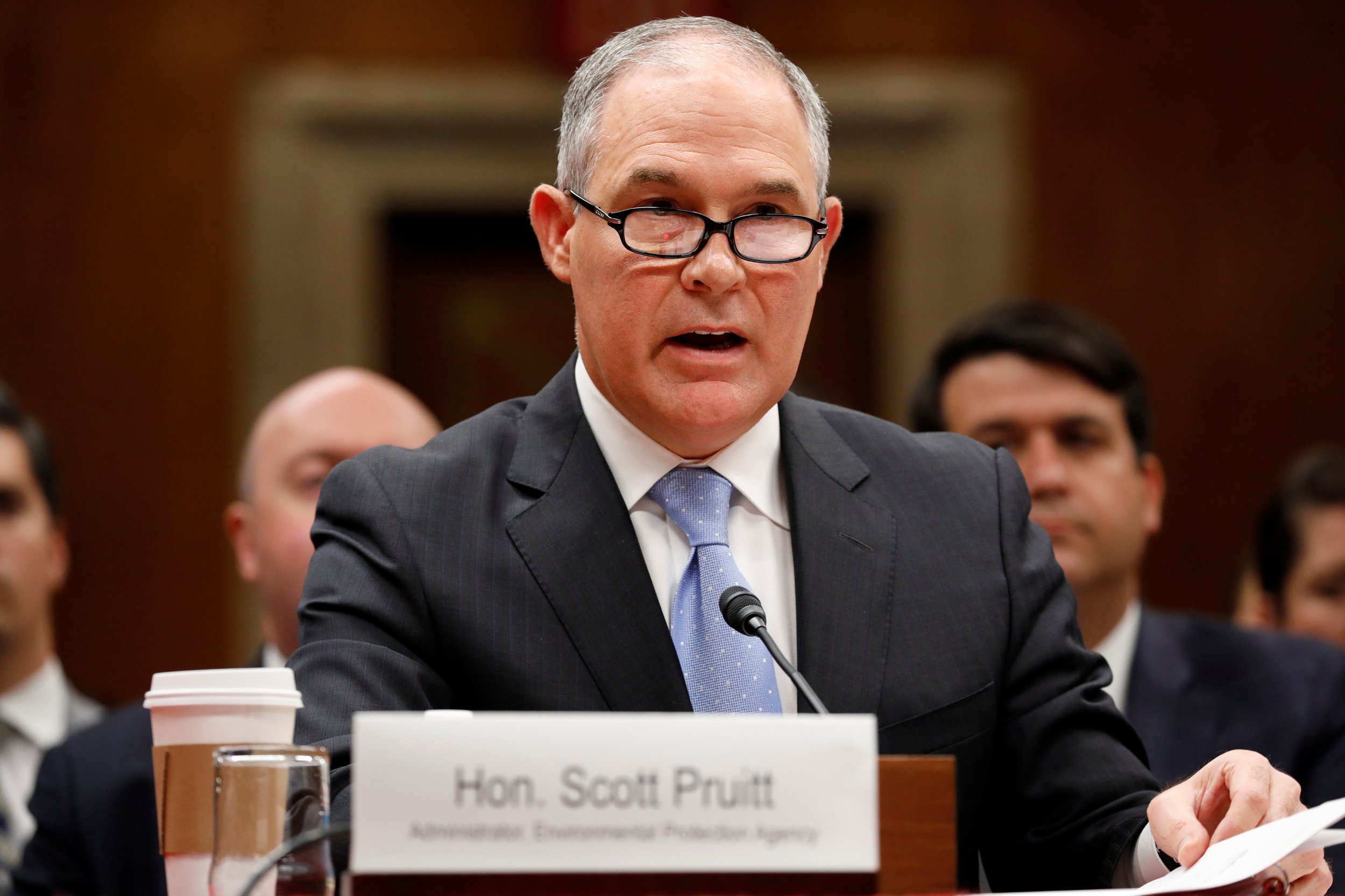 The accountability office will begin looking into whether Environmental Protection Agency (EPA) chief Scott Pruitt used agency funds for lobbying and propaganda against an Obama-era clean water rule.
The Government Accountability Office responded to a request from House Democrats—who pointed out the potential misuse of funds—in a letter last week, The Hill reported. The accountability office will determine whether Pruitt has violated prohibitions against lobbying, publicity or propaganda, as well as the Antideficiency Act.
Back in August, Pruitt was featured in the National Cattlemen's Beef Association's (NCBA) video asking members to submit comments to the EPA on a proposal to revise former President Barack Obama's clean water rule. That rule—called Waters of the United States (WOTUS)—widened the definition of how waters were defined for regulation under the 1972 Clean Water Act.
Pruitt's appearance in the video was criticized by Representative Peter DeFazio, a top Democrat on the House Transportation and Infrastructure Committee, and other House Democrats.
In an October letter to the accountability office, they wrote, "While no specific legislation is mentioned in the NCBA video, the hyperlinked webpages contain a separate video that specifically outlines NCBA's strategy to challenge the WOTUS rulemaking at every opportunity."
The letter noted that the organization advocated to "repeal the 2015 rule without getting bogged down in activist litigation," citing the beef organization's webpages that were hyperlinked from the video in which Pruitt spoke. Due to the beef organization's history of opposition to the clean water rule, the letter continued, "it is impossible to discern where, if at all, one message stops and the other starts."
In 2015, the Obama administration faced similar allegations for lobbying for the clean water rule, The Hill reported. The EPA used a social media tool called Thunderclap to urge people to tweet in support of the clean water rule and linked to environmental groups from a blog post on the EPA's webpage. The accountability office then concluded the activities violated the law, specifically prohibitions against publicity or propaganda and grassroots lobbying.
In his tenure so far as head of the EPA, Pruitt has spearheaded the "#EPABack2Basics" agenda. So far, this has resulted in his intention to repeal the Obama-era Clean Power Plan, which Americans actually like, according to a 2016 Pew Research Center study.
Last week, Pruitt barred leading scientific experts from serving on advisory boards if they are receiving funding from the EPA for their research. That conflict of interest requirement seemingly did not extend to the incoming members on the advisory boards, many of whom have ties to the energy industry.