Did Hispanics Save Harry Reid?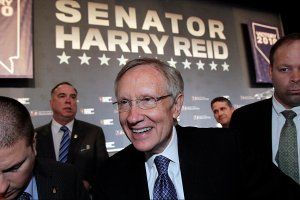 In the wake of Sen. Harry Reid's hard-fought victory against Sharron Angle in Nevada, the postgame analysis has revved into high gear. How to explain his win? Was it his massive, finely tuned ground operation? Was it his success in painting his opponent as an extremist? Was it Angle's unique talent for committing a gaffe practically every time she opened her mouth? Arguably, all these things played a role. But one factor in particular appears to have been key: the Hispanic vote.
According to election-eve polling and analysis by Latino Decisions, a surveying firm, Hispanics chose Reid over Angle 90 percent to 8 percent—an astounding margin. CNN's exit polls showed a significantly smaller spread, with Reid winning 68 percent to Angle's 30 percent. But Latino Decisions argues that exit-polling methodology is typically inaccurate at measuring voting by Hispanics and other subgroups. The firm also contends that exit polls tend to lowball Latino turnout. Still, CNN's figures show that Hispanics constituted 15 percent of the Nevada electorate this year, a notable increase over the last midterm cycle, in 2006, when they made up 12 percent. "Latinos certainly saved Harry Reid," says Gary Segura, a member of Latino Decisions and a professor at Stanford University.
Hispanics' resounding rejection of Angle should come as no surprise. Her harsh ads depicting undocumented immigrants as shady gangbangers and calling Reid "the best friend illegal aliens ever had" infuriated Hispanics in Nevada and beyond. And her remark before a group of Latino schoolkids that some of them "look Asian" invited heaps of ridicule. Yet her campaign evidently made a calculus: that alienating Hispanic voters mattered less than galvanizing conservative, get-tough-on-the-border whites. That may have been a critical misstep.
Latino organizations are now touting these results, and others, as evidence that Hispanics "helped save the Senate for Democrats," as Frank Sharry, head of the pro-immigrant group America's Voice, puts it. Drawing on the Latino Decisions data, they point to Barbara Boxer's 86–14 percent margin among Hispanics against Carly Fiorina in the California Senate contest, or Michael Bennet's 81–19 percent margin against Ken Buck in the Colorado Senate race. Moreover, they highlight exit polling that shows Hispanics made up growing shares of the electorate in almost every state that had such data available.
Yet to argue that these outcomes actually "helped save the Senate" may be overstating things. There's still a lot of number-crunching to be done. One thing that's still not clear is whether Hispanic turnout rates increased. It's hardly surprising that Latinos would make up a larger share of the electorate, given that their population continues to boom. It would be quite a bit more significant, though, if there was an uptick in the percentage of Latino registered voters who cast ballots. That would bolster the argument, made by many advocates, that Hispanics are sufficiently engaged and wield enough electoral muscle to punish candidates who offend them with divisive rhetoric.
One thing is clear: Hispanic disenchantment with Republicans continues to run deep. The Latino Decisions analysis found that Hispanics sided with Democrats over Republicans by 76 percent to 24 percent. Amid all the GOP high-fiving, that should be a sobering data point for Republicans—and an encouraging one for otherwise despondent Democrats.