Melania Trump vs. The View: Hosts Take on First Lady over New York Times Op-Ed
Hosts of The View poked fun at the White House's reaction to the anonymous New York Times op-ed published on Wednesday, particularly the statement of First Lady Melania Trump.
"Everybody in the White House, including the First Lady, have issued denials that they wrote the anonymous op-ed about working against you know who," Whoopi Goldberg said while introducing the segment on Friday.
"I was struck by Melania's statement," Sunny Hostin began. Before she read the First Lady's statement she was instructed by her fellow hosts not to mock the accent.
Hostin goes on, "[Melania Trump] says, 'People with no names are writing our nation's history. Words are important and accusations can lead to severe consequences. If a person is bold enough to accuse people of negative actions, they have responsibility to publicly stand by their words and people have the right to be able to defend themselves.'"
"Who wrote that, Michelle Obama?" Joy Behar joked.
Stephanie Grisham, Director of Communications and spokesperson for the First Lady, responded to this segment on Twitter. She replied specifically to an article written by Raw Story on Friday where the headline claims the hosts "destroy" Melania for her response to the op-ed.
"If by 'destroy' you mean being disrespectful [and] hypocritical while mocking someone's accent, then the 'ladies' of [The View] succeeded," said Grisham in a tweet on Friday. Though the hosts had fun at the expense of the White House, they did not actually put on a fake accent while reading the First Lady's statement.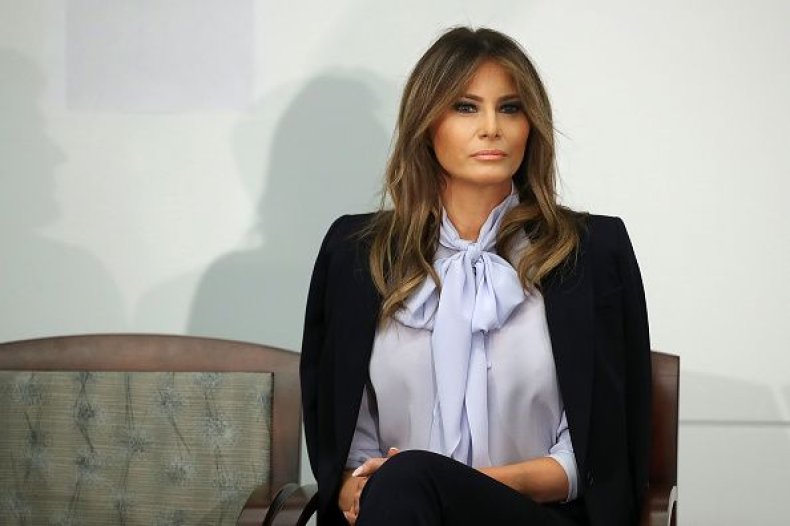 "Does it not bother anyone that constructive criticism of a sitting president now feels like a dangerous thing to do in this country?" Goldberg said. "Obama took as much crap as any other president, and he took it from all sides. And he still did his job. George Bush took crap from everybody. Both Georges."
She continued, "If you don't have the cojones to take the critique that is our right, which makes us Americans, because we're supposed to be able to say 'I don't like what you're doing', without fear of retaliation."
The op-ed was published by The New York Times on Wednesday. The anonymous author described themselves as part of a "quiet resistance" within the administration, detailing the President as "off topic and off the rails," repetitive, impulsive and unstable.