Did Joe Biden Call Donald Trump 'George' During Campaign Event?
Donald Trump frequently asks his supporters to question Joe Biden's mental state, saying on multiple occasions that the Democratic presidential nominee has "dementia." The president, who is often subject to public fact-checking because of his tendency to communicate incorrect information, cites instances where Biden has forgotten someone's name, and on Monday he criticized his opponent for referring to him as "George."
"Joe Biden called me George yesterday. Couldn't remember my name," Trump tweeted early Monday morning, less than 24 hours after both presidential candidates' 60 Minutes interviews aired. "Got some help from the anchor to get him through the interview," the president's tweet continued. "The Fake News Cartel is working overtime to cover it up!"
The "interview" Trump described took place Sunday evening during a virtual concert hosted by Biden's campaign. Promoted as an "I Will Vote Concert," the event featured performances by more than a dozen artists, including A$AP Ferg, Sara Bareilles, Cher, Ciara and John Legend. Biden discussed the upcoming election in comments to comedian George Lopez and political commentator Ana Navarro, who co-hosted the event.
A video clip of those comments, which appears on Trump's official YouTube channel alongside the title "MUST WATCH," seems to show Biden mistakenly call Trump "George" while answering a question from the co-hosts.
"This is the most consequential...not because I'm running, but because of who I'm running against," Biden said, while seated beside his wife, Jill. "This is the most consequential election in a long, long, long time. And the character of the country, in my view, is literally on the ballot."
The former vice president continued, "What kind of country we're going to be. Four more years of George, uh, George...going to find ourselves in a position where if Trump gets elected, we're going to be...we're going to be in a different world."
Biden and President Barack Obama took office after George W. Bush's second term ended, so the mistaken reference may have been to the 43rd president, who served from 2001 to 2009.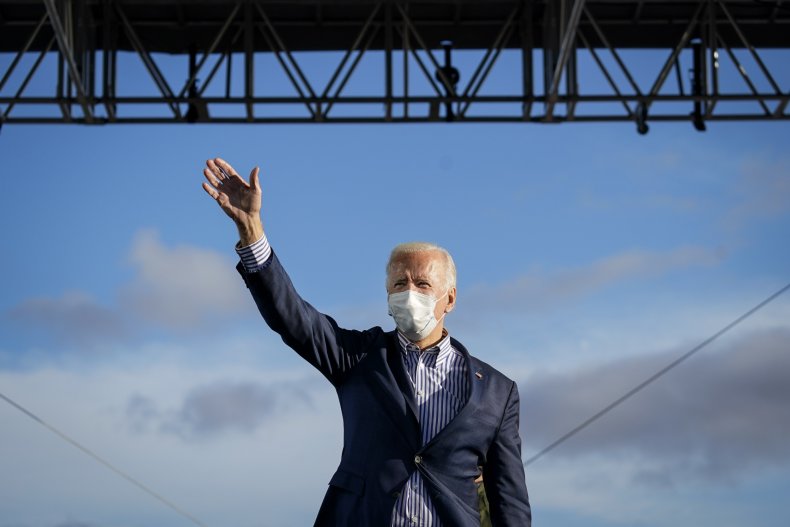 During Sunday's 60 Minutes interview, Biden addressed Trump's repeated claims about his mental soundness and age. The Democratic nominee, who will turn 78 next month, is four years older than the president.
"Hey, the same guy who thought that the 9/11 attack was a 7-Eleven attack, he's talking about dementia?" Biden said, laughing. "All I can say to the American people is, Watch me, you see what I've done, you see what I'm going to do. Look at me. Compare our physical and mental acuity. I'm happy to have that comparison."
Newsweek reached out to Biden's campaign for comments but did not receive a reply in time for publication.