Did Kevin Durant's Feud With Russell Westbrook Distract Warriors Against Thunder?
If the Golden State Warriors had flown out of Oklahoma City on Wednesday night with a 14th tick of the season in the 'Win' column, maybe Kevin Durant could have shrugged off the inevitable questions about Russell Westbrook.
But that didn't happen. The Warriors were outplayed at Chesapeake Energy Arena and suffered their worst loss of the young season so far, hounded and eventually beaten 108-91 by the previously stuttering Thunder, for whom the "Big Three" of Russell Westbrook, Paul George and Carmelo Anthony finally came good together on the same night.
George had 20 points, 11 rebounds and an assist; Anthony was second on the team with 22. But Westbrook outshone both—and the Warriors' starry cast, too—with 34 points, ten rebounds and nine assists. It was the reigning MVP's best statistical performance of the season so far, a period defined by the Thunder offense's inability to cohere for 48 minutes a night.
There was schadenfreude in the air, too. The Thunder crowd booed Durant when he was introduced before the game, and repeated that when he touched the ball. "It seemed pretty civil compared to last year," Steve Kerr, the Warriors head coach, said in quotes reported by ESPN. "It was all good, and they deserved to win, and the crowd deserved to get the joy that they got out of this game." Skip Bayless, the Fox Sports pundit, piled in on Twitter. "FINALLY: Russ [Westbrook] and the great fans in a great city got some revenge over Kevin Durant," Bayless wrote. "This wasn't about Melo or Paul George. It was about RUSS SHOWING AND TELLING KD."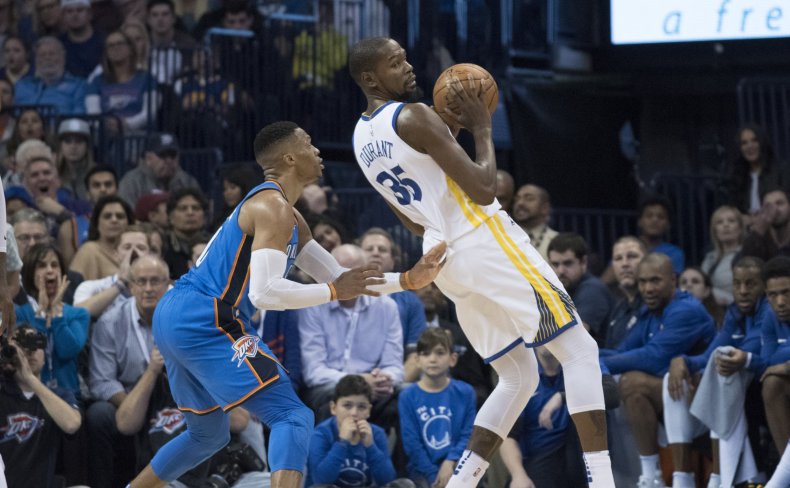 Durant, like Kerr, attempted to play down any deeper significance to a number of clashes between himself and Westbrook during the game. With just under six minutes to go in the third quarter, and the Thunder leading by 17, Durant and Westbrook went head-to-head. The YouTube clip, posted by Bleacher Report, appears to show Durant calling Westbrook a "P***y." "You're soft," Westbrook replied according to ESPN. "The story is about the game. We lost. They kicked our ass," Durant told Anthony Slater, The Athletic's Warriors reporter. "They played a great game. We should give them credit for how they played, and we should be better. It's not about who's in each other's faces. That stuff is not real, so please don't believe it. All the fans, they lied to y'all. It's about basketball, and they played a great game, and we didn't."
Kerr did admit that the Warriors "lacked focus" in the final game of a road trip that they split 2-2. It's too tempting not to wonder whether all of the subplots, Durant's rivalry with Westbrook chief among them, might have piled distraction upon weariness for Golden State. Durant has a ring, of course, and he will still probably be laughing longest and loudest at the end of the season. But here was a measure of something—call it revenge, or schadenfreude—for Westbrook and a city, for a night.