The season premiere of The Masked Singer had a big surprise for many viewers when former New York City Mayor Rudy Giuliani did not make a much-anticipated appearance.
The show airing on Fox television concluded with celebrity chef Duff Goldman unmasked after performing Loverboy's early 1980s pop-rock hit "Working for the Weekend," disguised as a Scottish terrier named "McTerrier."
In the run-up to the Wednesday night debut of the show's seventh season, the internet had been abuzz with reports that Giuliani would be a contestant on the show. He has become an increasingly controversial figure after serving on former President Donald Trump's legal team and advancing baseless assertions that the 2020 election was stolen.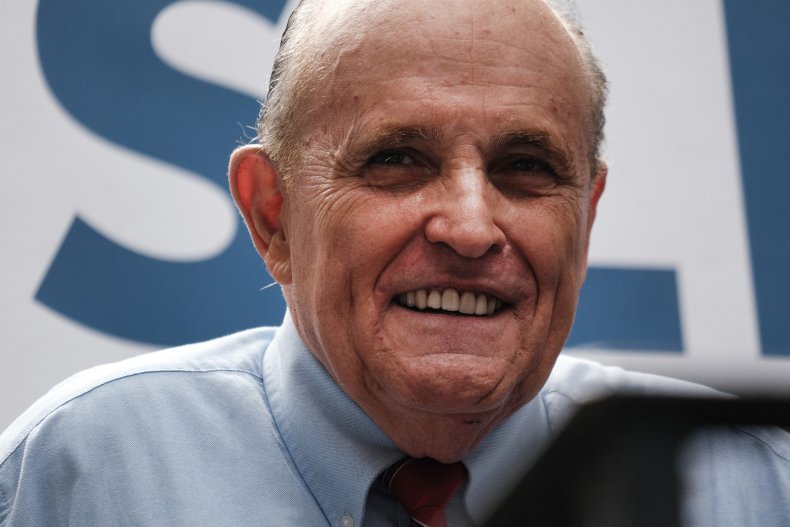 Jean Guerin, Fox Entertainment's vice president for publicity and corporate communications, told Newsweek in an email that "the show's general format features three groups across the season, and like most productions, the groups are not necessarily taped sequentially, so we don't always know the order they will air."
Newsweek has learned that Giuliani's appearance has not been cut from the show's schedule.
Twitter took note of Giuliani's absence with some users wondering if he will make a future appearance.
During the taping of the show, it was leaked that judge Ken Jeong walked off the set when it was revealed that Giuliani would be a contestant. Judge Robin Thicke also reportedly walked off as well. However, both returned to the set and used their Twitter accounts to hype the show as its season premiere approached.
Dubbed "America's Mayor" following the 9/11 attacks on New York City in 2001, Giuliani has become an increasingly polarizing figure for his close association with Trump. After pushing Trump's baseless claims that the election was marred by rampant voter fraud, Giuliani had his law license revoked and faces defamation lawsuits. He's also been subpoenaed by the House Select Committee to Investigate the January 6th Attack on the U.S. Capitol.
Giuliani wouldn't be the first polarizing politician to appear on the show. Season 3 featured former Alaska governor and GOP vice-presidential candidate Sarah Palin as "The Bear" performing "Baby Got Back" by Sir Mix-a-Lot.
Update (March 9, 10 p.m.): This story has been updated to include comment from Fox Entertainment.
Update (March 10, 5 p.m.): This story has been updated to include additional information.