Did Michael Cohen Commit Perjury? Investigation Requested as CNN Clip Shows Him Saying He'd Take White House Job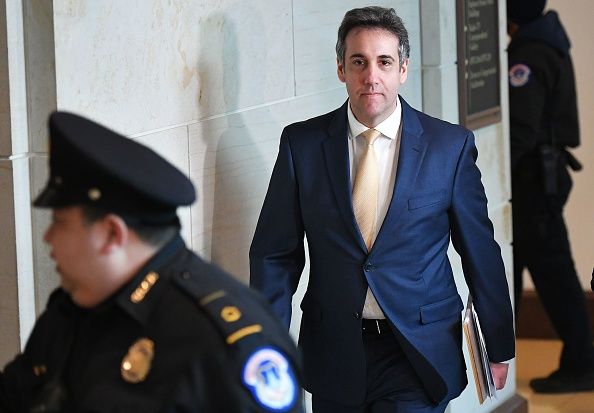 Allegations are flying that Michael Cohen may have committed perjury during his explosive congressional testimony on Wednesday when he told lawmakers that he had never wanted a job in President Donald Trump's administration.
Cohen's remarks came after Representative Jim Jordan, a Republican on the House Oversight and Reform Committee, accused him of turning against Trump because he never got a job in the administration. "That's the point isn't it Mr. Cohen, isn't it? You wanted to work in the White House but you didn't get brought to the dance," Jordan said.
Cohen immediately slammed the allegation, testifying under oath that he had never wanted to serve in the Trump administration.
"I was extremely proud to be the personal attorney for the president of the United States of America. I did not want to go to the White House. I was offered jobs," Cohen said. He also said that to handle some of the more sensitive matters Trump wanted managed, it was better to remain as Trump's personal attorney rather than serve in the White House.
But others said this was not necessarily what happened between Trump and Cohen after the 2016 election. And now video clips of Cohen's past television interviews may have caught the former attorney lying to Congress, again.
In a 2016 interview with CNN's Chris Cuomo, after the presidential election, Cohen said that he "certainly hoped" Trump would ask him to come to Washington, D.C.
"Would you go?" Cuomo asked Cohen.
"One hundred percent," Cohen answered. He then said that in his absence the Trump Organization would be managed by the president's children, specifically Donald Trump Jr., Ivanka Trump and Eric Trump.
During yesterday's testimony, Eric Trump first floated the allegation that Cohen had lied and that during the presidential transition "Michael was lobbying EVERYONE to be 'Chief of Staff.'"
Donald Trump Jr. also jumped in, tweeting: "I bet there dozens of people that would swear under oath that this is a lie. Including me."
Two of the president's closest allies serving on the House Oversight and Reform Committee, Representatives Mark Meadows and Jordan, referred Cohen to the Justice Department for alleged perjury over aspects of his sworn testimony.
The referral, filed on Thursday, highlighted several parts of Cohen's testimony in which they allege he committed perjury and knowingly lied to Congress, highlighting Cohen's statements that he did not want a job at the White House and that he did not commit bank fraud.
"It is essential that the Department of Justice investigate these remarkable contradictions between Mr. Cohen, the SDNY [Southern District of New York] prosecutors and the public accounts of witnesses with firsthand information," Meadows and Jordan wrote in their referral.
Cohen's attorney, Lanny Davis, jumped in to defend his client on Thursday, calling the criminal referral "baseless."
"Mr. Cohen testified truthfully before the House Oversight Committee. He took full responsibility for his guilty pleas. He also backed up much of his testimony with documents. It is not surprising that two pro-Trump Committee members made a baseless criminal referral. In my opinion, it is a sad misuse of the criminal justice system with the aura of pure partisanship," he wrote.
Update, 2:58 p.m., February 28: This article has been updated to include a statement from Michael Cohen's lawyer, Lanny Davis, about the criminal referral.