Did a Missile Hit Beirut? Fake Videos on Facebook Fuel Conspiracy Theory
In the aftermath of an ammonium nitrate explosion in Beirut on Tuesday, some internet users have posted videos that purport to show a missile slamming into the warehouse that housed the chemicals. While many of the videos have been deemed as fake, some still can be found on social media.
In a video posted on the YouTube channel of m4wares, a missile can be seen in the shot right before the explosion occurs. YouTube removed the video, which was previously linked in this story, after Newsweek inquired why it had not been flagged for false information.
"YouTube has clear policies that outline what content is not acceptable to post and we remove videos violating these policies when flagged to us," wrote YouTube spokesperson Farshad Shadloo in a statement sent to Newsweek on Friday. "We have removed the video sent over by Newsweek and any re-uploads of the original clip will be removed as well."
A side by side comparison on Facebook appears to show a drone flying over Beirut as the cloud from the explosion plumes through the air. Poster Francesco Conte wrote that while the video may not be accurate, they may not be fake either.
Neither of the social media posts were flagged for representing false information. Newsweek reached out to Facebook and YouTube for comment.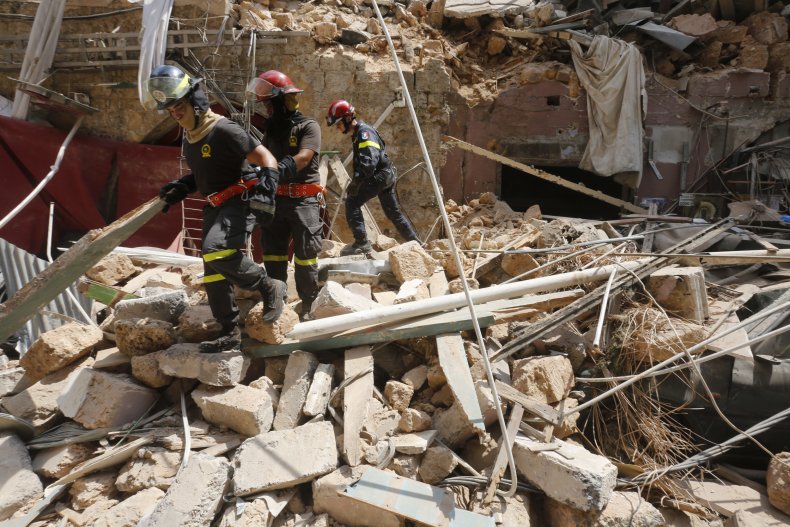 Some of the videos showing explosive devices involved in the Beirut explosion were derived from footage taken of the explosion by CNN Arabic social media producer Mehsen Mekhtfe.
"Many people reached out to tell me that it's fake," Mekhtfe said in a Thursday interview with CNN. "But it's my video and I have the original and it doesn't show that. When people ask me about it, I tell them, the doctored one is not true."
Mekhtfe also said he did not see any missiles or drones in the sky before the explosion.
While discussing the explosion during a Tuesday press briefing, President Donald Trump said he was told by military advisers that Beirut had been attacked.
"According to them—they would know better than I would—but they seem to think it was an attack," Trump said. "It was a bomb of some kind."
Some social media users posited the theory that the explosion was nuclear in nature because of the white mushroom cloud and visible shockwave that occurred in the video. Experts have debunked this theory, saying that the explosion did not emit a white flash known as a thermal pulse. Heat caused by nuclear explosions also causes small fires throughout the blast radius. That did not happen in the Tuesday explosion.
Over 100 people were reported killed in Tuesday's explosion which wounded more than 5,000 people. Nearly a quarter of a million people were left homeless.
Beirut officials say the explosion was not the result of an attack, but rather the unsafe storage of ammonium nitrate. The chemical was also the main component of the Oklahoma City bombing in 1995, which killed 168 individuals.
According to Tuesday remarks by Lebanon President Michel Aoun, 2,750 tons of ammonium nitrate had been kept in a warehouse at a Beirut seaport for approximately six years. Aoun said the Lebanese government was "determined to investigate and expose what happened as soon as possible, to hold the responsible and the negligent accountable" for the explosion.
Updated 11:53 p.m. EST 08/07/2020: This story has been updated with a statement by YouTube.