Is the Press to Blame for Princess Diana's Death? What Really Happened That Night in Paris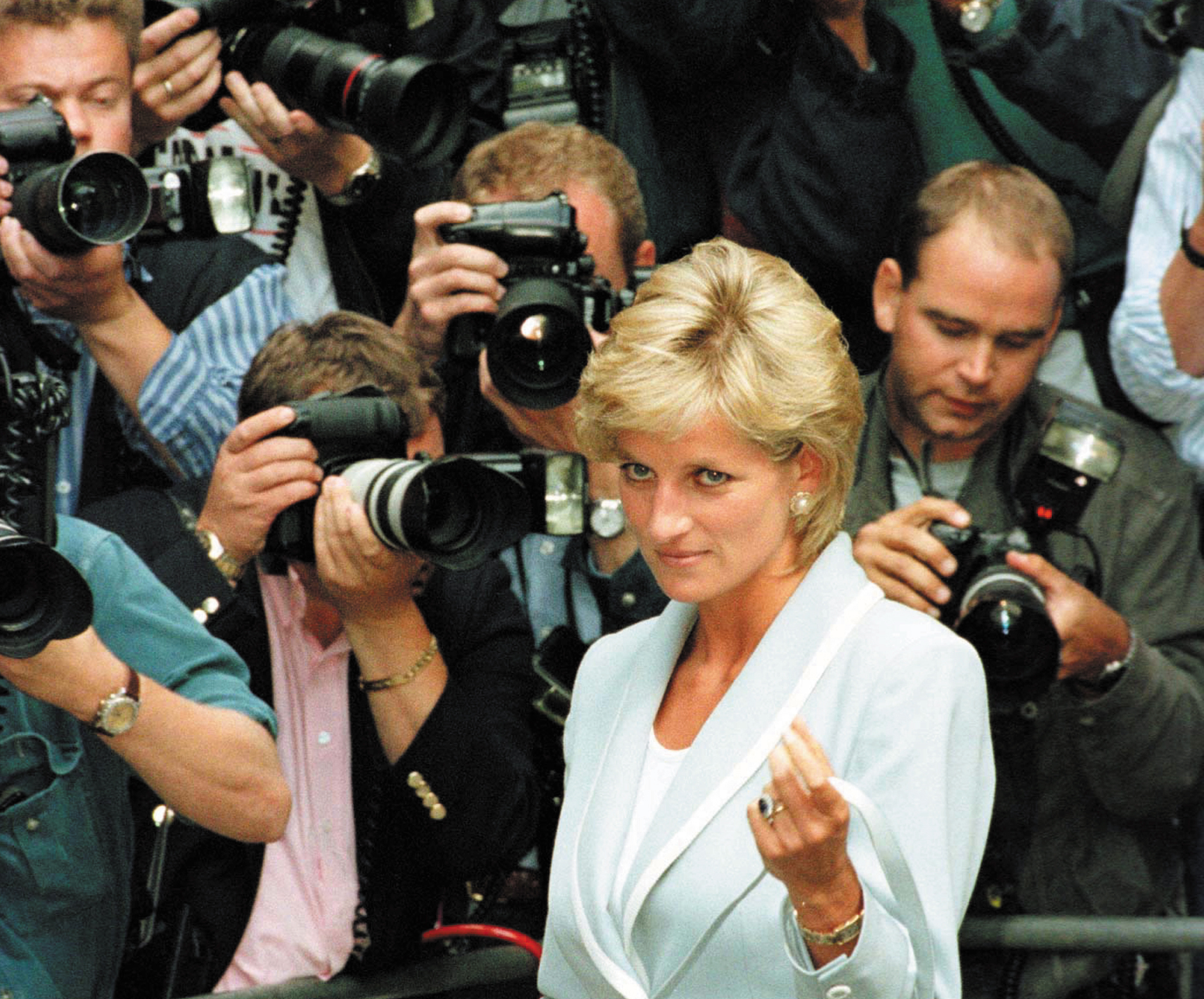 Newsweek published this story under the headline of "Was the Press to Blame?" on September 8, 1997. To remember Princess Diana 20 years after her death, Newsweek is republishing the story.
IN ITALIAN IT MEANS, QUITE simply, "buzzing insects." But the paparazzi who stalked the Princess of Wales during her short life were more than mere pests. Consider but one of them: Martin Stenning. In an eerie coincidence, Diana won a restraining order against the photographer almost a year to the day before she died on a Paris road, swarmed by lens-wielding motorcyclists. Stenning, a courier turned photographer, was also fond of pursuing the princess on a motorbike. He chased Diana most everywhere and, she said, twice crashed into her car. His actions, Diana said in an affidavit last year, "are calculated to cause me harm." Stenning insisted that wasn't so, but the court sided with Diana and ordered him to stay 300 meters away.
No one is certain yet whether the two-wheeled stalkerazzi who swarmed Diana and Dodi's Mercedes last week directly caused her death. But they're getting blamed. "I always believed that the press would kill her in the end," said Diana's brother, Charles. "But not even I believed they would take such a direct hand in her death as seems to be the case." Indeed, it does seem that her car sped to avoid photographers; and, in the hours after the accident, French police rounded up seven of the shooters for questioning. One thing is certain: the princess's gruesome death has caused a global guiltfest over intrusive photographers. Celebrities, the media, the public -- all, in varying degrees, are wondering what the press hath wrought. During this worldwide "timeout" there's speculation -- even the hope -- that Diana's death will not be in vain, that it will spark a backlash against the rising number and increasing aggressiveness of celebrity photographers and the phenomenal fees that they can command. A chastened public will turn away from titillation -- or so the thinking goes. But like the insects after which they're named, the paparazzi won't be so easy to eradicate. Their culture, fueled by the public's desire for the prurient, may be tempered, but it isn't likely to disappear.
Celebrity photography is hardly new. Before World War II, in the days of the studio system, photographers, along with the newspapers and Hollywood magazines that employed them, were content with spoonfed photo ops -- a shot of Clark Gable at the premiere of "Gone With the Wind" or a look at Joan Crawford with her happy family (years before her children accused Mommie Dearest of unspeakable cruelties). Like so many other institutions, the world of staged photos came under assault in the '60s. Fellini's classic film "La Dolce Vita" was the first to use the term "paparazzo." It was the name of the pesky photographer who annoyed the actress Anita Ekberg in the film. (In real life, paparazzi caught her kissing a married man.) And during the '60s, the twice-wed Jacqueline Kennedy Onassis put any number of paparazzi's sons and daughters through college.
Thank the free market. As the number of outlets for such pictures has grown, photographers have gotten more aggressive in pursuit of big profits. The nice guys with flashbulbs of the Eisenhower era became the Nikon guerrillas of today. And no one sold better than Diana. Other subjects remained paparazzi mainstays -- Michael Jackson, John Kennedy Jr., Arnold Schwarzenegger -- but Di was always the meal ticket. To be fair, she was not above using the press when it suited her needs. When she wanted to get the best possible terms in a divorce settlement with her former husband, Prince Charles, Diana took to the airwaves, giving a tell-all interview to a British TV reporter. And she would, on occasion, court the editors of Fleet Street or offer a tip to the press about her travel plans. Certainly, she didn't frown on the press's extensive coverage of her charity work, whether it was on behalf of persons with HIV or children injured by land mines.
Still, the press was more of a burden than a benefit. The recent shots of her frolicking with beau Dodi Fayed commanded upwards of $ 6 million for grainy, barely decipherable photos -- proving just how insane the Di photo orgy had become. Everywhere, the Kodak contingent was there -- at the gym, even her father's funeral. Scott Downie, a celebrity photographer in Los Angeles, has a simple answer when asked what differentiates acceptable paparazzi behavior from the unacceptable. "With royalty," he says, "there is no line." Little wonder, then, that in one of her last interviews Diana lashed out at the press. She told the French newspaper Le Monde that "the press is ferocious. It pardons nothing. It only hunts for mistakes. Every motive is twisted, every gesture criticized. [In] my place any sane person would have left [Britain] long ago. But I cannot. I have my sons."
And the press has its needs, too. After all, it's not just fan rags or a few British tabloids that want shots of stars. Mainstream news organizations and any number of celebrity-centered outlets, modeled on "Entertainment Tonight" or People, want them, too. (NEWSWEEK is among the many mainstream publications that occasionally buy and profit from pictures snapped by paparazzi. Last year's cover story on Carolyn Bessette, the wife of John Kennedy Jr., for instance, was filled with paparazzi shots.) It's hard to imagine all that demand simply disappearing, even in tragedy's wake. "Everyone's going to be very careful in the short run," said one European editor, "but in the long run everything will go back to normal." Russell Turiak, a paparazzo in the United States, agrees. "People want to see celebrities. That's what created this business. If no one cared about these photos, we wouldn't take them," Turiak says, adding that he's proud of his work. "As Marlon Brando said in 'On the Waterfront': 'I'm glad what I done'."
Nor are the dynamics of what sells likely to change. In the insular world of photojournalism, the more provocative the shot, the more money it commands. To make real money, the celebrity has to be doing something that's shocking. That's one reason so many photographers antagonize their subjects. Last year, on a Swiss ski vacation with her sons, Princess Di confronted a group of photogs and asked them to grant her family a little privacy. Most of the cameramen obliged her, but one kept rolling. To no one's surprise, his footage was replayed everywhere. Likewise, paparazzi have provoked the actor Will Smith to slap an annoying photographer, Alec Baldwin to lather an intrusive lens with shaving cream and JFK Jr. to dump a bucket of water on a lensman's head. These are the shots that sell. In May Arnold Schwarzenegger and his wife, Maria Shriver, were driving near their son's school in Santa Monica, Calif. About a quarter of a mile from the school, photographers cut off the action hero and began snapping. Not content with that, they kept shooting when the family arrived at the school -- and in the process knocked over the school's principal, who was trying to bring some order to the chaos. The two shooters were later arrested and charged with misdemeanors. They're still awaiting trial. Even a second-tier celebrity like the rapper Dr. Dre says, "I've definitely tried to outrun the press more than a few times." Tom Cruise told CNN that he was pursued in the same Parisian tunnel where Diana lost her life. "I've had them hide under bushes at my house," boxer Mike Tyson told NEWSWEEK. "This should teach everybody a lesson."
Don't count on it. Last year, when Alec Baldwin was acquitted of charges that he had used undue force against a photographer who had snapped shots of his wife and child hours after the newborn was brought home from the hospital, it was considered a victory against the tabloids. Likewise, when actor George Clooney stopped giving interviews to any Paramount shows because one of the conglomerate's programs, "Hard Copy," had annoyed him, it was also considered a milestone. In the end, though, neither episode diminished the tabloid culture.
Indeed, it seems that even after the accident, the two-wheeled paparazzi that chased Diana kept shooting pictures -- proving, perhaps, that the tabloid culture is unaffected even by such a momentous event. A source at the News of the World, the British Sunday tabloid that publishes scads of paparazzi photos, says, "It's clear that the guys at the scene were shooting the wreckage and even taking pictures of Diana." A British tabloid photo editor says, "We're seeing material that must have been taken immediately after the crash, so at least part of the pack that was following her dropped their bikes and began shooting the scene." The editor went on to say that the photos are too gruesome to publish, a sentiment shared by another paparazzi. Massimo Sestini provides the money for chase motorcycles, surveillance helicopters and other tricks of the trade. He claims that one of his men was in pursuit of Diana that fateful Parisian night. "He shot everything -- the crash, the scene afterward and also the terrible pictures of the body of Lady Di." He adds: "I decided not to sell the pictures of the body." And, yet, can one doubt that someone, somewhere, may just find them fit to print? Or to buy?