Did Patriots' Julian Edelman Prevent a School Shooting?
New England Patriots wide receiver Julian Edelman might have helped prevent a school shooting last month.
Edelman was visiting former teammate Danny Amendola in late March, when he was alerted to a very sinister comment on his latest Instagram post.
As reported by The New York Times, the California native received a direct message on the social media platform reading: "Dude, there is a kid in your comment section says he's going to shoot up a school, I think you should alert the authority."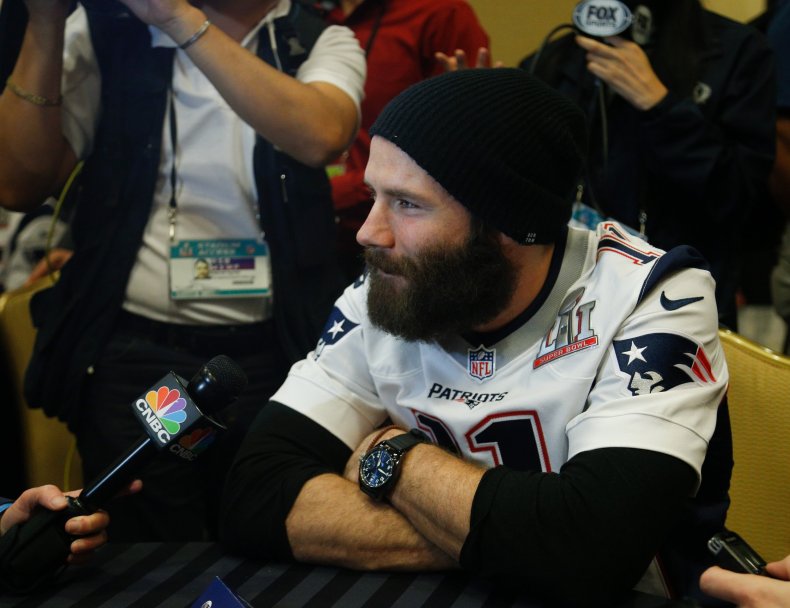 Edelman passed the message on to Shannen Moen, his assistant in Boston, who alerted authorities after finding the threatening post, which read: "I'm going to shoot my school up watch the news."
The police traced the message to a 14-year-old boy living in Port Huron, Michigan. According to reports, the police subsequently visited the boy's home where they found two rifles belonging to his mother.
The teenager admitted posting the threat and was charged with a false report of a threat of terrorism before being taken to a juvenile detention center.
On reading the message, Edelman said his thoughts immediately went to the mass shooting that killed 17 people at a high school in Parkland, Florida, five weeks earlier.
"With the emotions of what happened, and I have a kid now, I said, holy Toledo, what is going on?" he told The New York Times.
Edelman said he plans to send something to the Instagram follower who found the threatening post and his assistant has already reached out to the user, even though there's been no response yet.
"Thankfully this kid said something," the Patriots wide receiver explained. "We're going to send him something, a care package, just for his work. He's the real hero."