Did Trump Know Donald Jr. Met With Russia? Timeline Shows He Promised a Clinton Bombshell the Same Week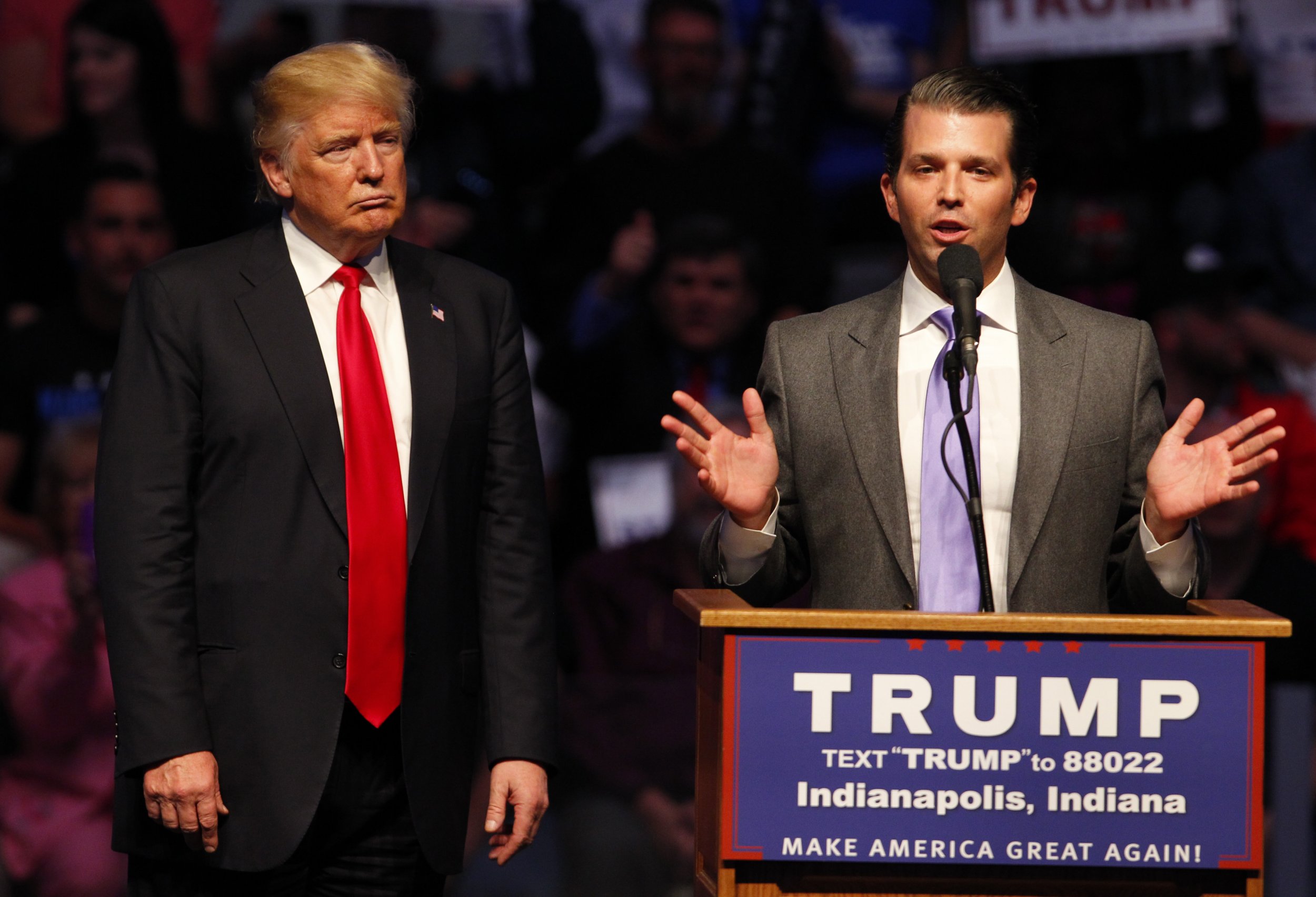 The White House has repeatedly insisted over the past few days that President Donald Trump didn't know his son Donald Trump Jr. and two top campaign aides met with a Russian lawyer in June 2016 in pursuit of damaging information about Hillary Clinton. But a comprehensive timeline published Wednesday by The New York Times may indicate otherwise.
Emails released Tuesday showed that publicist Rob Goldstone first messaged Trump Jr. on the morning of June 3, 2016, requesting a meeting about "some official documents and information that would incriminate Hillary and her dealings with Russia." Trump Jr. responded almost immediately, and by the afternoon of June 7 the meeting was set.
June 7 was also the day of the New Jersey primaries, in which Trump scored more than 80 percent of the vote to beat out candidates John Kasich and Ted Cruz. He was the presumptive Republican nominee; Clinton was his presumptive Democratic opponent. Trump touched on both in his victory address to supporters.
"I am going to give a major speech on probably Monday of next week, and we're going to be discussing all of the things that have taken place with the Clintons. I think you're going to find it very informative and very, very interesting. I wonder if the press will want to attend, who knows," Trump said, according to a transcript. "Hillary Clinton turned the State Department into her private hedge fund—the Russians, the Saudis, the Chinese—all gave money to Bill and Hillary and got favorable treatment in return. It's a sad day in America when foreign governments with deep pockets have more influence in our own country than our great citizens."
Then, on June 9, Trump's son met with Russian attorney Natalia Veselnitskaya, and his son-in-law and his campaign manager were also present. But she apparently didn't give them any solid information about Clinton, as Trump Jr. would later claim. She wanted to talk about adoption.
Four days later—the day Trump had planned to give his Clinton-shaming speech—the presidential candidate changed tack, and he blamed the switch on the mass shooting at a gay nightclub in Orlando, Florida.
"This was going to be a speech on Hillary Clinton and how bad a president, especially in these times of radical Islamic terrorism, she would be," Trump said June 13. "Even her former Secret Service agent, who has seen her under pressure and in times of stress, has stated that she lacks the temperament and integrity to be president. There will be plenty of opportunity to discuss these important issues at a later time, and I will deliver that speech soon."
On June 15, the Democratic National Committee's hacked emails leaked online, and by the end of July, Trump was publicly saying Russia should try to find the emails Clinton deleted from her private inbox while secretary of state.
Trump's lawyers wouldn't comment to the Times on this sequence of events; at least one White House staffer told the newspaper it was a coincidence. But it raises new questions in light of the Trump Jr. meeting, which the president only recently learned about, according to White House Deputy Press Secretary Sarah Huckabee Sanders.
"It was a 20-minute meeting, I guess, from what I'm hearing. Many people, and many political pros, said everybody would do that. If you got a call and said, 'Listen I have information on Hillary and the DNC,' or whatever it was they said, most people are going to take that meeting, I think," Trump told Reuters Wednesday. "And you have to understand, when that took place, this was before Russia fever. There was no Russia fever back then, that was at the beginning of the campaign, more or less. There was no Russia fever."
Regardless of whether he knew about the meeting, there is certainly Russia fever now.