The acclaimed Netflix drama The Crown, which charts the reign of Queen Elizabeth II, returns Friday. And if the first season was a fairly favorable portrayal of the British monarchy, then the second season throws a hand grenade into what you think you know about the royals.
The first episodes of the show chronicled the sweet courtship—and developing bitterness—between Elizabeth (Golden Globe Award–winning Claire Foy) and Prince Philip (former Doctor Who star Matt Smith). But in the second season their relationship has curdled with Philip's growing resentment as he struggles to accept that his wife is also his ruler.
The Crown creator and writer Peter Morgan explores the deteriorating relationship between Elizabeth and Philip, in part, by touching on Philip's rumored infidelity. It's a move that risks upsetting Buckingham Palace but Smith tells Newsweek that it's important for the Emmy-nominated drama series to portray the realities of the royal couple's complex relationship.
Ahead of his final season as Prince Philip—both he and Foy will be replaced by new actors for Seasons 3 and 4—Smith spoke to Newsweek about his admiration for the maverick royal, what he'll miss most about The Crown and a bygone era of masculinity.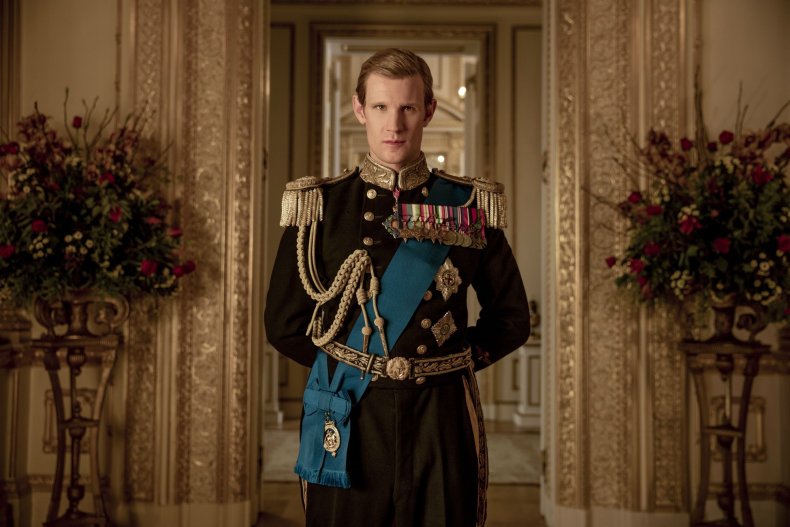 Now that you've finished your two seasons of The Crown, are you happy you accepted the role, in hindsight?
Yeah, I am, actually. It's been really interesting. He's a conflicted character. I've grown quite fond of him, I suppose. There's something about Prince Philip that is… He's one of life's great outsiders, in a way. That's been really interesting to get hold of.
This season is darker in tone. It's not a rosy depiction of the royal family. Did you feel there was a risk in how viewers would react to it?
No. Perhaps it's uncomfortable for people to watch, but it's not like we're being salacious or gratuitous with the facts. There's rumors about the royal family, and there are the facts that we know, and then it's all fictionalized and interpreted by us lot. So, not really. I learned more about the characters, which I think is interesting, especially as a Brit. The version of the royal family we think we know [as Britons] is less detailed. I know a lot more after two seasons of The Crown than I did before.
Why do you think Brits particularly accept a varnished perception of the royal family?
It's a good question—I don't know. Probably because they are the royal family and we treat them with a great deal of respect, which is the right thing. But as a dramatist, you have a responsibility to shine a light on the uncomfortable and ugly parts of characters that you're representing. We as a society don't really want to do that because we want to celebrate them ultimately, because, I think, as a public and a nation, we're quite proud of them, really.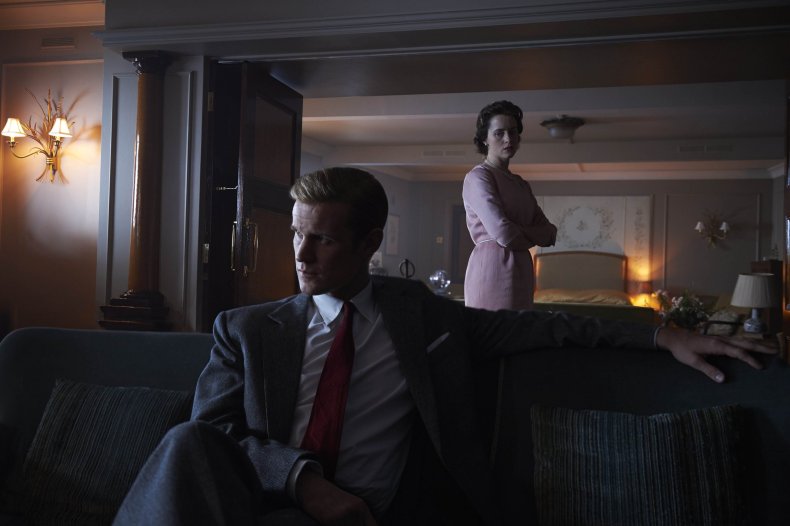 Philip's alleged infidelity is a focal point of The Crown Season 2. What is the motivation for him, do you think? Is he trying to claw back some masculinity and independence that he's given up as the royal consort?
What I was always really drawn to in Philip was his maleness, as it were—the alpha side of him. It's difficult when you're married to the Queen because that alpha side of you has to be clipped. The Queen is the Queen.
In current society, we're kind of celebrating that [maleness] less and less, and that's something I really admire in Philip. He found some of his life difficult because that side of him was curtailed. I just really empathized with that. I recognized that as a man I'd find it difficult to kneel to my wife. I'd find it difficult if my wife sent me away for five months for royal duty. This power was swept away from beneath him, and as a man that's a difficult place to be in, especially in the '50s and '60s.
What do you mean by society losing its recognition of maleness?
Look, rightly so, a character like the Queen, we celebrate she is at the forefront of style, her career and is in a position of power. That's a wonderful thing. Maybe it's because the balance has been tipped too long in the male favor. I just think at the moment, I found things in Philip that people aren't celebrating any longer, which is a sense of being an alpha male, a sense of competition. There's a sense of pride and a sense of male responsibility. To me, they're qualities I'm attracted to in men, I suppose, for want of a better description. They're qualities I recognize in my dad. For me, as a man, they're things I celebrate in other men.
That's not saying: "Be a chauvinistic pillock." That's not what I mean. I mean, the qualities that a lion has. Why can't we celebrate Philip for that? I think he's chastied quite a lot. When you spend a couple years researching and understanding someone, you can't help but become quite fond of them and weirdly quite protective of them.
What has been more difficult, leaving behind the role or leaving behind the working relationship with Claire Foy?
That's a good question. Both, actually. I'll miss Claire terribly. You see on screen, she's got such extraordinary ability. With that, though, she's got such a sense of the ridiculous. Claire is everything I celebrate about a modern woman. She had a baby on set, she's got a great sense of humor, she takes the work so seriously. It was a wonderful experience and she's become a very dear friend.
Added to that, it's also difficult to leave behind Peter Morgan, because the quality of the writing is just so good and it gives you a real chance as an actor. I always knew it was going to be two years. It's quite a good thing, actually. If they can pull it off and have three sets of actors play three generations of these people that we know, that's unheard of.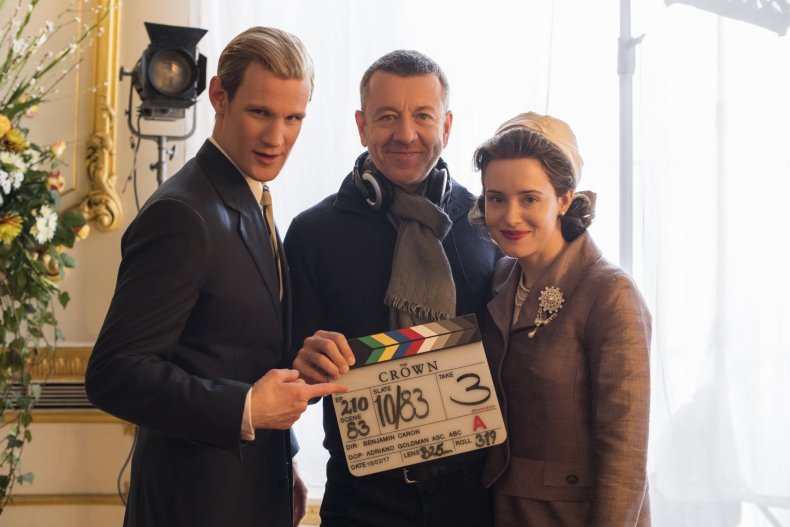 Is there anyone you'd like to see take over Philip, and any advice for them?
No, absolutely not. And I wouldn't want to speculate because it's unfair. I wouldn't give them any advice just like I didn't give Peter Capaldi advice [when he took over as Doctor Who]. They'll find someone brilliant who'll approach it with their own thought processes and personality.
How has inhabiting the royals and seeing the extent of the fame that they deal with informed how you deal with your own fame?
It's very different. The level of fame that they have is so unique. I can bear quite a good party line on that—they don't say anything, they don't really get involved, they're not on Twitter or anything, they don't over-communicate. And they retain an element of mystery. That's what Frank Sinatra did, that's what Marilyn Monroe did. I think the modern age has spawned a version of being famous which is a bit tiresome, to be honest with you. Everything is about immediacy and uploading and sharing, and that bores me. They have quite a good line on that stuff.
What about dealing with the tabloid culture? You've experienced a bubble of intense fame with Doctor Who and had your own privacy invaded.
It's important to raise a distinction between myself and members of the royal family. The level of invasion that they have is so much greater than anything any of us will ever understand. Whatever level of fame I've been through is not and cannot be comparable to theirs. Being famous is an individual experience. It's very hard to explain and articulate. But it's a product of what you do. It's a product of being a musician, politician, actor or a member of the royal family. There are worse things in life to deal with. It has its good points and its bad points.
The Crown Season 2 streams globally on Netflix from Friday.