Did Rose McGowan Call #MeToo 'Bull****'? Campaigner Denies Criticizing Movement
Rose McGowan was among the first women to come forward with sexual misconduct allegations against movie mogul Harvey Weinstein—giving a signal boost to the #MeToo movement and sparking a year-long series of revelations of sexual abuse in Hollywood and beyond.
In an interview with British newspaper The Sunday Times, published Sunday, October 7, McGowan spoke about how Hollywood had responded over the past year. The actor slammed the lack of support from other alleged victims and campaigners who have since held industry events on the subject.
"I don't want to go, because it's all bullshit," McGowan said.
"It's a lie. It's a Band-Aid lie to make them feel better. I know these people, I know they're lily-livered, and as long as it looks good on the surface, to them, that's enough," she added.
On the lack of support, she said: "I just think they're douchebags. They're not champions. I just think they're losers. I don't like them. How do I explain the fact that I got a GQ Man of the Year award and no women's magazines and no women's organizations have supported me?"
McGowan, 45, previously criticized "Times Up"—a separate anti-harassment campaign launched by Hollywood celebrities in 2018—and later started her own project, dubbed Citizen Rose.
In the Times interview, McGowan rejected the suggestion women should move on.
"F*** your forgiveness," she said. "No moving on, not if they're still doing it. What are you moving on from? That's part of the older generation doing that same bullshit. You know what?
"Don't put your timeline on me," the former Charmed actor continued. "Don't put your timeline on other victims. It's a way of shutting people up. It's expected of us to be feminine and gracious, but they haven't been gracious with us. Forgiveness? Maybe when I'm 80. If I feel like it."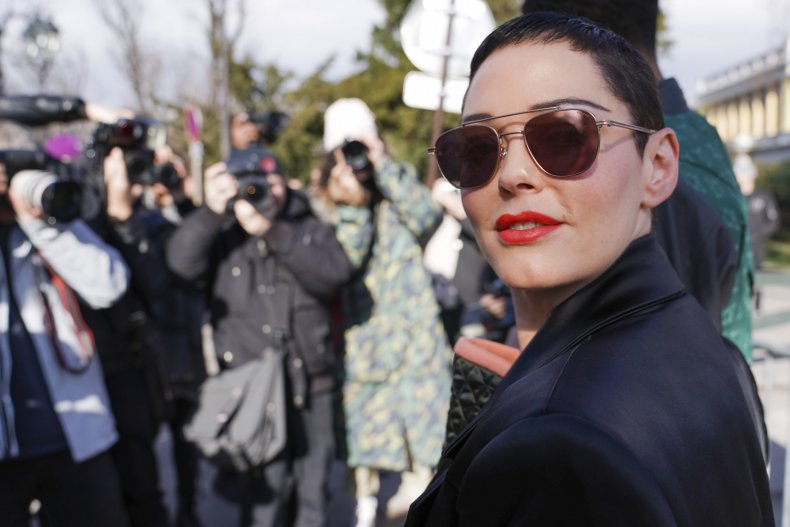 Since last October, dozens of women have come forward to accuse Weinstein of assault.
The former movie producer, who was charged in May this year, has denied the numerous claims against him. McGowan, who accused Weinstein of rape via her Twitter profile, alleged that he assaulted her in a hotel room in 1997 during the Sundance Film Festival, when she was 23.
The resulting #MeToo movement sent waves across the American film scene.
Assault allegations about other public figures, including Kevin Spacey, Steven Seagal, Louis CK, Les Moonves, Morgan Freeman, Charlie Rose, James Franco and more, also surfaced.
McGowan's comments about #MeToo, of which she has been a vocal supporter, quickly made headlines. But on Sunday, she rejected the suggestion that she had criticized the movement.
"I never said #MeToo is a lie. Ever," she tweeted after the article's publication.
"I was talking about Hollywood and Time's Up, not #MeToo. Ugh. I'm so tired of erroneous sh*tstorms. #MeToo is about survivors and their experiences, that cannot be taken away."
McGowan told The Times Magazine that there was only one thing that could help her move on from Weinstein's alleged sexual assault and abuses. "Justice," she stated. "Life. Life in prison for all the lives he stole. And maybe then I'll have forgiveness, but not until then."
The #MeToo movement, which is also credited to actor Alyssa Milano, shows no sign of slowing.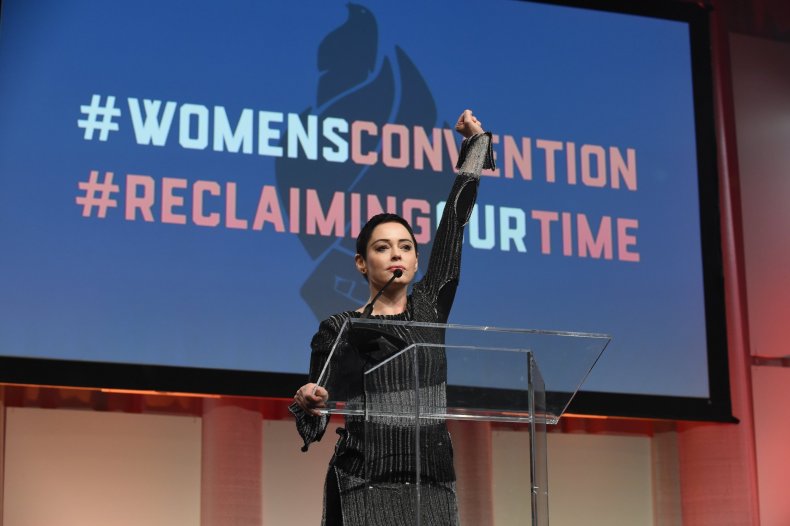 In recent weeks, it has entered the political realm, as accusations of assault were made against a Supreme Court nominee, Brett Kavanaugh. Milano was in attendance during the testimony of Kavanaugh's accuser, Christine Blasey Ford. "We may have lost a political battle," Milano told Meet the Press after he was confirmed. "But I do think we are winning the cultural battle."
Weinstein is yet to stand trial. Alongside charges filed in New York, he is also facing probes in Los Angeles and London. After his arrest in May, he was released on a $1 million bail bond.
In July this year, Manhattan's district attorney announced the filing of additional charges.
In August, a U.S. federal judge ruled a sex trafficking lawsuit against Weinstein by actor Kadian Noble could go ahead, denying an application for the case to be dismissed, The Guardian reported.