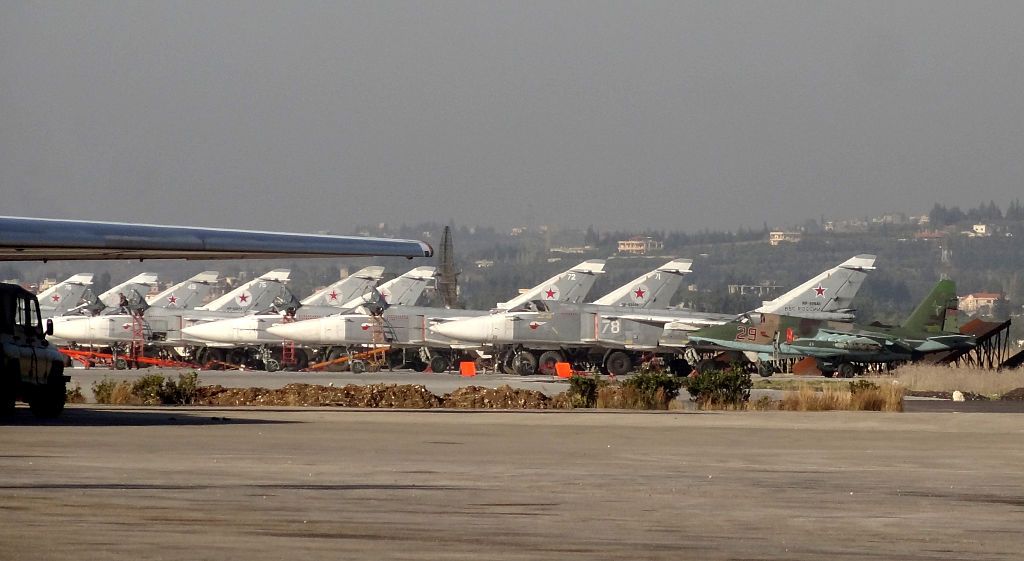 Russia's Defence Ministry on Sunday rejected allegations it had bombed U.S.-backed militias in Syria, saying its planes only targeted Islamic State (ISIS) militants and that it had warned the United States well in advance of its operational plans.
U.S.-backed militias said they came under attack on Saturday from Russian jets and Syrian government forces in Deir Al-Zor province, a flashpoint in an increasingly complex battlefield.
The Syrian Democratic Forces (SDF), an alliance of Kurdish and Arab militias fighting with the U.S.-led coalition, said six of its fighters had been wounded in the strike.
A spokesman for Operation Inherent Resolve, the U.S.-led coalition, on Saturday confirmed the strike had taken place.
"Russian munitions impacted a location known to the Russians to contain Syrian Democratic Forces and coalition advisers," Operation Inherent Resolve said in a news release. "Several SDF fighters were wounded and received medical care as a result of the strike."
The strike occurred early Saturday, hitting an area east of the Euphrates River, near the city of Deir Ezzor.
An unnamed Operation Inherent Resolve official told CNN that the coalition denied a Russian military request to strike an area in the province of Deir Azzor, as there were coalition advisers and U.S.-backed Syrian forces there. The Russians decided to carry out the strike anyway, according to the official.
But Major-General Igor Konashenkov, a spokesman for the Russian Defence Ministry, dismissed the allegations in a statement on Sunday.
Konashenkov said Russian planes had only carried out carefully targeted strikes in the area based upon information that had been confirmed from multiple sources.
The strikes had only hit targets in areas under the control of Islamic State, he said.
"To avoid unnecessary escalation, the commanders of Russian forces in Syria used an existing communications channel to inform our American partners in good time about the borders of our military operation in Deir al-Zor," Konashenkov said.
"In the last few days, Russian surveillance and reconnaissance did not detect a single clash between Islamic State and armed representatives of any 'third force' on the eastern bank of the Euphrates," he added.
Separately, Franz Klintsevich, a member of the upper house of parliament's security committee, said there was no proof to underpin the accusations against Moscow.
In recent days, Syrian forces and U.S.-backed groups have converged on the former ISIS stronghold of Deir Ezzor.
Syian forces backed by Russian cruise missile strikes have seized back swaths of the city from ISIS, and relieved a beleaguered garrison of soldiers who had reportedly held a besieged outpost for three years.
Separately, coalition forces announced the launch of Operation Jazeera Storm, and in a fast-moving attack claimed to have seized back 115 square miles of territory from ISIS along the banks of the Khabur River, which intersects with the Euphrates just south of the city.
Amid fears of a clash between Syrian government forces and coalition militias, a U.S. military spokesman told reporters Thursday that the SDF would not enter Deir Ezzor, seemingly leaving the route open to Syrian forces.
"The plan right now is not to go into the city," US Army Col. Ryan Dillon, a spokesman for Operation Inherent Resolve, said, as cited by multiple news outlets. However, he said that the proximity of the two forces required increased "de-confliction."
"The convergence of military forces in this area calls for increased awareness and de-confliction," Dillon said.