Did 'Selling Sunset' Boss Brett Oppenheim Really Leave His Own Brokerage?
There may be some major changes on the horizon for the fourth season of Selling Sunset—that is, if the Netflix reality show actually does return.
Selling Sunset cast member Christine Quinn, who is one of the show's leading real estate agents, dropped a few spoilers about an upcoming season and claimed that one of her bosses, Brett Oppenheim, no longer works as a realtor at the Oppenheim Group—the Los Angeles real estate agent which the series closely follows.
In an interview with Glamor UK, which released on Saturday, Quinn shared potential Season 4 details and claimed that Oppenheim discontinued working alongside his twin brother Jason Oppenheim and went on to start his own business.
"Brett has left to start his own brokerage. The girls are fed up with the favoritism of Mary [Fitzgerald] in the office, we don't know who will move where. It may be the battle of the brokerages! I think season four is going to be the juiciest season ever," Quinn said.
Newsweek has reached out to Brett Oppenheim to confirm.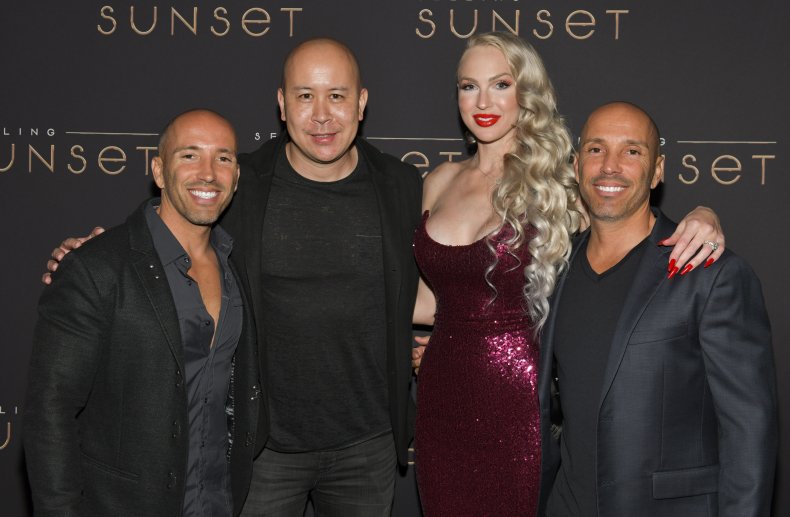 Brett Oppenheim's decision to leave the Oppenheim group would be a total shocker for fans. From the show's standpoint, he seemed to have a solid relationship with his brother and the ladies who worked for him while realtors Maya Vander and Davina Potratz were the ones to openly question their future with the brokerage.
Netflix hasn't actually announced if there will indeed be a fourth season of the fan-favorite series. Newsweek did reach out but Netflix was unable to provide further comment.
If there is a fourth season in store, though, viewers can expect to see Quinn's friendship with Fitzgerald all patched up. After a rather combative Season 3, the best friends finally managed to get on the same page according to Quinn, who told Glamour UK she was surprised to have received a phone call from Fitzgerald in early August.
"I was like, 'Is this a butt dial? I couldn't believe that she was calling me, I actually moved a work meeting because I wanted to talk to her," she explained. "So, her and I were sitting on FaceTime for a good hour and a half. And then, you know, we just decided, let's get together like, let's do this. It was so nice because it was something that was weighing on me for so long. I don't know why we let this silly stuff get in the way of the solid friendship that we did have. I'm glad that we came to a really great place."
As for her relationship with Chrishell Stause, which has been particularly rocky since the show's debut, things could turn for the better soon.
"I was talking to Mary about this, and I think we both are ready to, you know, move on," Christine said. "I feel like it's time to like put the past in the past and reconnect because I mean, you shouldn't hold a grudge this long and we're grown a** women. We can get over that. She can unblock [from Instagram] me then."
Did 'Selling Sunset' Boss Brett Oppenheim Really Leave His Own Brokerage? | Culture