Did Stardew Valley Try to Warn Us About Coronavirus? One Fan Jokes 'Yes'
Despite the utter chaos that is 2020, there's a place, far away, where troubles are distant, adventures are abundant and true love can blossom with time. Many gamers know that place as Stardew Valley, a digital, second life that completely removes the player from their current reality.
Lately, the world of the Valley and the world in which we really live overlapped in a jarring and hilarious way, all thanks to an observation from one Twitter user. This user and indie game streamer (known as AstralAneurism, yes really) brought up a super common line from one of the game's NPCs, Harvey. Could the game have known all along about what was coming in 2020? "Remember to cover your mouth when you sneeze," Harvey, the town doctor, explains in passing.
This line shouldn't be too much of a shocker given Harvey is in charge of the health of Stardew Valley's residents. He owns and operates the Pelican Town medical center, so advocating for general hygiene is something we love to see.
While it's probably not COVID-19 related, there is something a bit eerie about the in-game reminder to respect the health of others during a global pandemic. What often serves as a form of escapism suddenly becomes a reminder of the turmoil unfolding around us in sneezes on the subway or coughing grocery store shoppers.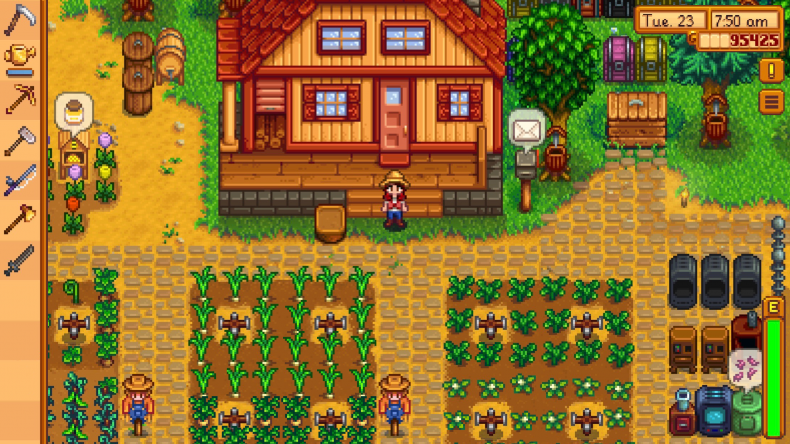 Stardew Valley allows players to craft their perfect life. The storyline of the game is simple and highly customizable. Your player, named and designed by you, is welcomed to Pelican Town as the new farmer. The farm was left to you by your late grandfather who moved to the rural space when the stress of the 9 to 5 lifestyle became too much. Your character feels the need for a new start, and boy do you get it with dozens of NPC with deep, difficult-to-access backstories. You can spend years learning new things, exploring secret caverns and renovating the village community center.
But if adding in a real-world-like reminder, specifically about coronavirus, sounds like your thing, there's a way to do that. Apparently, a mod (or game update created by players, not connected to the actually Stardew Valley roots) exists that will allow the NPCs to bring up Coronavirus.
We aren't entirely sure what the fun in that is, except for maybe reminding yourself that life is constantly changing. In that vein, why not change the game you love, too? This mod, created by a community of Stardew Valley enthusiasts, is explained as follows: "This mod adds Dialogue to the major Stardew Valley characters, causing them to occasionally discuss the Coronavirus. Adds facemasks, currently for sale from the hat mouse."
Future updates aim to include an in-game quarantine and hand sanitizer crafting. You can read more about it here.
With no official Covid-19 updates from Stardew Valley's creator, ConcernedApe, it still serves as a thoughtful escape from real life. New updates are coming to the game, though, in the form of Stardew Valley 1.5, it seems. Teasers for the update noted there will be expanded game-end play, as well as a secretive door in Willy's fishing shop. There's no telling where the door leads just yet.
Everything we know is in this tweet:
Did Stardew Valley Try to Warn Us About Coronavirus? One Fan Jokes 'Yes' | Culture