Did Steelers-Bengals Prove the NFL Is Still Too Violent? Ryan Shazier Was Just One Casualty of Monday Night Football
Ryan Shazier left the Pittsburgh Steelers' Monday Night Football victory over the Cincinnati Bengals on a stretcher early on, bound for the University of Cincinnati Medical Center.
It was the kind of image that the NFL would like to eradicate, made all the more existentially concerning, perhaps, because it occurred on such a routine play. Andy Dalton found his wide receiver Josh Malone over the middle. Malone was met by two Steelers defenders. Shazier, the Pro Bowl linebacker, made the initial hit but didn't get back up.
After several worrying moments, the 25-year-old was removed from the field. Kevin Colbert, the Steelers' General Manager, released a statement noting that Shazier had suffered a back injury but would not require surgery "at this time."
Shazier's injury was the most concerning but by no means the only worrying one to come out of a game that, once the dust had settled, put the surging Steelers in position to claim the AFC's top seed. "This is not the time to argue, stubbornly and with fleeting merit, that football must be accepted as an uncontrollably vicious and unavoidably violent game," Kevin Seifert of ESPN wrote in a powerful postgame commentary. As Seifert noted, there was likely nothing anyone could have done to prevent the Shazier hit (particularly as defensive players are taught to tackle low).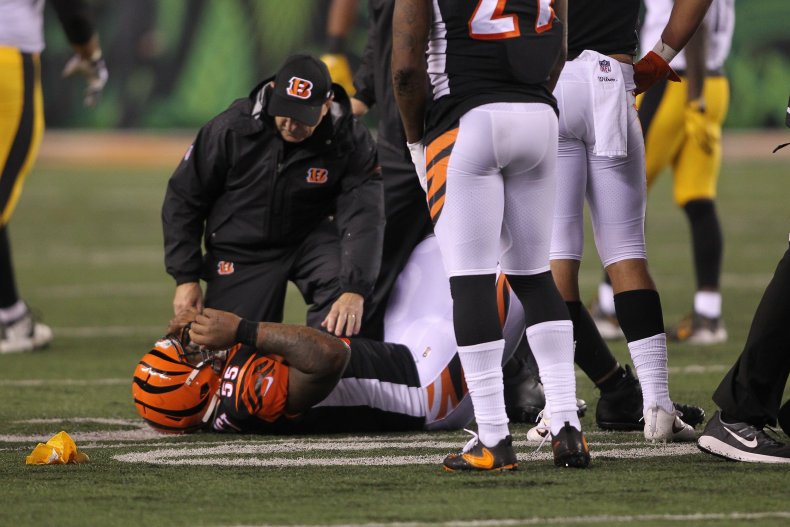 But two other, avoidable hits left the NFL with a primetime television mess to sort out. In the fourth quarter, JuJu Smith-Schuster put a massive, and illegal, block on Bengals linebacker Vontaze Burfict. Burfict jumped off his backboard but is in concussion protocol, according to Katherine Terrell of ESPN. Smith-Schuster apologized later on Twitter.
That wasn't the end of the violence. After Antonio Brown had caught a game-tying touchdown pass from Ben Roethlisberger, Bengals safety George Iloka hit him late on the helmet. Brown was one of those praying for Shazier after the game on Twitter.
After Joe Mixon, the Bengals running back, and cornerback Dre Kirkpatrick also suffered concussions, the final word was left to Troy Aikman who played in a supposedly less enlightened era of the NFL. "This game is hard to watch for a number of reasons. Terrible for the NFL and the game of football overall." Aikman tweeted. It was hard to find a counter-argument.