Did Tayshia Adams Fall in Love on 'The Bachelorette?' She Already Admitted It
Tayshia Adams's journey on The Bachelorette starts Tuesday night, and she's already revealed that she fell in love. Adams recently claimed that she was in love with more than one person on the series, which could make for an interesting season.
In a new conversation with Entertainment Tonight, Adams admitted she fell for "way more [men] than [she] thought [she would]."
Adams is stepping into the Bachelorette position mid-season, after Clare Crawley found love almost immediately. In the fourth week of the show, Crawley was engaged to Dale Moss, and they left the series. Crawley left behind 16 men, all of whom decided to stick around for a new Bachelorette. On Tuesday night, Adams will meet the men for the first time.
Apparently, there will be a few additions, too, so Adams will welcome a few men who never met Crawley. Out of the men—the number of which is expected to be around 20 with the new additions—she apparently fell for a handful.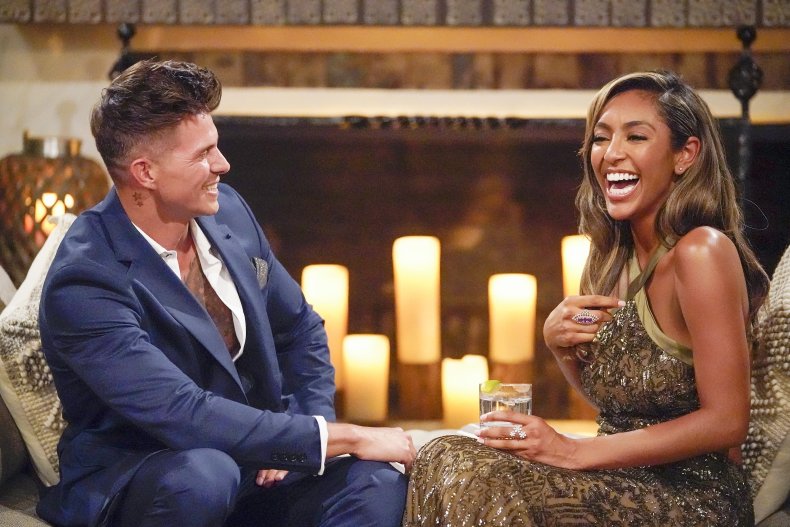 "I didn't know it was possible to fall in love with multiple people," Adams explained to Entertainment Tonight. "But when you just really lean into the journey and really be vulnerable, you never know what can happen. And it happened to me."
Adams also revealed that she said "I love you" to more than one person, something that's happened a few times on the series before. This is often controversial, as the Bachelor or Bachelorette was once expected to hold in strong feelings until the end of the series. In recent seasons, though, the idea of saying "I love you" seems more common.
While viewers have no clue which men Adams fell for, she did speak highly of one man in particular. Adams was open about contestant Zac C., whom she claimed has a long, interesting storyline on the series. "He is different," she noted. "He is someone that has depth to him, was willing to go to those places. I'm telling you, these guys are vulnerable, they're open, they're honest, they're real."
Bachelor Nation can't wait any longer for Adams to take over. Even before her storyline officially started on Tuesday night, viewers questioned when the 30-year-old would step in for Crawley. It came after a rather dramatic start to the season, which saw Crawley fawning over Moss—so much so that it obviously upset the other men who wanted her time.
Crawley and Moss are still together, though. On Instagram on Monday, the pair shared that they were in Moss's hometown doing their own version of "hometown dates."
Adams's season has a handful of spoilers available already, too, like whether she's engaged. If you want to know where Adams and her suitors stand in real time, you can read more about that here.
The Bachelorette will air at 8 p.m. ET Tuesday on ABC.