Did Tayshia Adams and John Paul Jones Break Up? Adams Slams 'Bachelor In Paradise' Spoilers Claiming Fake Love
Tayshia Adams said her Bachelor In Paradise relationship with John Paul Jones isn't fake at all. Her statement came after spoiler reports the couple is no longer together and are keeping a fake image on social media.
Adams explained these rumors, first released by Reality Steve, are not true in a conversation with an Instagram commenter. Since the finale of Bachelor In Paradise on Tuesday, Adams has been sharing photos of herself and Jones. One viewer explained the spoiler site said they'd broken up. "Guess what...he's wrong!" wrote Adams, with a winky face.
She responded again. "It's kind of bizarre! Always ready to harp on anything negative about me!....Reality Steve Who???"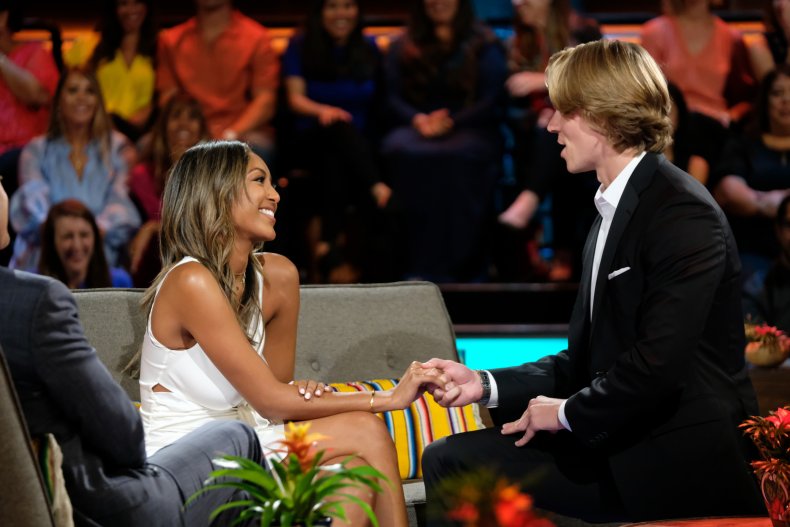 The pair have even opened up about a cross-country move to live closer to each other. "I think moving to L.A. is potentially in the horizon," Jones told Us Weekly. "That would make our dating situation easier. We're just taking it one day at a time."
Adams added the pair FaceTime every day "for hours."
Adams and Jones broke up on Bachelor In Paradise but revived their relationship after filming. On Tuesday's finale, Adams was shown approaching Jones after the season to continue a relationship. Though they expressed they were happy together, Reality Steve told a different story.
The spoiler site expressed he'd heard chatter that the pair had broken up. "This reunion show filmed August 27th," he said on Twitter Monday. "Chris and Katie are still together today. Tayshia and JPJ are not together anymore."
Fans told him to check their social media accounts, where they'd been publicly flirtatious. "I see what Tayshia and JPJ are posting. I'm just telling you what I'm hearing," he followed up.
Despite Adams' response, Reality Steve's mind has not changed. "At no point in my column do I ever write the words 'I don't think they're together,' he said to a Twitter commenter. " So, not correct. I'll believe what I believe, and that is that they're lying, and you believe what they say. That's fine. No need to respond anymore."
Jones was open about their initial breakup in the conversation with Us Weekly.
"I think we were kind of forcing things a little bit and I think she made the mature decision to postpone it a little bit," he said. "She had every right to feel the way that she felt. Everything unfolds in such a short period of time and it's difficult to do. I think it's a little bit unrealistic to jump to, you know, that big of a commitment in that short period of time. I can't force somebody to want to be with you. I'm not gonna beg her to go with me."