Did 'Tiger King's' Carole Baskin Kill Her Husband? The 2 Million Who Watched Joe Exotic's Music Video May Think So
Joe Exotic's "Here Kitty Kitty" music video soared to over 2 million views on YouTube after the release of Netflix documentary Tiger King. The rise in attention has started an Internet-wide conversation about Carole Baskin's late husband, who disappeared in the 90s.
It seems many netizens believe Baskin killed her husband, though there's no proof she was involved in Don Lewis' disappearance.
Tiger King dives into the heated rivalry between Joe Exotic, former owner of the Greater Wynnewood Exotic Animal Park in Oklahoma, and Baskin, a tiger advocate who owns the Big Cat Rescue in Florida. The pair's opposing views on tiger captivity led Exotic to order a hit on Baskin's life. Those charges plus counts of animal cruelty led to a 20 plus prison sentence for Joe.
Episode 3 of the documentary series, which aired on Netflix in March, talks about the possibility of Baskin's involvement in her late husband's disappearance. Unsurprisingly, Joe Exotic was a believer that Baskin fed her dead husband to her tigers. Viewers seemed to follow his lead in the theory.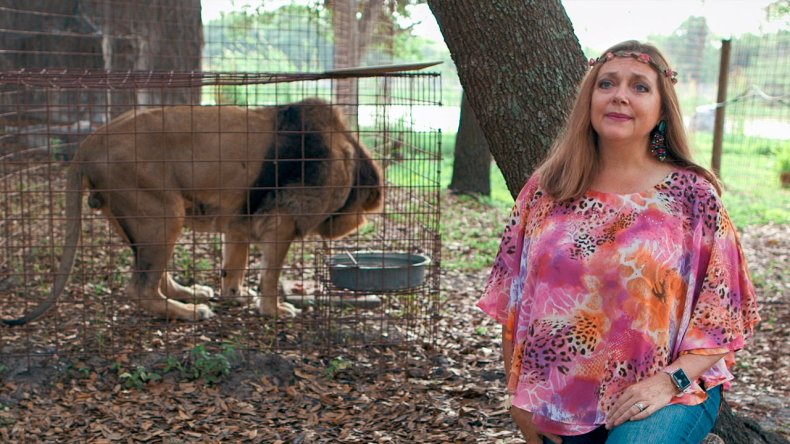 The controversial tiger owner even had a country music career that captured his feelings about Baskin. The music video "Here Kitty Kitty" shows a shockingly good lookalike to Baskin feeding pieces of meat to a tiger. Lyrics, as well as a fake head on the plate, imply the meat is human.
"It is believed that in 1997 a women in Tampa Florida killed her husband and fed him to the Tigers [sic] in order to get all of his property and money," the video's caption reads. "People Magazine [sic] even did a story on it."
Exotic is right. PEOPLE Magazine did cover Baskin's possible involvement in Lewis' death. Though she was investigated, as the documentary explained, she was never charged. Baskin has continued to deny all claims she was involved in Lewis' disappearance.
Most recently, Baskin wrote a blog post that slammed her portrayal on the Netflix series, including the deep dive into Lewis' disappearance. She started the post by claiming the Netflix producers approached her five years ago aiming to make a Blackfish-like series that exposed tiger captivity. They didn't achieve their goal, according to Baskin.
In an attempt to debunk the inquiries into her possible involvement, she even dove into the idea of putting her husband's body through a meat grinder.
"As Gladys and the daughters [Lewis' ex-wife and children] did everything they could to make life difficult for me after Don disappeared, they spread this rumor that they thought I had ground Don up and fed him to the cats. And the media loved it. The meat grinder shown in the video was enormous. Our meat grinder was one of those little tabletop, hand crank things, like you'd have in your kitchen at home, like the one pictured here," she wrote on her website.
"Meat had to first be cut into one-inch cubes like you see here to go through it. The idea that a human body and skeleton could be put through it is idiotic. But the Netflix directors did not care. They just showed a bigger grinder."
Despite her endless statements of innocence, Baskin has already been called guilty in the court of public opinions. Since Tiger King premiered, viewers have created thousands of memes surrounding Baskin and the claim that she was involved in Lewis' death.