Rachel Maddow, Stephen Colbert Mock Similarities Between Trump Border Claims And 'Sicario' Sequel
In recent weeks, President Donald Trump has repeatedly told of harrowing accounts of migrant women being trafficked in cars across the southern border with their mouths taped shut so they "can't even breathe." But with experts and border officials being so far unable to support the U.S. leader's claims, many are wondering where the U.S. leader has been getting his information.
Recently, commentators have said they believe they may have found the answer, with many pointing out a striking similarity between Trump's more recent talking points in his bid to get his long-promised border wall built and a 2018 Hollywood film, Sicario: Day of the Soldado.
The film, which depicts an escalation of the "drug war" at the U.S.-Mexico border that sees cartels trafficking terrorists into the U.S., appears to show scenes reflecting scenarios similar to the one that Trump has repeatedly described, sometimes in graphic detail.
It also includes a scene in which Muslim prayer rugs are found in the southern desert—a topic that also come up in a recent Trump tweet that saw the U.S. leader share a story from The Washington Examiner citing an unnamed "border rancher."
"Border rancher: 'We've found prayer rugs out here. It's unreal,'" Trump repeated the story's headline in a tweet, before writing: "People coming across the Southern border from many countries, some of which would be a big surprise."
As MSNBC's Rachel Maddow noted on air on Monday evening, both Trump claim are "plot points in the same movie," which, she stressed, "is fiction."
"Now in any normal administration it would be insane to suggest...even joke about the president of the United States seeing stuff in a movie... and maybe thinking it was real—or at least real enough to justify an actual military deployment of thousands of active duty U.S. troops to the border," she said.
However, in Trump's case, Maddow suggested, the president drawing inspiration from an action movie may not be out of the realm of possibility.
The Customs and Border Protection agency has not immediately responded to a request for comment from Newsweek on whether its agents have seen evidence of Trump's graphic claims of bound women being trafficked across the border. However, experts did tell The Washington Post last week that Trump's repeated claims are "divorced from reality."
"I think his statements are completely divorced from reality," said Ashley Huebner, associate director of legal services at the National Immigrant Justice Center. "That's not a fact pattern that we see."
Edna Yang, the assistant executive director of American Gateways, a Texas-based immigration legal services and advocacy organization told the newspaper that she had "no idea" where the "roots" of Trump's stories had formed. "I haven't seen a case like that," she said.
Meanwhile, Evangeline Chan, director of the Immigration Law Project at Safe Horizon, an organization dedicated to helping victims of trafficking, said that the president's "representation of how traffickers get their victims into the country just isn't what we're seeing...It is very, very different."
With the situation Trump has been describing at the border appearing to share more similarities with the 2018 Sicario sequel than reality, comedians and critics have latched on to the comparison with late show host Stephen Colbert wondering what other films Trump might be taking inspiration from.
"I'm telling ya, little boys are sneaking aliens in with flying bicycles," Colbert said on Tuesday night, impersonating Trump in a reference to classic film "E.T."
"These aliens are coming here to steal our precious Reese's Pieces."
"We must build a wall out of vibranium slats," Colbert continued, making a reference to a made-up metal from the Marvel universe. "Otherwise we'll be overrun by Crazy, Rich Asians," he said, playing on the title of the 2018 hit film.
The president has yet to provide clarity on where his claims on the situation at the southern border are coming from, while border officials have not offered any concrete confirmation or denial of the president's claims.
Colbert claimed, however, that he knows "exactly where Trump got his information." "It's from the Homeland Immigration Study on Asylum Support Statistics," the late show host joked, before displaying the full acronym for the made-up source: "HIS ASS."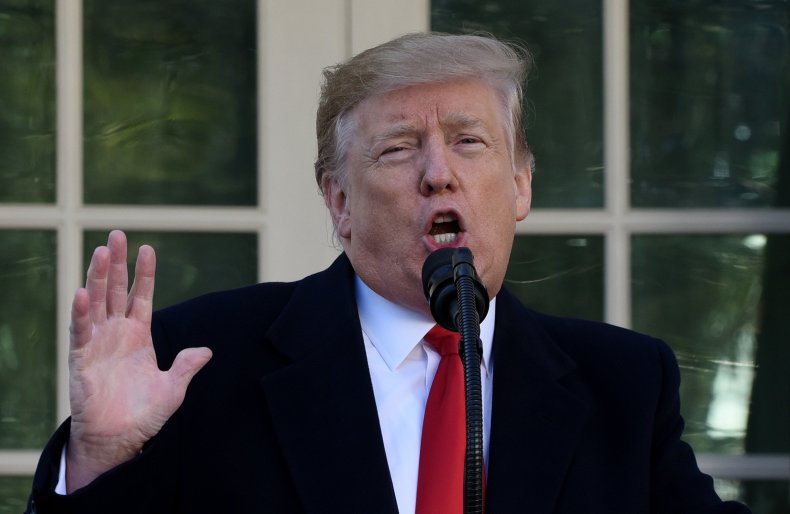 Updated: The headline of this article has been updated.