Make America Less Safe Again: Will Trump Endanger U.S. Soldiers by Cutting Pakistan Funding?
The Trump administration could be endangering the lives of U.S. troops in the Middle East with its decision to cut nearly all American security aid to Pakistan, experts say.
The decision, which was announced Thursday, is intended to pressure Pakistan to help U.S. foreign policy priorities like clamping down on the Taliban in Afghanistan. But it could end up backfiring by diminishing the cooperation between the U.S. and Pakistan to combat terror groups in the region.
"If the funding is cut, the Pakistanis will obviously retaliate by ceasing to cooperate with the U.S.," Dr. Zubair Iqbal, an economist focusing on Pakistan, told Newsweek.
"That will mean increased requirements on the U.S. to carry out its interests in the region. They have to find some alternative to provide resources to soldiers in Afghanistan. How will they do it?"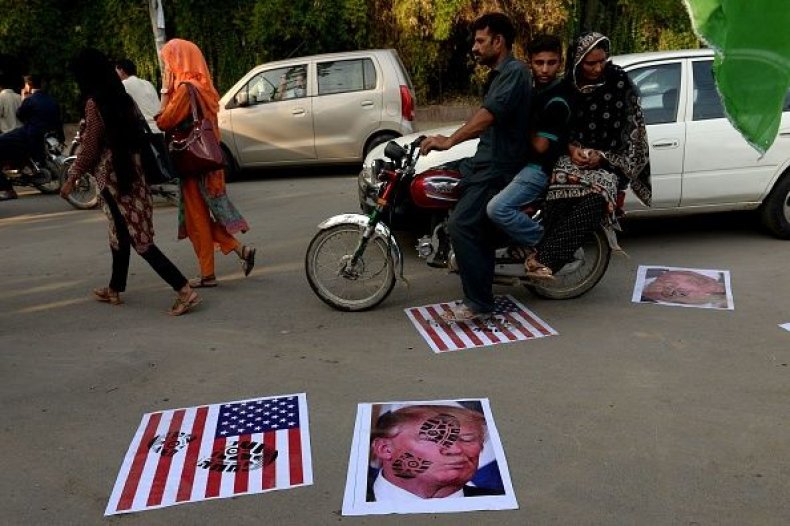 Currently, the U.S. and NATO depend on Pakistan for logistical support for their operations in Afghanistan, a key part of fighting terrorism. The U.S. originally increased funding to Pakistan in 2002 as part of its war on terror, and the Obama administration made Pakistan a priority as it planned to capture the terrorist mastermind Osama bin Laden. Pressure from the U.S. also resulted in a buildup of Pakistani military presence along the border with Afghanistan. The U.S. has given Pakistan billions in aid over the years since 2002, but most of that funding has gone to military efforts to advance U.S. security interests.
The decision to cut funding comes only days after President Donald Trump tweeted his disappointment with Pakistan, claiming that the U.S. received nothing but "lies and deceit" for the $33 billion in aid the U.S. gave Pakistan between 2002 and 2018.
The Trump administration had already announced it would cut $255 million in funding while it reviewed Pakistan's security strategies. It is unclear exactly how much additional funding will be cut after Thursday's announcement. U.S. aid agencies alone gave almost $5 million to Pakistan in 2017, according to data from the United States Agency for Internal Development (USAID). The suspension of funding includes Coalition Support Funds for Pakistan, a sum the Pentagon provides to help pay the costs of Pakistan's counterterror operations. Congress authorized up to $900 million in those support funds for Pakistan for the fiscal year 2017, none of which has been disbursed.
Mostregional analysts agree that the results of these programs have been mixed, mostly because Pakistan has been willing to sacrifice U.S. goals to pursue its own interests in relation to India, its regional enemy. But cutting funding to Pakistan will do little to advance U.S. interests in the region, analysts note.
"It is important to distinguish between Pakistani foreign policy in regards to Afghanistan, policy that is shaped by Pakistan's rivalry with India and Pakistani domestic security policy aimed at Pakistan's Taliban groups," Harrison Akins, a Middle East security expert at the Howard Baker Center, told Newsweek.
"The real question will be how this loss of support will be translated within Pakistani domestic security policy, and whether the loss of Pakistan as an ally is endemic of a much larger problem with American stature and influence on the international stage," Akins continued.
Some regional analysts question whether the Trump administration has a plan for how to move forward, or if the decision to cut funding was a reaction to recent comments from Pakistan's foreign minister, who accused Trump on Wednesday of lying about how much aid the U.S. gives Pakistan.
"The timing and nature of the Trump administration's decision are worrisome. Is he freezing the funds for legitimate reasons, or is he doing it because he didn't like how Pakistan officials replied to his initial tweet about them?" Chris Meserole, a Middle East analyst at the Brookings Institution, said to Newsweek.
"There are legitimate reasons to cut back funding to Pakistan, but winning a Twitter war isn't one of them," he said.