This article first appeared on Just Security.
Did President Donald Trump or other U.S. officials engage in an obstruction of justice with respect to the Russia investigation?
There are three scenarios which raise that question. It's important to keep each of them in mind as one thinks about incriminating and exculpatory information, and patterns of related behavior.
Before setting out each scenario and then the Timeline, it may bear reminding that under U.S. federal criminal law, the definition of obstruction of justice includes anyone who "corruptly … or by any threatening letter or communication … endeavors to influence, obstruct, or impede" a criminal investigation.
According to the U.S. Attorney's Manual, even a mere attempt to pursue those ends is enough for obstruction, regardless of whether the attempt succeeds. The criminal standard matters if prosecutors were ever to consider pressing charges while Trump is President (a period in which he may be immune from indictment) or after he leaves office.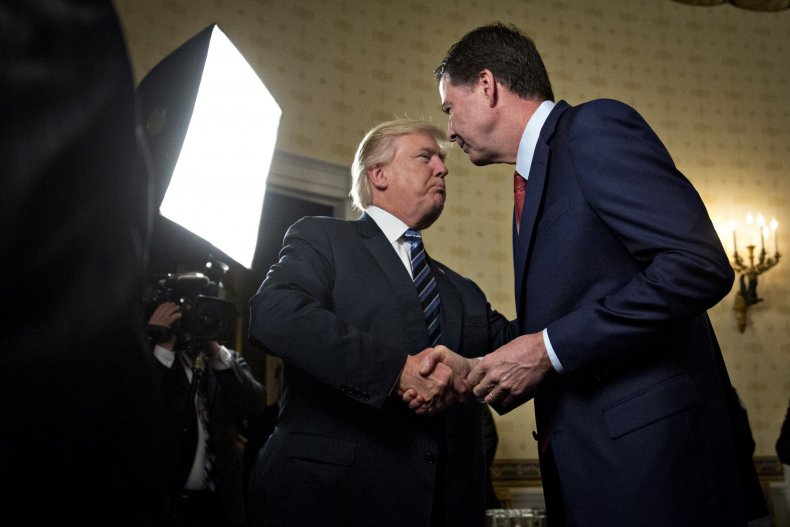 The federal definition could also serve as a background for impeachment proceedings, although Congress would not be tied to the strict definitions of existing criminal law. Finally, there is always the court of public opinion.
What are the three scenarios that prosecutors, members of Congress, and the public could consider under the heading of obstruction of justice?
First, any attempts to unlawfully have FBI Director James Comey drop the investigation of Michael Flynn
Second, any attempts to unlawfully interfere with FBI or congressional investigations into potential collusion between the Trump campaign and Russian officials during the 2016 election
Third, any attempts to unlawfully interfere with the FBI or congressional investigations into Russian interference in the 2016 election (having nothing to do with any alleged collusion)
It is also important to keep in mind that one form of obstruction may be in getting officials to drop an investigation (which is very difficult to ever pick back up) and another form may be in firing officials with authority over the investigation.
The following is a Timeline of events that could be relevant to considerations of the obstruction of justice. It adheres as much as possible to the most directly relevant information, but also includes some other evidence that may be relevant to investigators who are looking for patterns of behavior (for example, Trump's treatment of Preet Bharara).
Timeline
Late July 2016 – According to the New York Times and later confirmed by former FBI Director James Comey, the FBI begins investigating the Russian government's attempts to interfere with the 2016 U.S. election. The investigation includes examining whether Donald Trump's presidential campaign was connected to those efforts.
The catalyst for the FBI investigation includes Trump foreign policy adviser Carter Page's trip to Moscow to deliver a pro-Russia foreign policy speech at a prestigious Russian institute that same month.
December 29, 2016 – In retaliation for Russian interference in the election, the Obama administration orders the expulsion of Russian intelligence agents and imposes new sanctions on Russian state agencies and individuals suspected of hacking U.S. computer systems. The CIA and FBI had previously concluded that Russia had interfered in the election multiple times including leaking damaging information to assist the Trump campaign.
January 6, 2017 – According to Senate testimony by James Comey, he first meets Trump at Trump Tower on this date as part of an Intelligence Community assessment briefing on Russian election interference. After the meeting ends, Comey meets with Trump privately and assures Trump he is not being personally investigated. He writes a memo about the meeting after he returns to his car.
Later testifying to Congress Comey says, "I was honestly concerned that he might lie about the nature of our meeting, and so I thought it really important to document."
January 6, 2017 – The New York Times reports that the IC concluded in its assessment that Russian President Vladimir Putin ordered a campaign to influence the outcome of the 2016 election, initially seeking to weaken Hillary Clinton, but later developing a "clear preference" for Trump.
The Times reports that at the IC assessment meeting earlier that morning, Trump "responded by acknowledging, for the first time, that Russia had sought to hack into the Democratic National Committee's computer systems," but asserted that these activities did not influence the election's outcome, and he did not address the IC conclusion that Putin had favored his campaign.
January 19, 2017 – The New York Times first reports that U.S. law enforcement and intelligence agencies are conducting a counterintelligence investigation into links between Russian officials and Trump associates. The investigation centers partly on past business dealings between Trump advisers and Russia.
The FBI is leading the investigation, alongside the CIA, NSA, and the Treasury Department's financial crimes unit. The associates under investigation include former campaign manager Paul Manafort and advisers Carter Page and Roger Stone.
January 27, 2017 – According to Comey's testimony, Trump invites Comey to what he believes will be a group dinner at the White House, but which turns out to be a private dinner meeting with the then-FBI Director.
Trump asks whether Comey wants to remain FBI Director, and Comey responds affirmatively. During the dinner, Trump repeatedly tells Comey that he "needs loyalty," and Comey responds, "You will always get honesty from me." Trump responds, "That's what I want, honest loyalty." Comey responds, "You will get that from me," hoping to end the conversation.
Comey later testifies to Congress that, given the one-on-one nature of the meeting and the substance of their talk, Comey believed the dinner was in part an effort to create a "patronage relationship."
February 13, 2017 – National Security Advisor Michael Flynn resigns after revelations that he misled Vice President Mike Pence and other administration officials about a conversation with Russian Ambassador Sergey Kislyak in December 2017 about U.S. sanctions against Russia.
February 14, 2017 – According to Comey's Senate testimony, Comey and other IC leaders deliver a counter-terrorism briefing at the Oval Office. Trump signals the end of the briefing by thanking everyone and saying he wanted to meet with Comey privately.
Trump tells Comey, "I want to talk about Mike Flynn," adding that Flynn had not done anything wrong, but had to resign because he misled Pence. Trump then tells Comey, "I hope you can see your way clear to letting this go, to letting Flynn go. He is a good guy. I hope you can let this go."
Comey later testifies that he "had understood the President to be requesting that we drop any investigation of Flynn in connection with false statements about his conversations with the Russian ambassador in December."
Immediately after the meeting, Comey prepared a memo of the communication and presented the issue to FBI senior leadership. Comey interpreted Trump's communication as " a direction " to drop the FBI investigation as it related to Flynn's alleged false statements about his meetings with the Russian Ambassador in December 2016.
The FBI leadership team and Comey believed that it was important not to "infect the investigative team with Trump's request," and decided to refuse the directive. The team concluded it would not have made sense to disclose Trump's request to Sessions, who had recused himself from the Russia investigation, or the Deputy AG, who was soon to be replaced.
They believed it was best to keep the communication "closely held," although they might decide to disclose it to other officials as the investigation progressed.
Shortly thereafter, Comey also met with Sessions and told him "that what had just happened – him being asked to leave while the FBI Director, who reports to the AG, remained behind – was inappropriate and should never happen."
He said he "implored" Sessions to ensure that no further private communications occur between Trump and himself. Nevertheless, he did not disclose the content of Trump's request regarding dropping the Flynn investigation.
In his written statement for the Senate, Comey said the Attorney General "did not reply" and then told Senators in open session that Sessions was "just kind of looking at me" and "his body language gave me a sense like, 'What am I going to do?'"
In his own testimony before the Senate, Sessions said Comey's account was "incorrect" and said, "I did affirm the long-standing written policies of the Department of Justice concerning communications with the White House."
March 2, 2017 – Sessions announces that he is recusing himself from any investigations into charges that Russia meddled in the 2016 election. Acting Deputy AG Dana Boente takes over the Russia investigation following Sessions' recusal.
March 9, 2017 – Trump's assistant calls U.S. Attorney for the Southern District of New York Preet Bharara's office and leaves a message asking Bharara to call Trump back. Trump's direct communication request violates protocols governing presidential contact with federal prosecutors.
Bharara notifies an adviser to AG Sessions of the presidential contact, and tells him he will not respond because of the protocol violation. Bharara then calls Trump's assistant to say that he cannot speak with the president directly because of the protocol violation.
March 10, 2017 – Trump orders Bharara and 46 other U.S. Attorneys appointed by Barack Obama to resign. The request surprises Bharara's office because in November he had met with Trump and advisers including Steve Bannon and Jared Kushner at Trump Tower, and Trump had personally asked him to stay in the position. Bharara publicly refuses to resign.
March 11, 2017 – Acting Deputy AG Dana Boente calls Bharara and tells him that he is one of the 46 U.S. Attorneys being asked to resign. Bharara tells him that he is interpreting that as being fired, and Boente repeats that he is being asked to resign.
Bharara tweets that afternoon that he has just been fired by Trump:
I did not resign. Moments ago I was fired. Being the US Attorney in SDNY will forever be the greatest honor of my professional life.
Because Bharara served as U.S. attorney of the S.D.N.Y., his jurisdiction included Trump Tower, and he would likely have known whether Trump Tower had been wiretapped by federal investigators as Trump claimed, as well as other Tower-related information potentially relevant to the Russia investigation, or to any other investigations involving the finances or other activities of Trump and his companies.
March 20, 2017 – In testimony before the House Intelligence Committee, Comey confirms that the FBI is investigating whether members of the Trump campaign colluded with Russian efforts to influence the 2016 election. He also dismisses Trump's claims that President Obama wiretapped him during the presidential campaign.
March 22, 2017 – The Washington Post reports that Director of National Intelligence Daniel Coats and other senior officials participate in an Oval Office briefing, after which Trump asks Coats and CIA Director Mike Pompeo to stay for a private meeting. Trump complains to them about Comey's handling of the Russia investigation and asks them to intervene with Comey to get the FBI to stop investigating Flynn.
After the meeting, Coats discusses Trump's request with other officials and decides that against Trump's requests to issue a public statement and to intervene with Comey regarding Flynn, believing both would be inappropriate.
A day or two after March 22, 2017 – Shortly after the March 22 meeting, Trump reportedly makes separate telephone calls to both Coats and NSA Director Adm. Michael Rogers and requests that they issue public statements denying the existence of any evidence of collusion between Trump officials and the Russian government. Both officials view the requests as inappropriate and refuse.
Then Deputy Director of the NSA Richard Ledgett writes an internal NSA memo documenting Trump's conversation with Rogers. During the call, Trump questions the accuracy of the IC Assessment that Russia had interfered with the election, in addition to trying to convince Rogers to issue a public statement.
In addition to Trump's requests, senior White House officials separately requested that top intelligence officials consider the possibility of intervening with Comey directly to have the FBI withdraw its probe of Flynn. Their lines of questioning included: "Can we ask him to shut down the investigation? Are you able to assist in this matter?"
March 30, 2017 – According to Comey's Senate testimony, on this date, Trump calls Comey at his office and tells Comey that the Russia investigation is a "cloud" inhibiting his ability to act as President. Trump assures Comey that he has had nothing to do with Russia and asks Comey what he can do to "lift the cloud." Comey responds that the FBI is investigating the matter as quickly as it can, and that a full investigation is in Trump's best interests.
Trump then asks about why Comey had confirmed the FBI investigation into coordination between Russia and the Trump campaign at a Congressional hearing, and Comey explains that he was responding to Congressional leaders' demands. Comey explains that he has briefed those leaders on who exactly the FBI is investigating and informed them that Trump is not personally under investigation. Trump repeatedly urges Comey to get the fact that he himself is not under investigation out to the public.
Comey later testifies to the Senate that the FBI and DOJ were reluctant to make a public statement that they did not have an open case on Trump "for a number of reasons, most importantly because it would create a duty to correct, should that change."
March 30, 2017 – The Wall Street Journal reports that Mike Flynn has informed the FBI and congressional officials of his willingness to be interviewed by House and Senate investigators as part of the investigation into Trump campaign ties to Russia, in exchange for immunity from prosecution.
Flynn's lawyer released a statement confirming only that discussions with Congressional investigators were taking place, though it concluded: "No reasonable person, who has the benefit of advice from counsel, would submit to questioning in such a highly politicized, witch-hunt environment without assurances against unfair prosecution."
The New York Times reports that congressional officials are unwilling to make a deal with Flynn until they are further along in their inquiries and have a better idea of the information Flynn might offer.
March 31, 2017 – Trump applauds Flynn's request for immunity, tweeting:
Mike Flynn should ask for immunity in that this is a witch hunt (excuse for big election loss), by media & Dems, of historic proportion!
April 11, 2017 – According to Comey's testimony, Trump calls Comey again and asks what he has done about Trump's request to publicize the fact that he is not personally under investigation. Comey tells Trump that he relayed Trump's request to Acting Deputy AG Dana Boente but that he has not heard back.
Trump reiterates that the "cloud" is interfering with his ability to act as President, and asks whether he should have his staff contact Boente. Comey advises Trump of the traditional channel, which is for White House Counsel to contact DOJ leadership to make such requests.
Trump says he will do so and tells Comey, "Because I have been very loyal to you, very loyal; we had that thing you know." Comey responds by reiterating that the proper channel for Trump's request is for Trump to follow the DOJ chain of command. Trump agrees and ends the call.
Comey testifies that in light of Trump's requests, "Our — our absolute primary concern was, we can't infect the investigative team. We don't want the agents and analysts working on this to know the president of the United States has — has asked — and when it comes from the president, I took it as a direction — to get rid of this investigation, because we're not going to follow that — that request."
April 25, 2017 – Rod Rosenstein is confirmed as Deputy AG by the Senate and will serve as the official overseeing the Russia investigation in light of Sessions's recusal. Rosenstein told Senators he would handle it "the way I would handle any investigation," adding: "I don't know the details of what, if any, investigation is ongoing, but I can certainly assure you if it's America against Russia, or America against any other country, I think everyone in this room knows which side I'm on."
May 8, 2017 – According to the New York Times , Trump summons VP Pence, his chief of staff, top lawyers, and other senior advisors to the Oval Office and informs them that he plans to get rid of Comey, showing them an at least four-page letter, single-spaced consisting of a long-running series of thoughts on why Comey should be fired that Trump dictated to aide Stephen Miller.
The draft criticizes Comey for failing to publicly disclose that Trump was not personally under investigation and for his handling of both the Russia and Clinton email investigations.
White House Counsel Donald McGahn opposes the letter as "problematic" in multiple ways. His objections include the letter's angry tone and its references to private conversations between Trump and Comey.
He successfully convinces Trump not to use the draft. Deputy AG Rod Rosenstein then composes his own letter, which becomes a central part of the administration's public rationale for the removal.
The New York Times reports that "Mr. Sessions had been charged with coming up with reasons to fire him," according to administration officials.
May 8, 2017 — Trump implicitly accuses former Acting Attorney General Sally Yates of leaking classified information in a tweet. Because Yates was scheduled to testify on the Flynn investigation before a Senate Judiciary subcommittee later in May, and because she had previously warned the White House that Flynn might have been compromised, this tweet could provide supporting evidence for an attempt to intimidate a witness in the Flynn investigation.
Ask Sally Yates, under oath, if she knows how classified information got into the newspapers soon after she explained it to W.H. Counsel.
May 9, 2017 – Trump fires Comey from his post as FBI Director, removing the nation's top law enforcement official while he was leading a criminal investigation into potential collusion between the Trump campaign and the Russian government to influence the 2016 election as well as an investigation into former NSA Adviser Michael Flynn for potentially making a false statement to the FBI.
The firing raised questions about political interference in an ongoing criminal investigation that could implicate Trump and his top advisers.
In the official announcement, Trump cites letters written by AG Sessions and DAG Rosenstein that "recommend [Comey's] dismissal," adding that he has accepted their recommendation and therefore is terminating Comey. The letters largely deal with the Clinton email investigation, and Trump also publicly cites Comey's handling of the Clinton investigation in announcing the change.
However, Trump's letter also references the Russia investigation and Comey's actions toward Trump personally: "While I greatly appreciate you informing me, on three separate occasions, that I am not under investigation, I nevertheless concur with the judgment of the Department of Justice that you are not able to effectively lead the Bureau."
Of the two letters Trump cites, Sessions' brief letter does recommend Comey's dismissal, and cites the reasoning in Rosenstein's letter. Rosenstein's letter, however, does not explicitly recommend dismissal ; instead, it only outlines Comey's "serious mistakes" in handling the Clinton e-mail investigation. It concludes that the FBI will be unlikely to regain public trust until a new Director is put in place.
White House officials say that Sessions and Rosenstein pushed for Comey's removal, but observers in Washington, including veteran former FBI agents, view the letters as pretextual.
May 9, 2017 – ABC News reports that Rosenstein was so upset that he was on the verge of resigning because of Trump's public statements, and statements by White House officials, that Trump was acting on Rosenstein's recommendation in firing Comey. Rosenstein tells the Sinclair Broadcast Group: "No, I'm not quitting."
May 9, 2017 – Late that night, the White House announces that Trump will meet Russian Foreign Minister Sergey V. Lavrov in the Oval Office the next day.
May 10, 2017 –Trump meets with Lavrov and Ambassador Kislyak in the Oval Office and speaks to them about the Russia investigation and Comey's firing. He reportedly tells the senior Russian officials: "I just fired the head of the F.B.I. He was crazy, a real nut job…I faced great pressure because of Russia. That's taken off…I'm not under investigation."
According to the Times , Press Secretary Sean Spicer did not dispute the account. Instead, he claimed in a statement that: "By grandstanding and politicizing the investigation into Russia's actions, James Comey created unnecessary pressure on our ability to engage and negotiate with Russia.
Spicer adds, "The investigation would have always continued, and obviously, the termination of Comey would not have ended it. Once again, the real story is that our national security has been undermined by the leaking of private and highly classified conversations."
May 11, 2017 – In an interview with NBC News's Lester Holt, Trump admits that even before he consulted Rosenstein, "I was going to fire Comey. There's no good time to do it, by the way." Holt mentions that in Trump's letter outlining the reasons for Comey's firing, he cited Rosenstein's letter, and Trump responds, "Oh, I was going to fire regardless of recommendation."
Then, while addressing how he would have fired Comey regardless, he adds: "And in fact when I decided to just do it, I said to myself, I said you know, this Russia thing with Trump and Russia is a made up story, it's an excuse by the Democrats for having lost an election that they should have won…This was an excuse for having lost an election."
When Holt asks him about whether he was angry with Comey because of the FBI's Russia investigation, Trumps responds that he never tried to pressure Comey to drop it. He adds: "Maybe I'll expand that, you know, lengthen the time (of the Russia probe) because it should be over with, in my opinion, should have been over with a long time ago. 'Cause all it is, is an excuse but I said to myself, I might even lengthen out the investigation, but I have to do the right thing for the American people." He added, "I want that to be so strong and so good. And I want it to happen."
May 12, 2017 – Trump tweets, "James Comey better hope that there are no "tapes" of our conversations," suggesting Trump may have recorded such tapes, and may decide to release them. The tweet follows a New York Times report the day prior describing the dinner between Trump and Comey at which Trump asked Comey for a pledge of loyalty.
James Comey better hope that there are no "tapes" of our conversations before he starts leaking to the press!
The Times reports that both the president and his spokesman refused to confirm or deny whether Trump tapes his conversations with visitors. When asked about whether such tapes existed by a Fox News host later that day, Trump reiterated: "That I can't talk about. I won't talk about it…All I want is for Comey to be honest."
Spokesman Sean Spicer, when asked, would not give a definitive response, saying only, "The president has nothing further to add on that." Spicer further denied that Trump was threatening Comey, saying "That's not a threat…He simply stated a fact. The tweet speaks for itself. I'm moving on."
May 17, 2017 – Rosenstein appoints former FBI Director Robert S. Mueller III to serve as the DOJ's Special Counsel to investigate Russian interference in the election and possible coordination between Trump associates and Russia.
Trump responds by saying, "a thorough investigation will confirm what we already know — there was no collusion between my campaign and any foreign entity. I look forward to this matter concluding quickly. In the meantime, I will never stop fighting for the people and the issues that matter most to the future of our country."
However, Trump decries the decision on Twitter:
This is the single greatest witch hunt of a politician in American history!

With all of the illegal acts that took place in the Clinton campaign & Obama Administration, there was never a special counsel appointed!
May 2017 – The New York Times reports that Trump berated Sessions in an Oval Office meeting and told him he should resign, shortly after learning of the appointment of a Special Counsel to investigate links between the Trump campaign and Russia. Trump accuses Sessions of "disloyalty" and then launches into a series of insults against Sessions.
Sessions became emotional and told Trump he would quit, and then drafted and sent a resignation letter to the White House. The Times reports that Sessions would later tell colleagues that Trump's dressing down was the most humiliating experience he had ever had in public life.
Trump eventually rejects the resignation in May after senior administration officials argue that it would only create more problems for him. But the Times also reports that he wished to remove Sessions again in July, though he did not act on it at that time. The Times reports that Trump believes the moment Sessions recused himself is the moment Trump lost control over the Russia investigation.
This dressing down represents the low point in the relationship between Trump and Sessions, a Senator who broke ranks with fellow Senators to become one of Trump's first supporters. The Times reports that their relationship would marginally improve over time, partly because of Sessions' taking a strong public stance against leakers later on.
May 18, 2017 – Rosenstein testifies before a closed-door Senate briefing that he knew Trump wanted to fire Comey before he wrote his letter justifying Comey's removal. Rosenstein adds that Trump asked him to write the letter. He tells Senators that on May 8 he knew that Trump was planning to fire Comey.
June 6, 2017 – Washington Post reporter Robert Costa reports on NBC News that "The President is expected to be Tweeting on Thursday in response to Comey — not to stay quiet during the testimony — because he himself wants to be the one driving the process."
Costa later tweets:
I'm told by two WH sources that Pres. Trump does not plan to put down Twitter on Thursday. May live tweet if he feels the need to respond.
June 7, 2017 – DNI Coats and NSA Director Rogers both refuse to testify about their personal interactions with Trump and whether Trump asked them to intervene in the Russia investigation at a Senate Intelligence Committee hearing.
Coats tells the Committee, "I don't believe it's appropriate for me to address that in a public session," when asked about whether Trump requested he intervene in the Russia investigation. Coats adds, however: "But I am more than willing to sit before this committee during its investigative process in a closed session and answer your questions." Roger says, "I am not going to discuss the specifics of interactions that I may or may have not had with the President."
Both men deny being pressured to intervene. Coats says, "I have never felt pressure to intervene or interfere in any way and shape — with shaping intelligence, in a political way or in relationship to an ongoing investigation." Rogers tells the Committee, "To the best of my recollection, I have never been directed to do anything I believe to be illegal, immoral, unethical or inappropriate."
June 8, 2017 – Trump's personal lawyer Marc Kasowitz responds to Comey's testimony claiming Comey "admitted that he unilaterally and surreptitiously made unauthorized disclosures to the press of privileged communications with the President."
However, legal experts say that the executive privilege could not have been implicated by Comey's memos, because executive privilege functions as a shield against compelled rather than voluntary disclosure, and in any case, the leaks did not disclose any classified information or break any laws, since they dealt solely with private interactions with the President (the kind of internal communications of which many insider books are written).
June 22, 2017 – The New York Times reports that Trump officially announces that he does not have taped recordings of his conversations with James Comey, citing Trump's tweet:
With all of the recently reported electronic surveillance, intercepts, unmasking and illegal leaking of information, I have no idea...

...whether there are "tapes" or recordings of my conversations with James Comey, but I did not make, and do not have, any such recordings.

The Times report notes that Trump's tweet leaves open the possibility that others may have recorded their conversations, potentially without permission, such as the Intelligence Community generally or FBI in particular.
The Times report notes that legal experts have said Trump's initial tweet threatening that tapes existed could serve as part of a potential obstruction of justice case, because the tweet could be construed as pressuring Comey not to reveal details about his and Trump's conversations relating to the Russia investigation to federal investigators. Others say the threat of existence of tapes suggest Trump was trying to keep Comey honest.
June 16, 2017 – Trump attacks Rosenstein and the expanding Russia probe in a series of tweets:
I am being investigated for firing the FBI Director by the man who told me to fire the FBI Director! Witch Hunt
June 23, 2017 – In a Fox television interview, in response to a Fox interviewer suggesting that the possibility of recordings of Comey's conversations with Trump may have ensured Comey's honesty in his Senate testimony, Trump says: "Well, it wasn't very stupid, I can tell you that." He added that in response to the possibility of Comey's conversations being recorded, "I think his story may have changed."
July 8, 2017 – The New York Times reports that Donald Trump Jr. arranged a meeting at Trump Tower with a Kremlin-linked Russian lawyer in June 2016, shortly after his father won the Republican nomination. Campaign manager Paul Manafort and Jared Kushner also attended.
Though Trump Jr. initially releases a statement saying the meeting was primarily about an adoption program, emails released later show meeting occurred because Trump Jr. was promised damaging information about Hillary Clinton by the Russian lawyer.
Trump personally dictates a statement for Trump Jr., stating that he and the Russian lawyer "primarily discussed a program about the adoption of Russian children," and that the subject of the meeting was "not a campaign issue at the time." These claims are later proven to be false.
Before the revelation of the president's involvement in these deliberations, Trump's lawyer repeatedly denied Trump was involved in drafting them. Eventually, the White House confirms that Trump " weighed in " on the drafting of the misleading statement.
July 10, 2017 – Trump tweets that Comey illegally leaked classified information to the media:
James Comey leaked CLASSIFIED INFORMATION to the media. That is so illegal!
July 19, 2017 – In an interview with the New York Times , Trump says that had he known Sessions was going to recuse himself from the Russia investigation, he would not have nominated him to be Attorney General:
TRUMP: Look, Sessions gets the job. Right after he gets the job, he recuses himself.

BAKER: Was that a mistake?

TRUMP: Well, Sessions should have never recused himself, and if he was going to recuse himself, he should have told me before he took the job, and I would have picked somebody else.
Trump repeats that he relied on the Rosenstein letter in deciding to fire Comey:
TRUMP: […] Rosenstein becomes extremely angry because of Comey's Wednesday press conference, where he said that he would do the same thing he did a year ago with Hillary Clinton, and Rosenstein became extremely angry at that because, as a prosecutor, he knows that Comey did the wrong thing. Totally wrong thing.

And he gives me a letter, O.K., he gives me a letter about Comey. And by the way, that was a tough letter, O.K. Now, perhaps I would have fired Comey anyway, and it certainly didn't hurt to have the letter, O.K.

Trump asserts again that Comey leaked confidential information in his Senate testimony, and oddly suggests that, in their initial meeting, Comey told Trump to "treat Flynn good" (when Comey testified that Trump had asked him to let go of the Flynn investigation):
TRUMP: Comey also says that he did something in order to get the special prose— special counsel. He leaked. The reason he leaked. So, he illegally leaked.

…

TRUMP: So think of this. [NYT reporter] Mike [L. Schmidt]. He illegally leaks, and everyone thinks it is illegal, and by the way, it looks like it's classified and all that stuff. So he got — not a smart guy — he got tricked into that, because they didn't even ask him that question. They asked him another question, O.K.?

TRUMP: He said I said "hope" — "I hope you can treat Flynn good" or something like that. I didn't say anything.
Later in the interview, Trump contends that Acting FBI Director Andrew McCabe has a conflict of interest involving Hillary Clinton. Days later, he repeats his claim on Twitter:
Problem is that the acting head of the FBI & the person in charge of the Hillary investigation, Andrew McCabe, got $700,000 from H for wife!

Why didn't A.G. Sessions replace Acting FBI Director Andrew McCabe, a Comey friend who was in charge of Clinton investigation but got....

...big dollars ($700,000) for his wife's political run from Hillary Clinton and her representatives. Drain the Swamp!
Jill McCabe, McCabe's wife, received nearly $500,000 in 2015 campaign donations from a political action committee associated with Va. Gov. Terry McAuliffe during an unsuccessful Virginia Senate run. McAuliffe is close with both Bill and Hillary Clinton.
July 24, 2017 – The New York Times reports that Trump aide and son-in-law Jared Kushner meet with Senate investigators looking into the Russia investigation on the Senate Intelligence Committee.
After meeting with investigators behind closed doors, Kushner released a statement to news media: "All of my actions were proper and occurred in the normal course of events of a very unique campaign…I did not collude with Russians, nor do I know of anyone in the campaign who did."
He is the first member of the Trump inner circle to confer with congressional investigators.
July 24–25, 2017 — In a series of early morning tweets, Trump renews his attacks against Sessions.
Attorney General Jeff Sessions has taken a VERY weak position on Hillary Clinton crimes (where are E-mails & DNC server) & Intel leakers!

Ukrainian efforts to sabotage Trump campaign - "quietly working to boost Clinton." So where is the investigation A.G. @seanhannity
He also repeated his claims regarding McCabe having a conflict of interest with respect to the Clintons:
Problem is that the acting head of the FBI & the person in charge of the Hillary investigation, Andrew McCabe, got $700,000 from H for wife!
August 1, 2017 – In an interview with the Wall Street Journal , Trump again berates Sessions for recusing himself from the Russia investigation:
WSJ: He's the Russian guy. So Sessions has recused himself, but is Bob Mueller's job safe? There is speculation –

TRUMP: No, we're going to see. I mean, I have no comment yet, because it's too early. But we'll see. We're going to see. Here's the good news: I was never involved with Russia.

There was nobody in the campaign. I've got 200 people that will say that they've never seen anybody on the campaign. Here's another – he was involved early. There's nobody on the campaign that saw anybody from Russia. We had nothing to do with Russia. They lost an election and they came up with this as an excuse.

And the only ones that are laughing are the Democrats and the Russians. They're the only ones that are laughing. And if Jeff Sessions didn't recuse himself, we wouldn't even be talking about this subject.
And Trump further suggests that Sessions' early campaign endorsement was not a sign of loyalty:
WSJ: Just on Sessions, just one thing. Would you like to see him step aside? Would you like to see him resign? Would it be in the country's best interest just –

TRUMP: I'm just very disappointed in him. I'm disappointed in, you know, a number of categories. I told you, the leakers. He should have – he should be after them. So many people say to me: Why are they going after you on nothing and they leave Hillary Clinton alone on, you know, really major things? And it is – so I'm disappointed in him. And don't forget, when they say he endorsed me, I went to Alabama. I had 40,000 people, you may have been there, remember, in Mobile?

WSJ: I remember.

TRUMP: I had 40,000 people. He was the senator from Alabama. I won the state by a lot, massive numbers. A lot of the states I won by massive numbers. But he was a senator.

He looks at 40,000 people and he probably says, what do I have to lose, and he endorsed me. So it's not like a great, loyal thing about the endorsement. But I'm very disappointed in Jeff Sessions.
August 3, 2017 – Vox reports that, in late May, acting FBI Director Andrew McCabe told several people in high-level FBI management that they should consider themselves potential witnesses in any potential obstruction of justice investigation involving Trump. He told colleagues that he could also be a potential witness himself.
August 26, 2017 – The Washington Post reports that sometime this past spring, Trump approached AG Sessions and asked whether the DOJ could possibly drop its case against former Maricopa County, Arizona Sherrif Joe Arpaio, whom Trump has long respected.
Sessions advised him that it would have been inappropriate to drop the case, after which Trump decided to let the case go to trial and subsequently grant a pardon.
Legal experts believe that Trump's handling of the Arpaio case may be relevant to determining his intent in speaking to Comey about the FBI's Michael Flynn investigation ("I hope you can let this go") in an obstruction of justice probe.
August 31, 2017 – The Wall Street Journal reports that Trump's lawyers have met with Mueller several times in recent months and have submitted several memos to him contending that Trump didn't obstruct justice by firing Comey and questioning Comey's reliability as a potential witness.
September 19, 2017 – The Wall Street Journal reports that Mueller's office interviewed DAG Rosenstein in June or July 2017 about Trump's removal of Comey. A source told CNN that Rosenstein has no current plans to recuse himself from the investigation, suggesting he does not view himself as a key witness in the obstruction of justice investigation.
DOJ Spokesperson Ian Prior released a statement saying, "As the deputy attorney general has said numerous times, if there comes a time when he needs to recuse, he will. However, nothing has changed."
Artin Afkhami is Associate Editor at Just Security.