Did Trump Suggest Invading Afghanistan Again?
Former President Donald Trump on Saturday attended a rally in Michigan to support local and state candidates for the Republican Party. While spouting attacks against President Joe Biden, Trump seemed to suggest that America should go back into Afghanistan and reclaim property.
Was it the country itself or the billions of dollars in military equipment left behind when Biden ceded America's position in the Middle Eastern country?
"We're living through the most dangerous generation of our lifetime, and we have a president who has no idea what's going on. He has no idea what he's doing and he has no idea what he's saying," Trump said of Biden.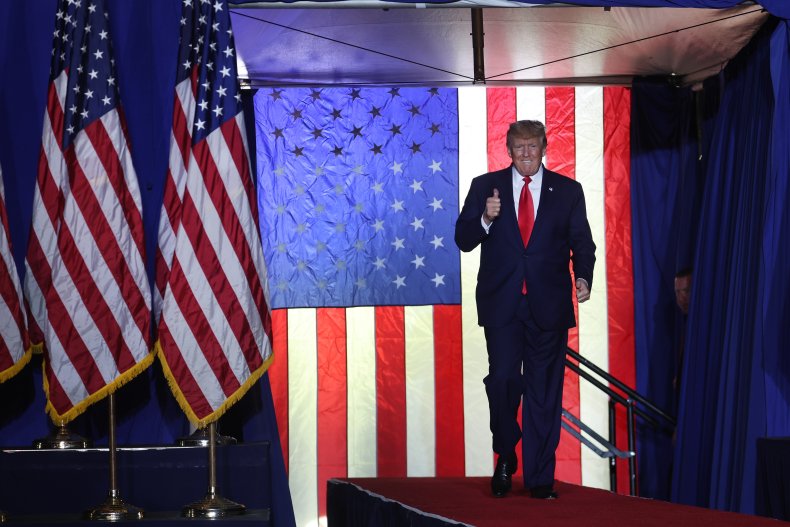 Trump went on to trumpet his own record with foreign leaders in Afghanistan, China, North Korea and Russia, saying "not one person was killed for 18 months" in Afghanistan. He crowed about his relationship with Russian President Vladimir Putin, China President Xi Jinping and North Korean leader Kim Jong-Un.
Trump addressed the situation in Afghanistan on Saturday night at a rally in Washington, Michigan.
"You have many citizens that the Taliban is holding. They didn't get enough with the $85 billion dollars that the Taliban is holding. Maybe we ought to go in and take it back," Trump said. "Dumbest thing I've ever seen. Finest military equipment in the world they have, from the [night vision] goggles to the 700,000 machine guns."
Trump said the U.S. pulling out of Afghanistan last year under Biden's watch was a mistake.
"Biden delivered the single-most humiliation in history with the surrender of Afghanistan. And now Biden's weakness has given us the Ukraine disaster," Trump said.
The former president said the Ukraine-Russia war would not have happened had he still been the U.S. Commander-in-Chief.
"This invasion of Ukraine would never have happened if I was in the White House, not even a chance. It would have never happened," Trump said. "You know what, we had no conflict. North Korea's going to be a nuclear war, according to Obama and everybody. What happened? It didn't happen."
When running for president in 2016, Trump called America's wars in the Middle East "endless" and he vowed to pull U.S. troops from those wars and not enter into any new conflicts. After Biden's sudden withdrawal from Afghanistan in 2021 that left 13 American military members dead, Trump said the withdrawal and leaving U.S. military equipment for the Taliban was a bad idea.
"We should either go in with unequivocal military force and get it, or at least bomb the hell out of it," Trump said last fall. Saturday night's comments in Michigan sounds like he still wishes America was in Afghanistan, or at least making their lives miserable.
Trump has not declared that he will run for president again in 2024, but he travels from state to state each week to keep pumping up the GOP base and endorse candidates—especially in states like Michigan where the gubernatorial and secretary of state seats are up for grabs this year.