'Did You Just Wake Up': Kim Kardashian Slammed for Defending Travis Scott After Astroworld
Kim Kardashian West is facing backlash for defending Travis Scott on Twitter after eight people were killed attending the rapper's Astroworld music festival in Houston, Texas.
Kardashian broke her silence after Scott's Friday night performance with a message about the tragedy on Monday evening.
"Absolutely heartbroken for the lives who were lost and anyone who was hurt at Astroworld. Just like all of you, our family is in shock by the tragedy," she wrote on Twitter.
In a separate tweet sent around the same time, she continued, "We are keeping all of the victims, families and loved ones impacted in our prayers for healing - as well as Travis who we know cares so much about his fans and is truly devastated," with the praying hands, broken heart and dove emojis.
The 41-year-old's comments come after Kylie Jenner, Kardashian's sister and the mother of Scott's children, posted on her Instagram Story that she and Scott were unaware of the fatalities until the news came out after the show.
However social media users have slammed the rapper, who now faces at least 14 lawsuits connected to the eight deaths at Astroworld, for not doing more to stop his performance, and they slammed Kardashian for her response.
"I swear there's a video of travis on a platform looking directly at a body being pulled out, and still performing.......... How unreliable can security be for something so tragic to be going on and NO ONE knowing, where's the communication?!" user Kevillyn Cruvinel replied.
Another user, Shannon Crawford replied that Kardashian's tweet is too late.
"Did you just wake up? That happened 3 days ago. The same day you said happy bday to ur mom 3 times and posted your new make up line( after the events took place ) then nothing till today ? So you wake now and finally tweeting or just been busy with your team on how 2 respond," she wrote.
Inayah Hussain also replied to Kardashian's tweet to question if the celebrity is really heartbroken for the deceased or Scott's reputation.
"You guys are heartbroken? What about the parents burying their children? What about the thousands of kids who'll need years of therapy after this? You're only heartbroken because Travis' reputation has taken a hit. That's it." they tweeted, before adding that the if the Kardashians really cared they would offer to help pay for the funerals of the victims or counseling for people who are in need of support after attending the concert.
Scott announced earlier on Monday that he plans to cover the funeral expenses for the eight individuals who died at his show.
"What about that fan who was paralyzed at his show? If Travis cares about his fans so much, why isn't Travis taking care of him, instead of allowing his lawyers to argue that his fans voluntarily accept risk when they go to see Travis in concert?" wrote Bridget Todd, a podcast creator and host.
Kyle Green, 27, was injured at Scott's show in April 2017 after he was allegedly pushed from a third-floor balcony and paralyzed at Scott's show. Video captured from the performance also shows the rapper encouraging someone else to drop down from a second-story balcony into the crowd.
A number of other social media users replied to Kardashian with videos from Astroworld that they believe prove Scott was aware of what was going on and chose to continue the show.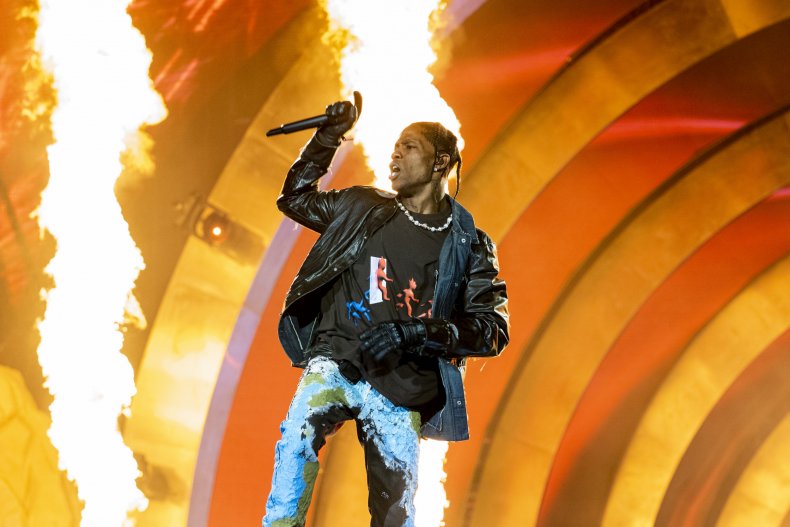 Kardashian's half-sister, 26-year-old Kendall Jenner, also faced backlash for her response to the tragedy.
Jenner initially shared a photo of Astroworld on Friday but later changed the caption to a mountain top, in reference to the rapper's stage called Utopia Mountain, following the tragedy. She later deleted the post completely and posted a statement on her Instagram story on Monday.
"I'm still at a loss for words over the news from Astroworld," Jenner wrote. "I'm truly broken for the families that have lost loved ones and my prayers go out to everyone involved."
She continued: "Sending everyone who has been affected all of my love and wishing them strength during this incredibly devastating and sensitive time."
In a statement of his own, Scott said he was "absolutely devastated by what took place."
"My prayers go out to the families and all those impacted by what happened at Astroworld Festival," Scott said. "I am committed to working together with the Houston community to heal and support the families in need."
Astroworld was started by Scott back in 2018. The fatal crowd crush occurred during Friday night when more than 50,000 people were in attendance at the NRG Park stadium complex of Scott's hometown of Houston.
Police are still investigating the timeline of the events but the identities of all victims were released on Monday. They include 27-year-old Mirza Baig from Houston, 23-year-old Rodolfo Peña from Laredo, 23-year-old Madison Dubiski from Cypress, 21-year-old Franco Patiño from Illinois, 20-year-old Jacob Jurinek from Illinois, 14-year-old John Hilgert from Houston, 21-year-old Axel Acosta Avila from Washington and 16-year-old Brianna Rodriguez from Houston.
Correction 11/9/2021 11:58 AM ET An earlier version of this story misspelled the names of Mirza Baig and Jacob Jurinek. Newsweek regrets the error.