Why Did Diddy Change His Name Again? Brother Love Allegedly Stole Wrestler's Moniker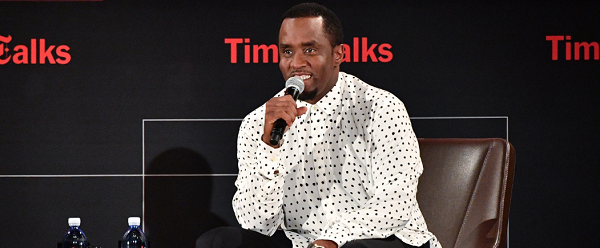 Updated 2:28 p.m. ET- In an Instagram video, Combs admitted that he was only joking when he said he was changing his name to Brother Love.
First there was Puff Daddy. Then came Puffy. After that: Puff, P. Diddy, Diddy. Then back to Puff Daddy. Now, the hip-hop mogul, born Sean Combs, has changed his name again, telling fans in a Twitter video on Saturday that he shall now only answer to Love, "aka Brother Love."
When the rapper emerged in the early '90s, managing and directing talent like R&B group Jodeci, Mary J. Blige and the Notorious B.I.G.—otherwise known as Biggie Smalls—Combs embodied the bad-boy persona of Puff Daddy, which he officially dropped following his 2001 acquittal on gun possession and bribery charges. He reverted back to Puff Daddy in 2014, although fans have mostly referred to him as P. Diddy or Diddy since his trial.
Now Combs is renouncing all of his monikers in exchange for Brother Love.
"I've been praying on this and I decided—I know it's risky because it could come off as corny to some people—I decided to change my name again," he said in the video post while on vacation in celebration of his 48th birthday.
Why the sudden name change? According to Combs, "I'm just not who I am before, I'm something different," he said. "So my new name is Love aka Brother Love. I will not be answering to Puffy, Diddy, Puff Daddy—any of my other monikers but Love or Brother Love."
For what it's worth, the new name fits. For the past year, the Bad Boy Entertainment owner, who topped Forbes' Richest in Hip-Hop of 2017 list, has been on a crusade spreading positivity and encouragement on his social platforms, and geneally using his fame to advocate for peace and love.
Although some of his 13 million Twitter followers seem to have accepted the new name, the Ciroq Ultra-Premium Vodka and DeLeón Tequila owner has received backlash, particularly from WWE fans who claim Combs stole the name from former wrestler Bruce Prichard—stage name, Brother Love.
Shortly after Combs's announcement, 54-year-old Prichard, who joined the WWE back in 1988, took to Twitter to denounce Combs writing, "Yo. Find a new gimmick. I invented and perfected Brother Love. I am the original and you are not. Remember North Carolina."
Prichard's colorful commentary on WWE landed him a massive fanbase and his own wrestling series, Brother Love Show, throughout the 90s before he was officially released by the wrestling organization in 2008.
Why Did Diddy Change His Name Again? Brother Love Allegedly Stole Wrestler's Moniker | Culture