Didn't Watch the Debate? What You Missed in 2 Minutes or Less
Between accusations of people being liars, interruptions and the need for the moderator to call a timeout, the American public were left wondering if their televisions were set to Fox News or Bravo during a Real Housewives reunion. Still, the presidential debate will dominate conversations, so here's a quick rundown of what you missed if you chose not to watch.
Fox News' Chris Wallace, the moderator for the evening, did little to curb the interruptions that emerged as the theme of the evening. President Donald Trump and former Vice President Joe Biden rarely—if ever—had the opportunity to offer their thoughts free of the person next to them accusing them of being wrong or a liar. Notwithstanding the distraction of the staccato debate, the candidates offered thoughts on the economy, race, and the upcoming election, making for a number of conversation-worthy moments.
What Did Trump Say About White Supremacists?
Biden criticized Trump's response to the Charlottesville rally, reminding people of the president's "very fine" people comment. Pairing Biden' comment with recent reports of white supremacists and militias taking up arms to support local law enforcement during protests, Wallace asked Trump if he would denounce the groups.
Trump stumbled at first, trying to deflect to left-wing groups and his desire for peace, but later said he was "willing to do it," adding, "Proud Boys stand back and stand by," a comment many considered unworthy of being an outright condemnation.
Did Trump's Tax Returns Come Up?
Yup. When outright asked about a New York Times report that found Trump paid only $750 in taxes his first year in office, the president said he actually paid "millions of dollars." Biden hit him for not releasing his returns and for taking advantage of the tax code.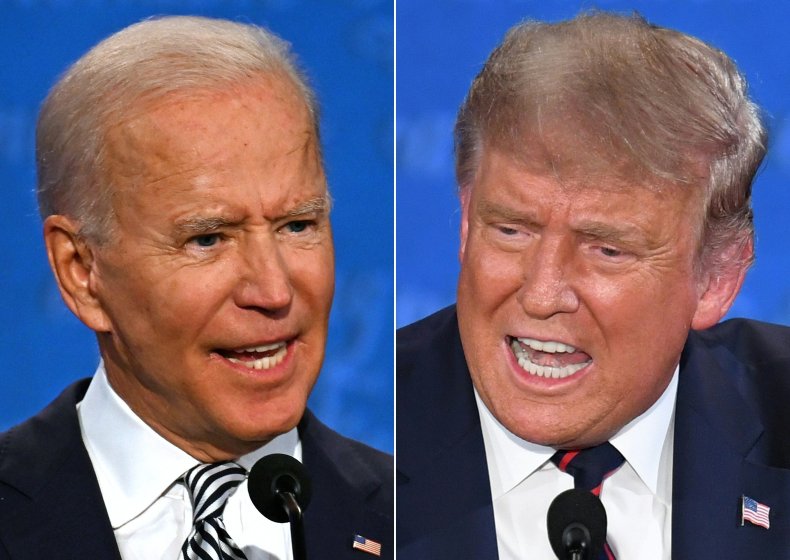 What About the Issue of Race and Ongoing Protests?
Trump targeted Biden for being unable to name a law enforcement group that endorsed him, but when asked if he supported "law and order," a signature saying of Trump's, Biden said he did, "with justice where people get treated fairly."
Biden called Trump "racist" and Trump called racial sensitivity training "racist." He banned it because it was a "radical revolution" that was teaching people to "hate our country."
And the Election Results?
Asked point blank if the candidates would accept the results of the election, only Biden said he would. Trump charged Democrats with "trying to do a coup" from the day he won, forgoing a transition of power, and urged his supporters to "watch very carefully" when they're at the polls.
"I hope it's going to be a fair election if it's a fair election. I'm 100% on board but if I see tens of thousands of ballots being manipulated I can't go along with that," Trump said, calling it a "fraudulent election."
Why Is Chris Wallace Being Talked About?
Wallace tried to maintain the agreed-upon rules of engagement, telling the candidates that he "hates" to raise his voice, but adding, "why should I be different than you?" and encouraging them to focus on the topics at hand. At one point he offered to "switch seats" with Trump, who said he was debating Wallace, not Biden, and his inability to control the candidates left him in the commentary crosshairs.