'Die Jew Rats': Anti-Semitic Graffiti Written Inside Synagogue Forces Political Event Cancellation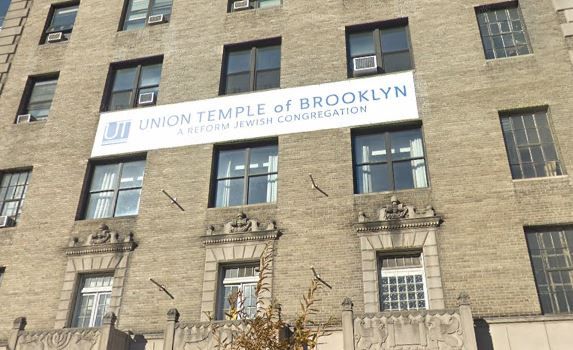 An event hosted by Broad City creator and star Ilana Glazer was canceled Thursday after anti-Semitic graffiti was found written inside the synagogue where it was being held.
Glazer was scheduled to interview journalist Amy Goodman and Democratic New York State Senate candidates Jim Gaughran and Andrew Gounardes on Thursday night at the Union Temple in the Prospect Heights neighborhood of Brooklyn, New York. However, before people were even allowed inside the synagogue's auditorium, Glazer came out to tell attendees the event was canceled.
The New York City Police Department (NYPD) told Newsweek that they received a call around 8 p.m. EDT about hateful vandalism. Inside the temple, anti-Semitic graffiti was discovered, including the words "Die Jew Rats," "Hitler" and "Jews Better Be Ready." The messages were written on multiple floors of the temple, and for the safety of everyone involved, the organizers decided it was best to postpone the event.
"I hope it doesn't have a chilling effect on people going to vote," Gounardes told the New York Post. "We can't afford to stand in the silence or be scared or intimated."
Instagram user Shelby Quackenbush posted a video on Instagram of Glazer addressing the crowd and said the presence of the graffiti is exactly why people need to vote on Wednesday. She added that the hate inside the "emboldened bigot" who vandalized the synagogue "has no place in this country."
On Friday morning, Gaughran addressed the anti-Semitic incident on Twitter and echoed the sentiment that it's not welcome in the state of New York.
"I am outraged that cowards would make threats and deface property to spread their hate," Gaughran tweeted. "I am proud to stand with my brothers and sisters in the Jewish community and all religious affiliations because we are all Americans and all New Yorkers."
The event was part of the four-part Generator Series, which, according to a description on Ticketfly, is a movement to inspire people to "humanize policy through storytelling." Glazer, along with Ruby Anaya and Glennis Meagher, created the series to get voters ready for the midterms under the umbrella of the larger storytelling organization they founded called Generator Collective.
The four-part series included interviews with progressive candidates and activists working toward social justice to find out how they serve the people. Thursday's interview was the last part of the four-part series.
The NYPD Hate Crime Task force was called to investigate the vandalism. As of Friday morning, no arrests had been made, but an investigation into the hateful messages is still ongoing.
Union Temple's vandalism came only days after 11 people were killed when a man allegedly opened fire at the Tree of Life synagogue in Pittsburgh.