Diesel Graveyard in Pictures: This Is Where Old Volkswagens Go to Die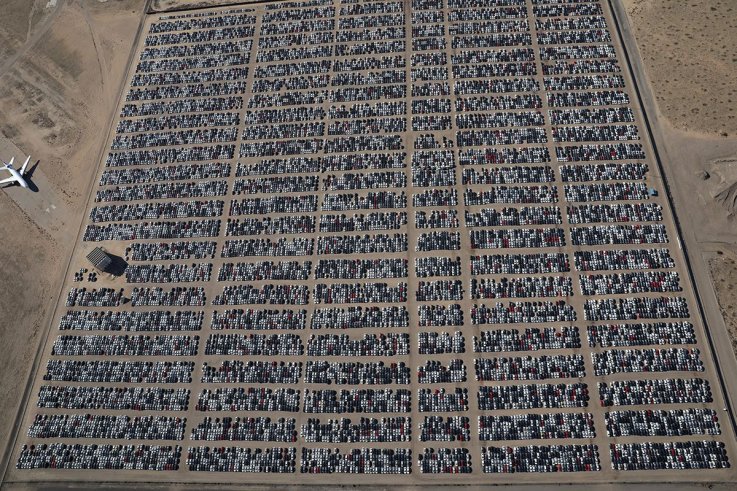 The city of Victorville, on the edge of the Mojave desert in Southern California, is famous for its "aircraft boneyard," a storage area for retired planes. Now it is also home to a "diesel graveyard," the place where old Volkswagens go to when they die.
The facility in Victorville is just one of 37 secure storage facilities around the United States housing hundreds of thousands of Volkswagen and Audi diesel vehicles. The other lots include a shuttered suburban Detroit football stadium and a former Minnesota paper mill.
"These vehicles are being stored on an interim basis and routinely maintained in a manner to ensure their long-term operability and quality, so that they may be returned to commerce or exported once U.S. regulators approve appropriate emissions modifications," Volkswagen spokeswoman Jeannine Ginivan said in a statement.
Volkswagen AG has paid more than $7.4 billion to buy back about 350,000 U.S. diesel vehicles through mid-February. In total, Volkswagen has agreed to spend more than $25 billion in the United States for claims from owners, environmental regulators, states and dealers and offered to buy back about 500,000 polluting U.S. vehicles.
The buybacks will continue through the end of 2019. Volkswagen must buy back or fix 85 percent of the vehicles involved by June 2019 or face higher payments for emissions. The company said in February it has repaired or fixed nearly 83 percent of covered vehicles and expects to soon hit the requirement. Through mid-February, Volkswagen has issued 437,273 letters offering nearly $8 billion in compensation and buybacks.
In April 2017 Volkswagen was sentenced to three years probation after pleading guilty to three felony counts and paid $4.3 billion in federal penalties. The automaker in September 2015 admitted to circumventing the emissions control system in U.S. diesel vehicles for vehicles sold since 2009, prompting the resignation of the company's chief executive.
Volkswagen's diesel graveyard is near Southern California Logistics Airport, home to hundreds of retired commercial jetliners, including many jumbo jets. There are actually several aircraft graveyards in the deserts of California and Arizona. The dry conditions reduce corrosion, meaning planes can be stored for years while they are stripped for spare parts.