'Difficult Thing to Get Over': Fauci Says He's Stunned That Some People Call COVID Outbreak 'Fake News'
Even as health officials across the country work to abate the growing resurgence of coronavirus cases, hospitalizations and deaths recorded over the past month, there are still Americans who show unwillingness to comply with mitigation orders.
Dr. Anthony Fauci, a top U.S. disease expert, remarked on the public opposition health mandates that persists in November, more than eight months after the onset of the national COVID-19 outbreak, during a recent interview with Kaiser Health News.
"I was stunned by the fact that in certain areas of the country, even though the devastation of the outbreak is clear, some people are still saying it's fake news," Fauci said. "That is a very difficult thing to get over: why people still insist that something that's staring you right in the face is not real."
Fauci has served as director of the National Institute of Allergy and Infectious Diseases (NIAID) at the National Institutes of Health for more than three decades, and was appointed to Donald Trump's White House Coronavirus Task Force earlier this year. Despite the sitting president's attitude about COVID-19—which came with reluctant support for face coverings; unsubstantiated claims about medical treatments; an unrealistic vaccine timeline; and general prioritization of economic reopening over risk reduction—Fauci has repeatedly warned against waning mitigation practices and spoken frankly of their likely consequences.
His cautionary messages materialized as legitimate statistics with the onset of fall, when COVID-19 cases began to climb again in areas that previously lowered their transmission rates, and suddenly spiked in more rural places that had experienced less severe outbreaks originally. In late November, the U.S. is confirming new COVID-19 infections in staggering numbers, and diagnosing them at record-breaking rates.
At least 12.1 million people have tested positive for the respiratory illness nationwide since the pandemic began, according to Johns Hopkins University's Sunday figures. Roughly 3 million of those cases were confirmed over the past three weeks. Confronting a surge in hospitalizations and rising fatalities linked to COVID-19, various state leaders have implemented new restrictions or renewed previous ones meant to slow further spread in recent weeks.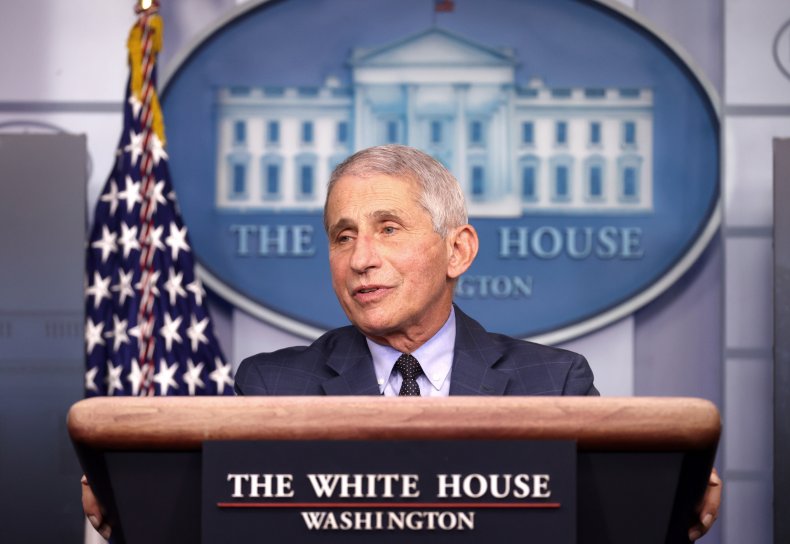 With them, pockets of public resistance seen in response to stay-at-home orders during the first few months of the outbreak have also resurfaced. In Utah, protesters reportedly gathered to oppose the state's face covering order earlier this month. On Sunday, a video shared to Twitter showed multiple people waiting to board a flight, reportedly departing from Salt Lake City International Airport, without face masks.
Fauci's discussion of confusing public resistance to mitigation measures, such as face masks, came amid wider conversation about a COVID-19 vaccine candidate, when one will become available to the general public, and how many people will opt to use it.
During an appearance on CBS News' Face the Nation Sunday morning, he underscored the importance of large-scale immunization in order to manage the virus' spread.
"If you have a highly efficacious vaccine, and only a relatively small 40 or 50 percent of the people get vaccinated, you're not going to get the herd immunity you need," Fauci said. "What we do need is, we need to get as many people as possible vaccinated."
Seeming to acknowledge hesitance on the part of some Americans who say they would not get a COVID-19 vaccine if one became available, the health expert also noted that people should feel "assured" that an immunization candidate is safe and effective to use once it receives approval from the U.S. Food and Drug Administration.
Newsweek reached out to NIAID for further comment, but did not receive a reply in time for publication.