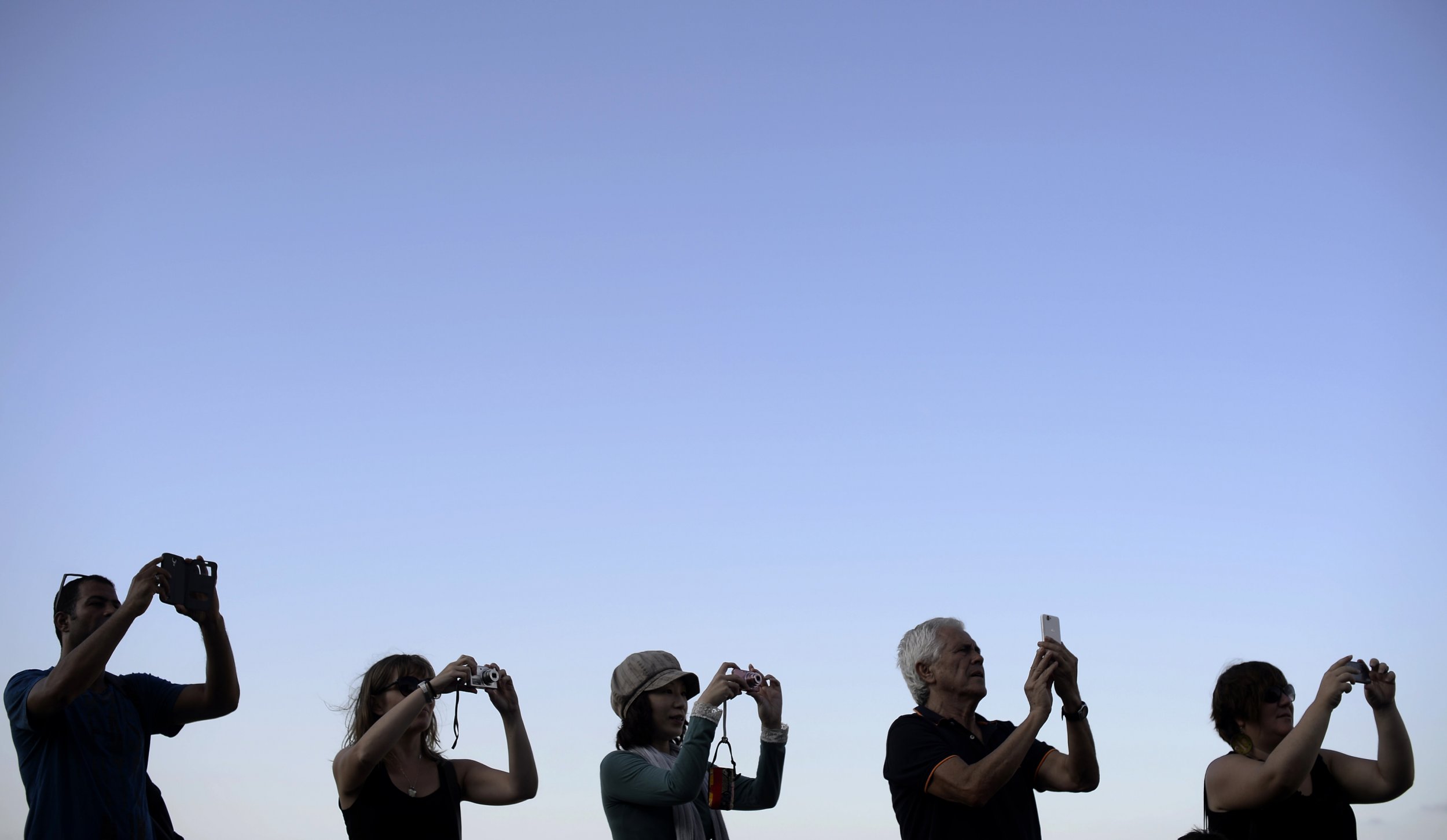 At about 5 p.m. on Thursday, a hardboiled labor reporter named Mike Elk took a phone call during which he incredulously told the reporter on the other end of the line (me) that his place of employment, Politico, had just issued an Internet statement saying "that they fired me!" Politico's statement was news to the newsman, though neither of us was surprised. This is the time we live in: The Internet knows everything about you, sometimes before you do.
What is surprising is that Elk seemed wholly unconcerned with the prospect of losing his job, which some speculate happened because he attempted to unionize Politico's newsroom. "Nothing's changed. I haven't been informed that I've been fired by the newspaper guild," he said. "Until I'm informed by the newspaper guild, we stand by our statement." The guild representative's statement specifies that Elk, a member of the Washington-Baltimore Newspaper Guild, is in fact still employed by Politico. On Twitter, Elk has said he is protected under his Weingarten Rights, which ensure that an employee can receive union representation following an investigatory interview.
Politico's read on the situation is, well, different. "Mike Elk no longer works at POLITICO. As a long-standing company policy, we do not and will not comment on the specifics of personnel matters. We can say that Mike Elk's recent departure has nothing to do with his union activities. POLITICO employees have been, and continue to be, free to engage in or refrain from union activities," said the statement issued on Thursday.
Elk wouldn't comment on whether he thinks the move came as a result of his push to unionize Politico, but tells Newsweek he believes Politico's statement was issued "on the defensive" and "because I think they're worried about how this plays in Europe," a pro-union territory where Politico is expanding in the near future. The European Federation of Journalists mailed a letter to Politico CEO Jim VandeHei earlier on Thursday expressing concern over the idea that management had potentially interfered with Elk's attempts to unionize Politico's staff.
Since earlier this year, Elk had been vocal about organizing the company's digital media newsroom, which includes veterans from unionized print mainstays such as The New York Times, the New York Daily News, Reuters and the Boston Globe. While thousands of journalists have made the shift from print to online media in recent years, the unions they were previously a part of haven't crossed over nearly as much. (Elk himself previously worked at a unionized publication, and comes from a Pittsburgh-bred labor family).
The thought of widespread unionization as an industry standard in digital media wasn't even a consideration until a handful of hotshot digital media companies—Gawker, Vice and Salon (and, most recently, The Guardian US)—allowed their editorial staffers to unionize in the past four months. Before that, among the first to technically unionize were Truthout in 2009 and Elk's alma mater, the progressive rag In These Times. "The movement started in the left press, and gradually started making its way over as I think a lot of union ideas become more mainstream overall," Elk says.
Gawker was the first popular digital media startup to make the unionization move, which it detailed via a transparent online voting system and step-by-step coverage of the process. Hamilton Nolan, the Gawker staff writer who penned the piece explaining why Gawker was unionizing, says "there was a lot of latent interest in organizing within the company and [people] just needed the spark to do it."
That spark was lit in a roundabout way: Nolan tells Newsweek it happened after he met with a Writers Guild of America East organizer who had been interested in helping organize Gawker's occasional frenemy, Vice, and was asking him for advice, as Nolan often writes about Vice and labor. (As of press time, Vice had not returned a request for comment.) "During the course of the conversation I said, 'What about us? Why not try Gawker?'"
So, some Gawker employees, Nolan included, scheduled a meeting with the WGAE, and 40 Gawker writers showed up. Once they had a majority vote, the WGAE helped them approach management and asked them to voluntarily recognize the union. "I thought we had a very amicable unionizing process," Nolan says. Gawker founder and chief executive Nick Denton "did not fight us on it [and said] if you guys want a union, go for it. His attitude and the way that management handled our union drive can be a little bit of a model for companies in the industry in that it doesn't have to be adversarial."
Unionization pushes have long been met with ire. Anti-union rhetoric in the past has promoted the idea that unionizing promotes tense relationships between employers and employees. Martha Waggoner, president of the News Media Guild, which is helping The Guardian US unionize, says this notion is "antiquated." After all, support for unions is on the rise: A Gallup poll released earlier this week showed that 58% of Americans support the union cause, up from 53% last year. The classic image of an angry mob hoisting picket signs and shouting demands into megaphones is perhaps a bit outdated, too. "A union in the workplace balances out the power dynamic of the workplace," Nolan says. "It doesn't throw it too much in the direction of the workers as it does make it even."
Although it's a bit early to gauge the lasting impact of unions on the digital media workplace, the concerns of employees in this sector include poor benefits, the lack of a definitive raise and salary system and unpaid overtime. (Elk mentions that Politico offered its journalists a formidable office snack selection, including "hummus, tuna salad, and like eight different types of coconut water," to help offset those long hours.) But the biggest issue that workers bring to the table when unionizing and drafting contracts is salary levels, according to Lowell Peterson, executive director of the Writers Guild of America East. "There should be some way of knowing at least what the minimum pay rates are, and it's not up to each individual to shape their own paycheck," he says. "That's not appropriate—there should be some standard, some number you should be able to look at it in your contract. That kind of arbitrariness makes people unhappy."
The organization that helped Gawker, Vice and Salon unionize, Writers Guild of America-East, acts more as a liaison than an agitator for digital media employees. First, it asks for employees to sign authorization cards, and then to gather a list of people at the company in order to make the contacts. Then come the meetings, and when a list has been compiled that shows a majority of the employees want to unionize, the WGAE takes it to management. The WGAE is currently "having conversations with a dozen other companies," Peterson says. He expects that number will decrease as the nitty-gritty contracting and collective bargaining itself begins, but he says "it's definitely true that Gawker, Vice and Salon have increased the momentum" for digital media unions to assemble.
Elk speculates that for unionization to become more of an industry standard, it would require an Internet giant with hundreds of employees in global newsrooms, such as BuzzFeed, to make the move. That might be happening later rather than sooner, if at all. BuzzFeed CEO Jonah Peretti spoke about the issue at a recent company meeting, saying a union would hinder the "flexible and dynamic company" and "actually wouldn't be very good for employees at BuzzFeed—particularly people who are writers and reporters—because the [compensation] for writers and reporters are much less favorable than [compensation] for startup companies and tech companies."
But that's the thing: investors are starting to look toward digital media startups as places of immense growth in the future. Digital media remains somewhat an uncharted territory, but it is no longer wracked by the fears that defined it a mere three years ago. The Wall Street Journal released a report earlier this week showing that digital media consumption is on the rise, dispelling the idea that the Internet is helping to stamp out journalism altogether. Venture capitalists and media mainstays alike have been injecting money into digital media companies like BuzzFeed, which is set to receive $200 million from NBCUniversal.
"When all these companies are getting billion-dollar evaluations and stuff, it's really become clear that this is a grown up industry that's here to stay, and not just a bunch of people hanging out in their living rooms writing blogs," Nolan says.
Peterson agrees, saying that over time he began noticing that people other than just creative types were flocking to digital media conferences. Then, one day, "suddenly the cut of the suit got a little better. And it was the hedge funds," he says. "They started showing up; they smell something here. And they are not in the business of handing out money because they are charitable individuals." He's right: Digital media companies have found a way to make content profitable, and are experimenting on platforms that allow them to play with the idea of storytelling in the digital age. The Huffington Post's recent launch of the visually-driven Highline series is one example.
Fittingly, Peterson says the WGAE is now focusing its energies on digital media training programs in addition to taking meetings with digital media companies. "There's a lot of interest on the parts of the writers and editors in having a voice, having a seat at the table," he says. "What they want is to be included in the decision-making, and unionizing is a way to do that."
Nolan hopes that the "radical transparency" approach Gawker took toward unionizing will serve as a model for others hoping to do the same, or who are even just curious about the process. "[What we did] showed everybody that you can do this, and you don't have to feel scared that you're going to get fired for organizing," he says.