Digital Portal Lets U.N. Visitors Step Inside Zaatari Refugee Camp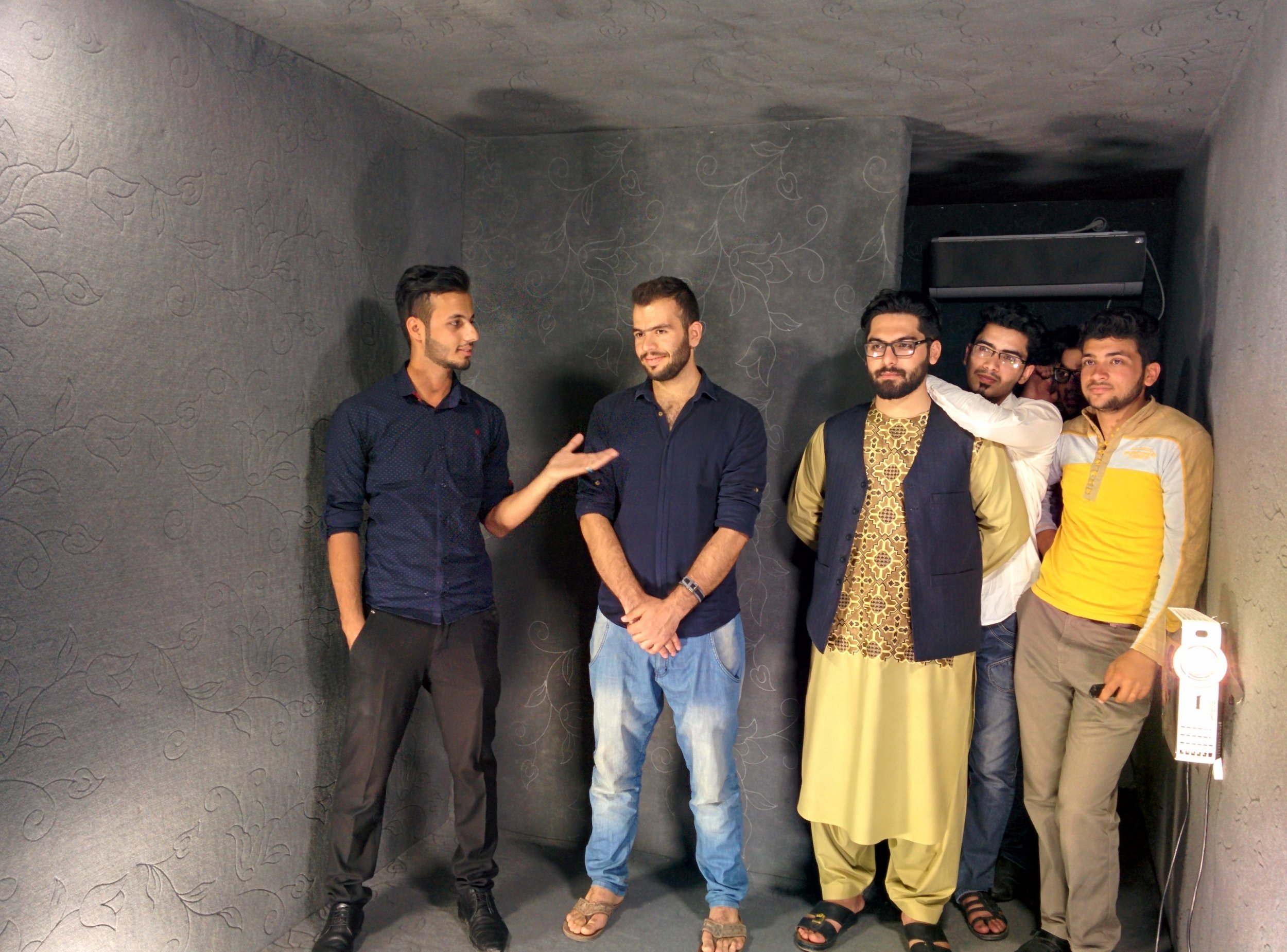 Iman, Dania and Marwa are talking about their lives in Zaatari, the largest refugee camp in the Middle East and home to more than 82,000 Syrians. Iman wants to be a journalist, Dania is focused on improving her English, and Marwa misses her three children, who live with their father in Syria.
All three stress the need to bring better education, including a university, to the camp, which is located in western Jordan near the Syrian border. All three want to go home someday.
But I'm not in Zaatari with them. Instead, I'm standing in a large booth draped with gray curtains in a tent next to the United Nations General Assembly building in New York City, wearing a pair of bulky white headphones. The three women are projected onto a screen in front of me. I'm standing before a Macbook computer and appearing on a screen inside a shipping container in Zaatari, where the women sit. We chat in real time on Wednesday morning through Portals, a project that began life as an art installation in 2014 and has since allowed strangers from around the world to talk to each other via video link.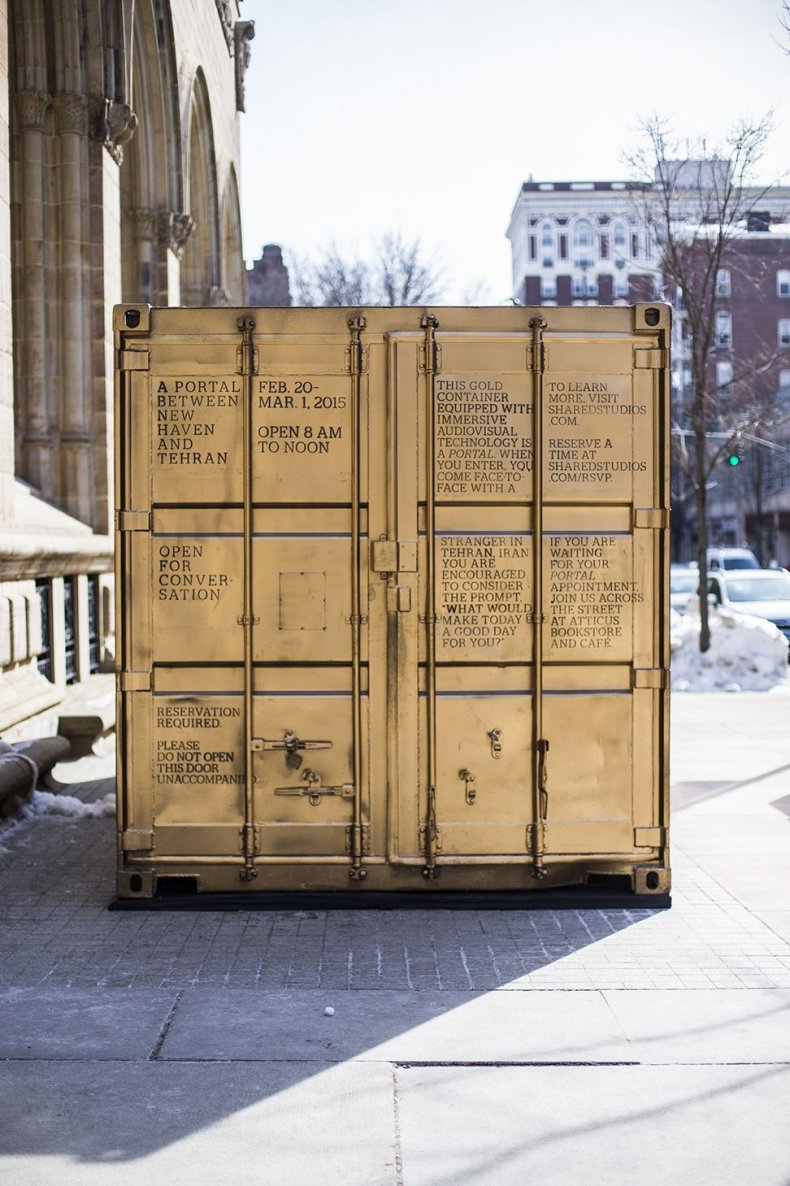 The idea behind Portals is to get members of the public to enter a space—usually shipping containers painted gold—and have a one-on-one 20-minute conversation with someone from another country they would otherwise never meet. The first Portal connected a Lower East Side art gallery to Tehran, the Iranian capital, in 2014. The project has since expanded to places such as San Francisco, Nashville, Tennessee, Mexico and Honduras; one recent Portal saw dancers at the University of Maryland connect shipping container to shipping container with young people in Herat, Afghanistan.
On Wednesday, Portals launched at the U.N. and connected to Zaatari camp for the first time.
"We don't meet people for no particular purpose very often. We tend to do it for a job or a date, but not really to just meet them, or come to know them. [It's] certainly not for 20 minutes and usually not someone so different than us," says Amar Bakshi, founder of Shared Studios, the company behind Portals. "Even though we have such incredible technologies to connect us, the days of the pen pal are long gone, and we're left with ChatRoulette. We're not left with something that has the same meaning."
The ability of Portals to channel "the empathy-building power of facing another human being" is particularly important as the U.N. gears up for its annual General Assembly meeting and world leaders, dignitaries and important decision-makers descend on New York City, says Lilian Mehrel, resident storyteller and filmmaker of Shared Studios and the Portals project.
"These are people who are making decisions, making projects and initiatives that could actually change someone's life," says Mehrel. "It's elevating the level of potential [of Portals]."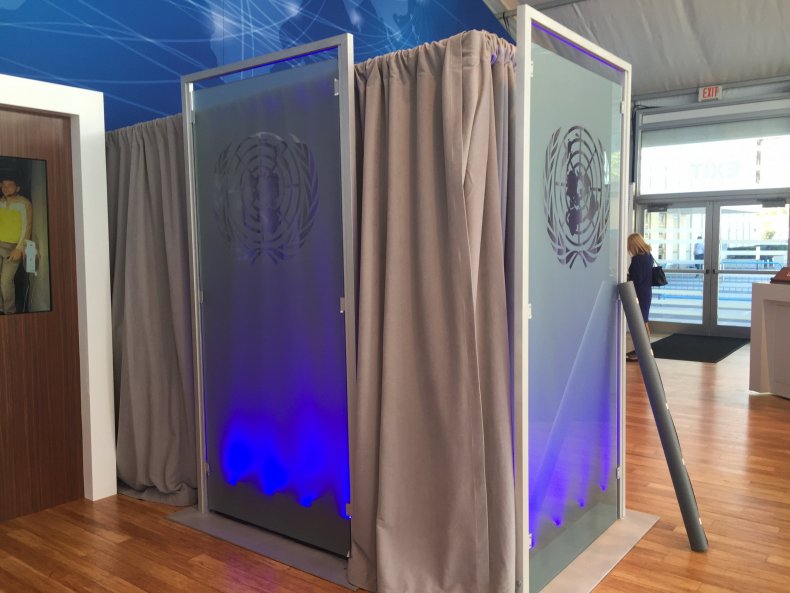 On Wednesday, I listen as the three Zaatari residents speak about what they need, how they'd like to see the camp improved and their hopes for the future. Dania, 14, wearing a patterned pink hijab, talks about wanting to be a doctor and worries about how difficult that will be without access to university. Marwa, 24, has lived in Zaatari for four and a half years and thinks the camp should offer more job opportunities. Asked what she'd like to say to the U.N. officials who might visit the Portal, Dania says, "I want them to find a solution for the Syrian crisis because we want to go back to our country."
"The biggest problem in the world is the Syria crisis," she says.
The pop-up version of Portals at the U.N. is different from its usual iteration, says Bakshi. Trying to get a large gold shipping container onto U.N. grounds wasn't feasible, so Bakshi set up a smaller version inside the We the Peoples Hub, an installation focused on social media and technology near the U.N.'s visitors entrance.
The U.N. Portal is intimate; I feel like I'm in the same room with the three women, despite the 5,794 miles between us and the occasional delay in sound. When Portal first started in 2014, Bakshi says many people emerged giddy or weeping from their conversations, a much more powerful reaction than he expected. It's easy to see why.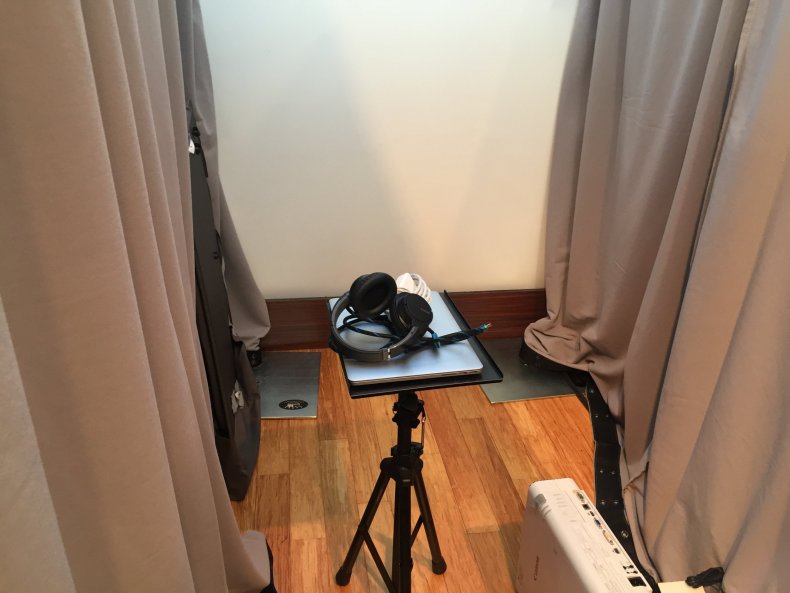 Near the Portal are four white virtual reality headsets used to show the film Clouds Over Sidra, a seven-minute virtual reality documentary commissioned by the U.N. that immerses the viewer in the sights and sounds of Zaatari, through the eyes of Sidra, a 12-year-old girl. By donning the headset and a pair of headphones, viewers take part in the daily life of the camp, including school, an all-girls soccer lesson and family meal time.
The film, which has been screened at film festivals around the world, made its way into U.N. Secretary-General Ban Ki-moon's opening remarks at the Third International Humanitarian Pledging Conference in Kuwait in March, which saw international donors pledge $3.8 billion in funds to Syria. Barry Pousman, one of the directors of Clouds Over Sidra and director of programming at Discovery Digital Networks, says virtual reality films like Clouds Over Sidra could help to fight donor fatigue in the fifth year of the Syrian war when other humanitarian crises such as those in Yemen and South Sudan are stretching funding thin.
"The world is at a point where we need a new way of telling our stories, we need a new way of messaging," says Pousman. "This is part of that exploration. Where is the effective messaging coming from, and how do we do it best?"
Experienced together in the We the Peoples Hub, the film and the Portal are powerful.
"I imagine someone entering this hub—they could be someone who actually has a hand in policy. They could be someone who could make a difference, and they will sit down and watch this immersive VR film," says Mehrel. "After they watch, they could step in the Portal and...have an actual conversation and hear from them about what their story is."
Pousman emerges from the Portal visibly moved by his experience. It was his first time in a Portal, although he says he's admired the project for a while. Within two minutes of entering, he says he felt as if he were back in Zaatari, where he filmed Clouds Over Sidra last year.
"That's a ninth grade girl sitting on the other side of that camera, and here I am having a Skype call with [her]," he says. "That is more powerful than every explainer video [about Syria] I've seen on Facebook so far."
"It makes me want to do something. It makes me want to figure out what's next. How do we get those girls back home?"