Digital Setups for the Smoothest Possible Virtual Christmas
This holiday season, many people are connecting with their loved ones via video calls. Whether it's a Zoom cocktail hour with friends or opening up presents with family from afar, we're relying on technology to get in touch—and stay in touch—with one another. Santa Claus is even taking phone calls this year instead of doing mall visits to get in touch with kids ahead of Christmas.
For some, video calling has become intuitive, especially amid the pandemic. For others (like this writer's grandma), you may still get an ear to the screen when FaceTime-ing. It's a rookie mistake, but this year more than ever, it's important to reach out during the holidays.
Here are some tips and tricks to make your virtual holiday celebration go smooth as ever.
Make sure your device is charged and/or plugged in
This one feels like a no-brainer, but this writer is notorious for not charging her devices overnight, so we thought we'd remind you too. Nothing is worse than a call cutting off because of a dying battery. Charge your phones, laptops, tablets and wireless headphones ahead of time, this way your call can go smoothly without battery-related interruptions.
Check the lighting
Although that cozy fireplace has a nice glow in your living room, it likely won't be enough light for your Zoom call. Technology website Life Size suggests utilizing natural light for a clear visual, and to sit facing a light source to avoid a "harsh silhouette effect." If possible, try to use multiple light sources, but make sure you're not overdoing it. otherwise, you'll look washed out.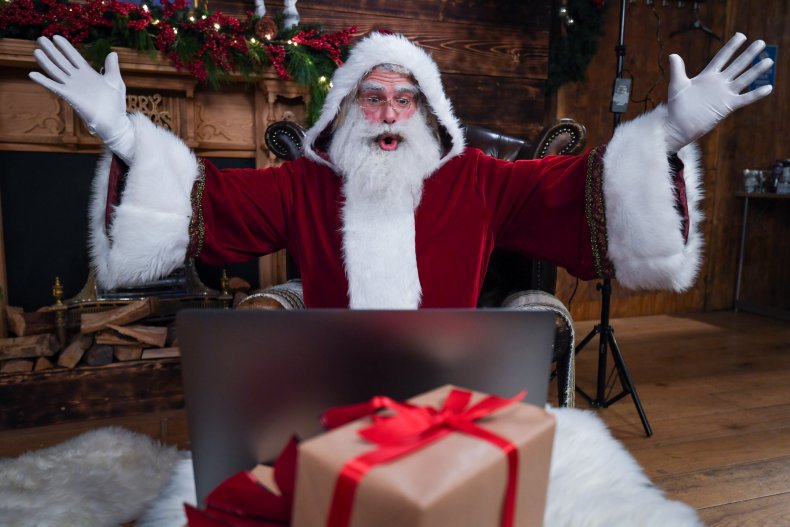 Choose the right angles
An unflattering video call angle is embarrassing, so make sure your camera is positioned at eye level. The folks at How to Geek noted that it's best to put your camera at about eye level "so you're not looking up or down," and that it will avoid any inner-nostril angles.
Check the app's time limits
Folks who use Zoom for free will find that the app won't allow video calls with more than two parties to last more than 40 minutes. Google Meet, meanwhile, can host 100 participants for an hour-long meeting for free. Apple device users can FaceTime with up to 32 people on each call, so long as everyone has an iPhone, Mac or iPad. Make sure you check your limitations before setting up a call, and update the apps to the latest versions for your device as well.
Share the meeting ID number and the password
If your video call requires an ID number and a password, make sure you include both when circulating the information with your loved ones, clearly labeled as such so there's no confusion when it's go time.
Want a virtual Christmas-themed Zoom background?
If the walls of your at-home office just aren't festive enough, you can get creative with snowy backgrounds and wintry themed images to spice up your call. To add backgrounds on Zooms, simply click the Setup gear icon in the upper right hand corner once you open the app, and select Virtual Background. You can also add your own background by clicking the plus sign above the sample backgrounds provided, and upload an image from your computer.
Happy Zoom-ing, folks!