Who Is Dina Lohan's Boyfriend, Jesse Douglas Nadler? 'Catfish' Star Nev Schulman Says He 'Found' the Mystery Man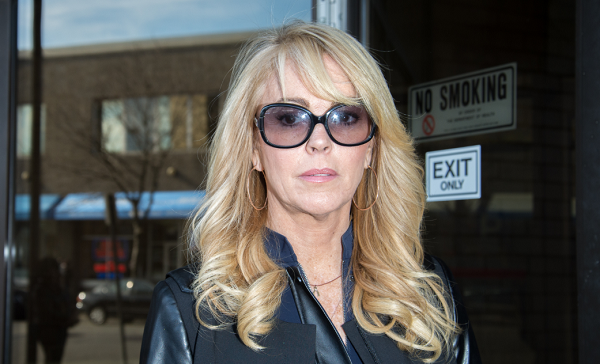 Nev Schulman is convinced he's found Dina Lohan's mystery boyfriend. The Catfish host offered his services after Lohan admitted she's never seen a man she claims to have dated for the last five years.
Schulman gave fans an update regarding his search on Twitter on Wednesday. "UPDATE: found @dinalohan's boyfriend…but his story is way bigger than I could have ever imagined," he wrote.
Lohan revealed on Celebrity Big Brother that she has never actually seen her boyfriend, who lives in San Fransisco, despite their lengthy relationship. Although she hadn't even FaceTimed the man, she claimed she was likely going to end up marrying him. She noted the couple speaks over the phone regularly.
The Long Island native detailed her long-distance relationship to cast member Kandi Burrus on an episode of the reality TV show that aired on February 7. "I've been talking to him for five years. Like, every day. A lot. You know when you talk to someone on the phone, like you feel like you know them?" she said.
"It's personal," the 56-year-old continued. "I swear, it's crazy. But I'm going to marry him. It's really, really true. I talk to his mom!"
Schulman appeared to be bewildered by Lohan's admission, and after watching the episode, he offered to help find her unknown boyfriend. "YOU GOTTA BE KIDDING ME. Let's do this!" he wrote on February 9.
The following day a man named Jesse Douglas Nadler responded to Schulman's tweet and claimed he was Lohan's mystery boyfriend. "It's true,,, and I'm the Guy," he wrote along with a selfie.
Dina Lohan's ex-husband Michael Lohan confirmed Nadler's identity, although he told Us Weekly he was actually the one to find Nadler first. "The guy reached out to me on Facebook via message. We texted for about an hour. He even sent me snapshots of his communication with Dina to prove himself true," Michael Lohan told the publication on Wednesday.
"I felt comfortable enough to give him my number, and he called. We spoke for over an hour. We got into great detail, because [he and Dina] plan on a face-to-face at the end of [Celebrity Big Brother], I feel like it's appropriate talking about this to put the rumors to rest," Michael Lohan continued. "Actually, he's a really nice guy with a good heart, and I like him. And if he makes Dina happy, I'm happy for them."
Although Michael Lohan appeared to vouch for Dina Lohan's new man, their daughter, actor and Lohan Beach Club owner Lindsay Lohan, wasn't so approving. Lindsay Lohan responded to her mother's big revelation following the Celebrity Big Brother episode by writing on Instagram: "@dianlohan so proud of you mommy! But no more weird #catfish please."