Dina Powell Is Leaving. Is Trump's National Security Team Falling Apart?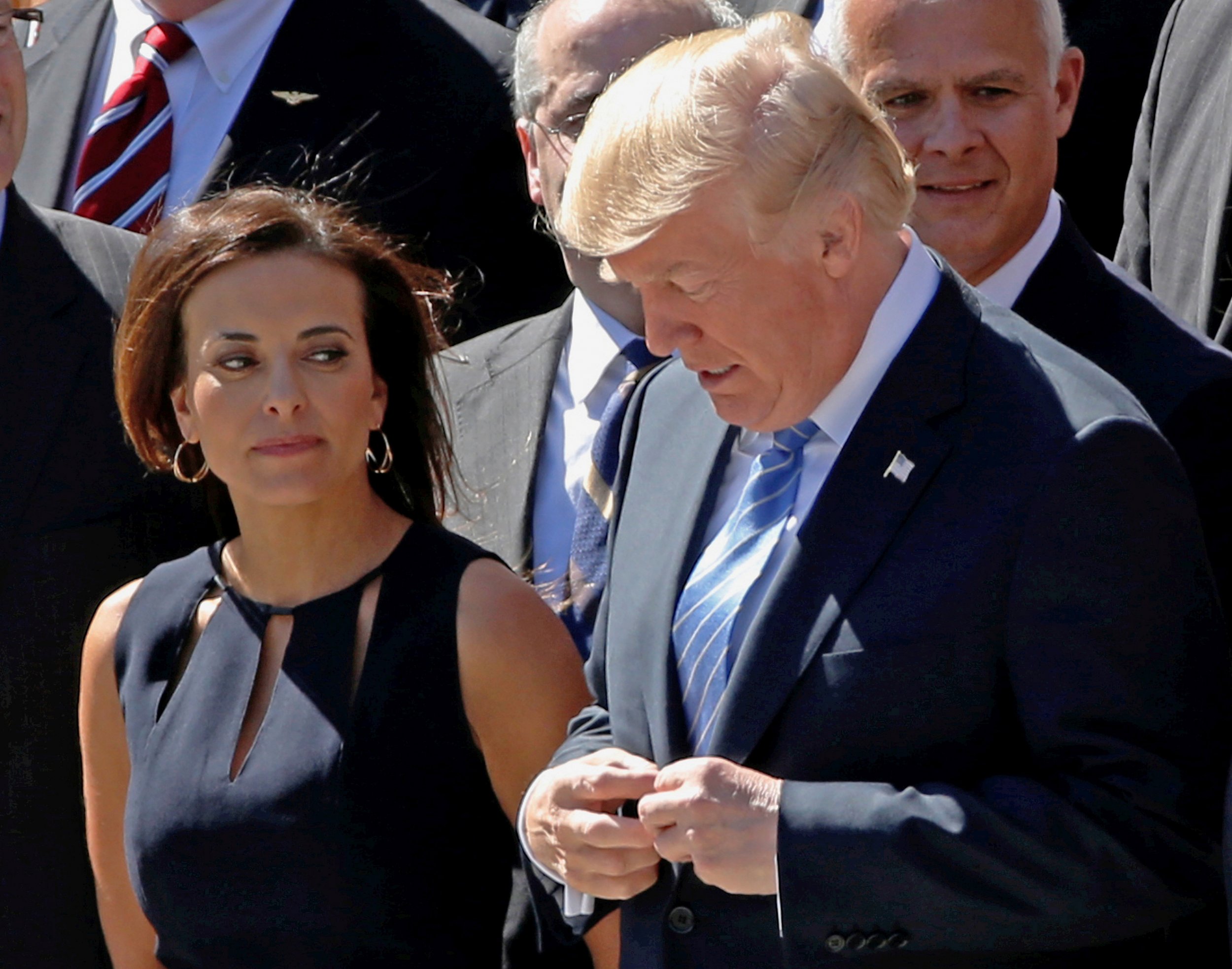 President Donald Trump's deputy national security adviser Dina Powell, who joined the Trump campaign in January and played a strong role in shaping Middle East policy, announced that she will be leaving the administration in early 2018.
"Dina Powell has been a key, trusted advisor in this administration," White House press secretary Sarah Huckabee Sanders said in a statement Friday. "She has always planned to serve one year before returning home to New York, where she will continue to support the president's agenda and work on Middle East policy. She will serve in the administration until early next year."
Powell is a well-respected figure in the administration who often travels with the president abroad and was once floated as a candidate for chief of staff. Administration officials said that Powell only planned to serve for a year, and unlike other former officials, she is leaving in good standing.
But experts say the high turnover is a sign of disorder in an administration that has yet to fill hundreds of key positions.
"From what we have seen in regards to Trump's foreign policy, the exit of key staff, including an unprecedented exit of career foreign service officers, is a demonstration of the chaos within the administration," Harrison Akins, a foreign policy expert at the Howard Baker Center, told Newsweek.
"As staff continues to exit and key posts remain unfilled, it is likely that what checks currently exist within the administration on Trump's erratic behavior may be further weakened," he said.
Recent estimates suggest that more than 250 government appointments have not been made 300 days after Trump assumed office. Many of these posts are filled by temporary Obama-era staffers. Meanwhile, experts say it has become harder to fill key positions in the Trump administration as special counsel Robert Mueller's team investigates top figures with respect to potential collusion with Russia during the 2016 presidential campaign.
"The administration has always been thinly staffed, and bringing top people in will be hard, in part because of uncertainty surrounding the Mueller investigation," Axios reported.
Powell's departure is especially problematic given the tense situation in the Middle East. Powell, who was born in Egypt, is a fluent Arabic speaker who played a large role in organizing Trump's visits to Saudi Arabia and Israel. She is also a key figure working with Trump's son-in-law and adviser, Jared Kushner, on an Israeli-Palestinian peace plan.
On Wednesday, Trump made the controversial decision to declare Jerusalem the capital of Israel, an announcement that sparked protest and violence in Palestine and outcry from leaders throughout the Middle East. Powell was viewed as a key player capable of mending fences with Arab leaders.
"When it comes to the Trump administration, Dina Powell is one of the adults in the room—an adviser widely respected for her professionalism and analysis," Chris Meserole, a Middle East expert at the Brookings Institution, told Newsweek. "Her absence will be felt acutely in the situation room, especially when it comes to the Middle East."
Keeping key figures in the Trump foreign policy team has become even more important as speculations about replacing Secretary of State Rex Tillerson have emerged. Some sources suggested that Powell's departure is the first in what is likely to be a wave of departures from the administration next year.
Nadia Schadlow, who currently works for national security adviser H.R. McMaster, has been floated as Powell's potential replacement.