Diners Watch Alleged Pizza Hut Server Double Dip at Buffet in 'Gross' Video
An alleged Pizza Hut server appeared to take repeated slurps directly from a buffet ladle in a video that has the internet squirming.
A 2009 Clemson University study on "double-dipping" backed enforcers of a single-dip policy, finding that biting a cracker or chip before dipping it again significantly increased bacteria in the dip. Researchers said the bacterial count varied depending on the dip, with salsa absorbing more bacteria than chocolate or cheese.
The COVID-19 pandemic produced a lasting impact on restaurants, many of which shut down buffet-style dining to curb the spread of the virus. Although buffets have gradually reopened across the United States, a Statista analysis in May 2020 found that 65 percent of adults said they were "not very or not at all likely" to return to a buffet after COVID-19 restrictions were lifted.
Pizza Hut diner Josh Hampton captured an alleged server eating directly from a shared ladle at the restaurant's buffet. Posted April 4, Hampton's TikTok video has amassed 1.7 million views.
"The server at Pizza Hut," he captioned the clip, which showed the employee scooping food into what looked like a takeout container.
In between scoops, she used the takeout spoon to eat off the ladle and directly from the container at least six times. Finally, she returned the contaminated ladle to the serving bowl and put the takeout spoon in the container.
"This whole place is on something," the diner muttered behind the camera. As the woman went on eating, he dumbfoundedly added, "Oh my god."
Another person near him said, "She's literally eating out of the container."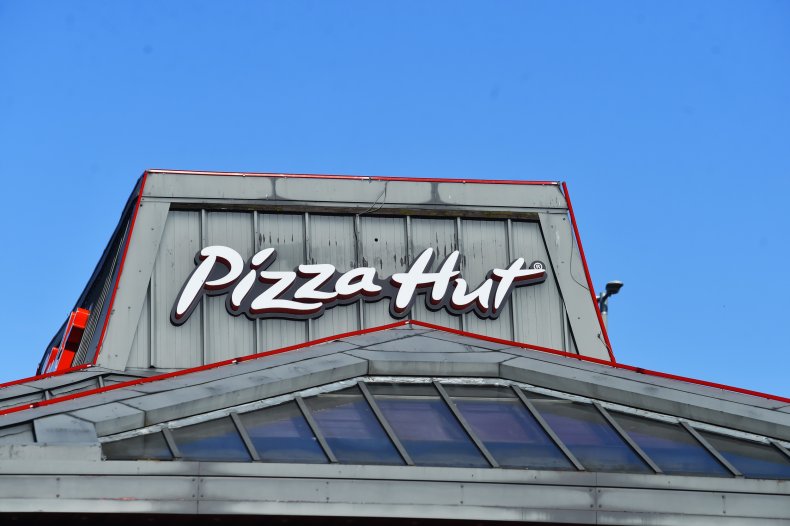 Behind the server, another customer glanced at her multiple times with wide eyes and a brow furrowed in apparent disapproval.
Viewers shared the diners' horror in Hampton's comments section, calling the employee's actions "gross" and "disgusting."
"How are people so comfortable sharing their germs," wondered a viewer who claimed to work in food service. "I literally remake the food [people] order if my finger so much as grazes the food."
"Not even worth going out and eating anymore," another person lamented. "Eat at home, you save money and it's more safe."
One commenter claimed familiarity with the incident.
"This is my hometown," wrote viewer Kellie Goode. "She was terminated immediately and everything was removed from the salad bar."
Another Pizza Hut employee went viral last year for eating over a customer's food. Meanwhile, a viral video sparked outrage over working conditions for food service employees with footage of Pizza Hut workers hiding behind a counter to eat.
Newsweek reached out to Hampton and Pizza Hut for comment.