Dinesh D'Souza Doubles Down on Ilhan Omar's 'Anti-Americanism' But Twitter Can't Get Past His Odd Earpiece: 'I Think his Earbud Is Alt-Right'
Conservative commentator Dinesh D'Douza used a recent appearance on The Ingraham Angle to make fresh charges of anti-Americanism against Congresswoman Ilhan Omar, but Twitter was most concerned about the bizarre way he was wearing his headphones.
D'Souza has made a name for himself as a contrarian, but Twitter, which has made a name for itself as an arena of mockery, was most interested in the unconventional way he was listening in on the Fox News show. The individual headphone he was wearing was literally back to front and upside down.
"I think his earbud is alt-right," one social media user wrote. "What's that? I can't hear you," proffered another, posting a picture of D'Souza wearing the offending earpiece. Many of the responses were pictorial. One image posted in reaction was a picture of the headphone being worn correctly. "For your edification," the caption read.
D'Souza had appeared on Fox News host Laura Ingraham's show ostensibly to comment on the freshman intake of Democrat members of Congress. However, the filmmaker used the time to launch a broadside against Minnesota Rep. Omar. The Somali American congresswoman has become a lightning rod for criticism from the right after videos edited out of context were shared online, appearing to show her underplaying the severity of the 9/11 attacks.
President Donald Trump also tweeted edited footage of the speech Omar made at the Council on American-Islamic Relations (CAIR) last month interspersed with footage of the 9/11 attacks
"Her statement left genuine doubt. If a reasonable person was listening to her, let's say from Mars with no background, they'd not be able to tell if she was on the side of the victims of 9/11 or the perpetrators," D'Souza said.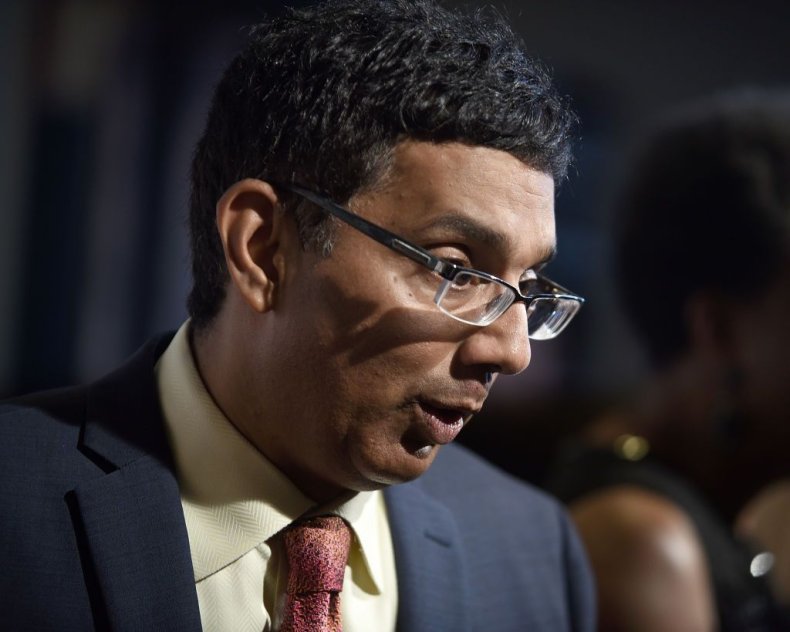 "This is an assault on the country as a whole. The suspicion of anti-Americanism seems to have had some legitimate basis. And look at the way the left is protecting her, circling the wagons and making it look like Trump was the bad guy even though nothing could be more accurate than a commercial that merely juxtaposes her actual words with what happened on 9/11?" the commentator added.
D'Souza's fellow panelist on the show, former aide to Senate Minority Leader Chuck Schumer, Chris Hann, denounced him as a "propagandist" for the comments, saying the conservative commentator was looking to "demonize people on the left who come up with ideas."
Many in the Democratic party have defended Omar following the attacks from the right, including House Speaker Nancy Pelosi and Vermont Senator Bernie Sanders, who called her "a leader with strength and courage."