Florida School Shooting Survivor Hits Out at Right-Wing Pundit Dinesh D'Souza for Mocking Grieving Students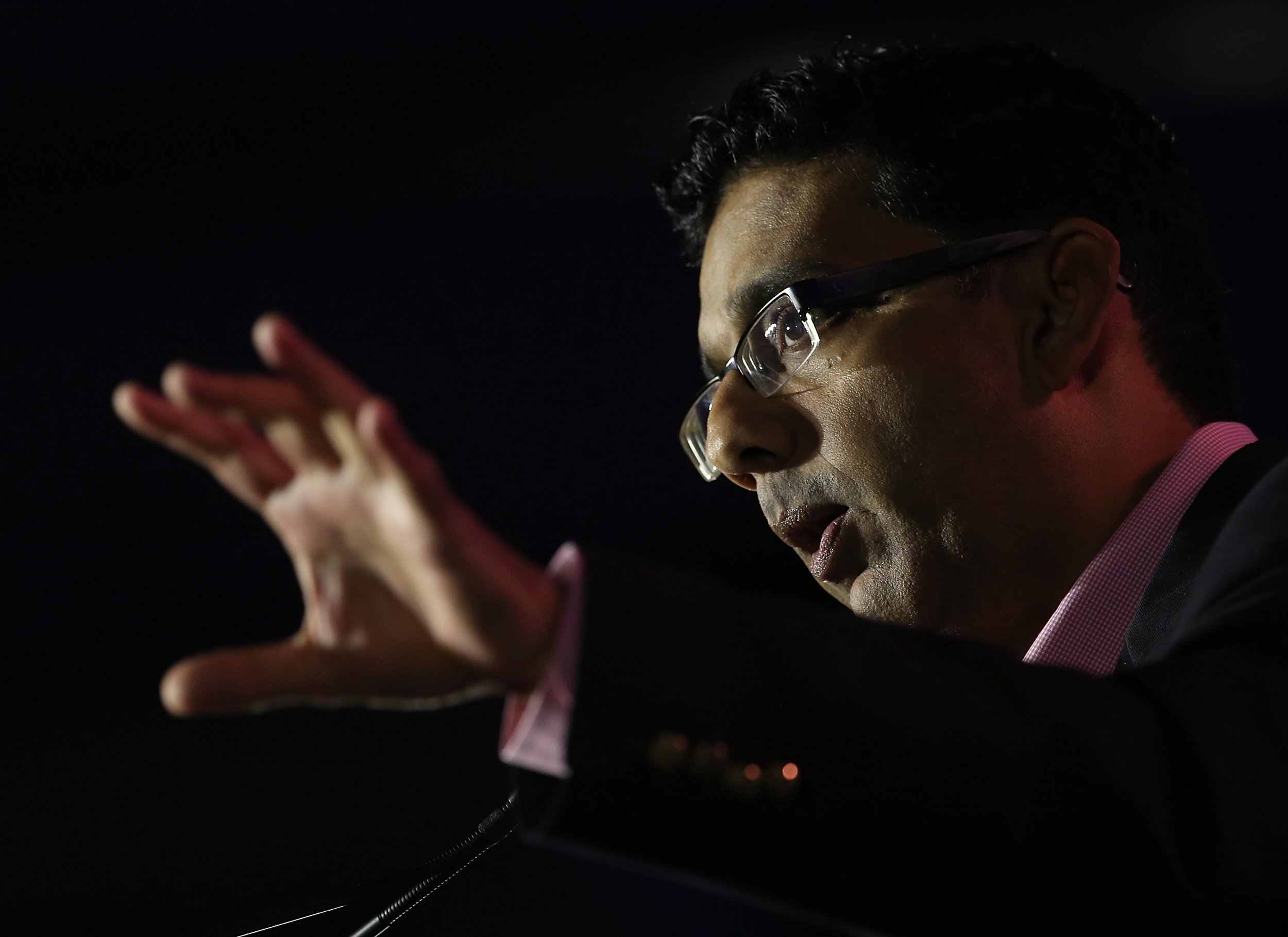 Updated | Conservative right-wing pundit Dinesh D'Souza has sparked outrage after appearing to mock survivors of the school shooting that left 17 students and teachers dead in Parkland, Florida last week.
In response to Florida lawmakers voting down a ban on assault weapons after the mass shooting, D'Souza shared a photo of survivors' shocked reactions to the vote on Twitter, with the caption: "Worst news since their parents told them to get summer jobs."
Before that tweet, D'Souza had also written: "Adults 1, Kids 0," in the wake of the vote. He also appeared to accuse the survivors of "politically-orchestrated grief" as they mourn the deaths of their classmates and teachers.
"Genuine grief I can empathize with. But grief organized for the cameras—politically-orchestrated grief—strikes me as phony & inauthentic," D'Souza wrote.
One survivor of the shooting, a student named Sarah Chadwick, hit back at the pundit, writing: "Actually for me the worst news I got was that 17 people died in my school. One of my best friends was shot twice. And many more were injured. But sure keep making us look like we don't know anything when in reality what we're doing is much much much bigger than you can imagine."
Chadwick was joined by dozens of others who condemned D'Souza's statements as "disgusting," "heartless" and "evil" and called the pundit a "trash human being" and "jailbird little creep" among other things.
Even conservatives were quick to condemn the pundit's comments, with organizers of the 2018 Conservative Political Action Conference distancing themselves from him, saying D'Souza's profile had been removed from its speakers list and calling his comments "indefensible."
D'Souza did not immediately respond to a request for comment.
Almost around 15 hours after his initial tweet, however, the author and filmmaker apologized for being "insensitive to students who lost friends in a terrible tragedy," however.
D'Souza served as a policy adviser to the Reagan administration between 1987 and 1988.
He describes himself on his website as a scholar, writer and public intellectual. Last year, he published a book titled The Big Lie: Exposing the Nazi Roots of the American Left​, in which he accuses the left of using "Nazi bullying and intimidating tactics" and of subscribing to a "full-blown fascist ideology."
Read more: Right-wing pundit Dinesh D'Souza visits Bannon and Gorka in White House to tout new book
He is also a filmmaker, having produced a series of political documentaries about former President Barack Obama and former presidential candidate Hillary Clinton.
In 2014, D'Souza was convicted of making illegal contributions in a New York Senate race. At the time, he suggested the prosecution was politically motivated as a result of his 2012 documentary film 2016: Obama's America, which the Obama administration called "an insidious attempt to dishonestly smear the president."
Last August, D'Souza was welcomed at the White House, where he visited the West Wing to meet with former senior political strategist Stephen K. Bannon and Sebastian Gorka. President Donald Trump, who was set to embark on a 17-day vacation at the time, did not meet with the pundit during his visit.
This story was updated to include an apology from Dinesh D'Souza for previously tweeted comments.