Dinesh D'Souza, Recently Pardoned By Trump, Says He's Not As Bad As Jeffrey Dahmer
In a Tuesday discussion regarding his recent pardon on CNN, conservative author and filmmaker Dinesh D'Souza said his campaign finance crimes were not as bad as the crimes of notorious serial killer Jeffrey Dahmer.
President Donald Trump pardoned D'Souza last week for a federal charge he pleaded guilty to—making an illegal campaign contribution in 2014. D'Souza's punishment was five years of probation with eight months served in transitional housing and community service.
D'Souza, despite pleading guilty, has maintained that the charges were politically motivated because of his conservative politics. Several of the people involved in the case were appointed by democrats including the judge, Richard Berman.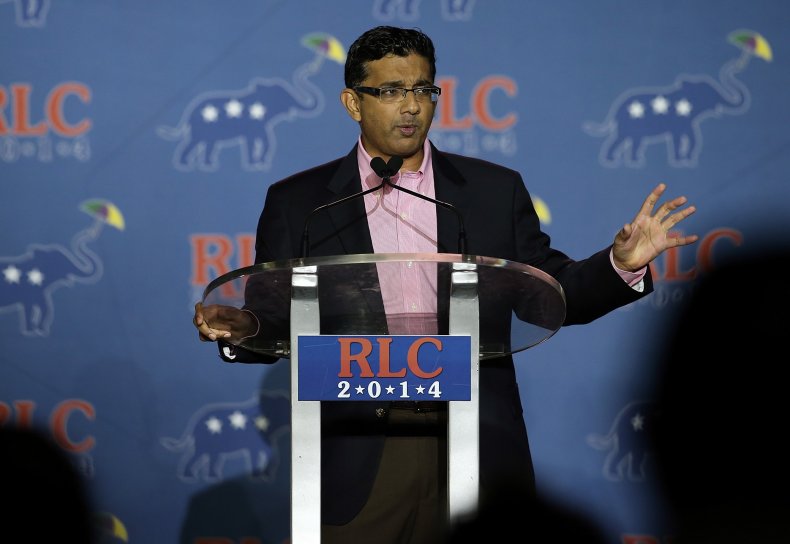 "Well, first of all, Judge Berman is a Clinton appointee who, among as part of my sentence sentenced me to mandatory psychiatric counseling. I mean what could be crazier than that? Am I Jeffrey Dahmer who put bodies in the refrigerator? I gave money to a college friend of mine who was running for office," D'Souza said on CNN's New Day.
Dahmer was an American serial killer who murdered at least 17 people over the course of 13 years. He often engaged in necrophilia and photographed his acts.
Trump maintained that he felt that D'Souza wasn't treated properly in his pardoning tweet.
"He was treated very unfairly by our government!" said Trump.
D'Souza has been a controversial conservative commentator for years. He was disinvited from speaking at the Conservative Political Action Conference earlier this year after he made fun of the student survivors of the deadly Marjory Stoneman Douglas mass shooting in Parkland, Florida. When the state's legislature failed to pass an assaults weapon ban, D'Souza took to Twitter with the high schoolers in mind.
"Worst news since their parents told them to get summer jobs," D'Souza wrote. He later apologized for the tweet.
D'Souza, who has been a harsh critic of former President Barack Obama, was questioned about his principles by the show's host Alisyn Camerota.
"Obama's father was a philandering, inebriated African socialist as a matter of fact," said D'Souza, referencing an old tweet.
Camerota asked D'Souza if he was against philandering, which gave D'Souza pause. D'Souza is an avid supporter of Trump who has been accused of at least two alleged affairs. D'Souza also resigned from being president of a King's College amid a scandal in which he was spotted entering a hotel room with a woman who wasn't his then separated wife in 2012.