Dinesh D'Souza Reveals What Trump Told Him During Pardon Call
The controversial right-wing filmmaker and pundit Dinesh D'Souza told Fox & Friends that President Trump urged him to "be a bigger voice than ever" in a call informing him he'll be pardoned for his felony conviction over making illegal campaign contributions.
D'Souza was sentenced in 2014 to five years probation, with eight months spent in a community confinement center, after funneling his money through other people to make Senate campaign contributions above the legal limit for individuals to any one candidate.
He pled guilty, but claims it "a vindictive political hit" in response to his highly-critical 2012 film about President Obama, 2016: Obama's America, which, in turn, was derided by critics as character assassination.
Trump chose to pardon D'Souza, a vocal supporter of his, saying he had been treated "very unfairly by our government."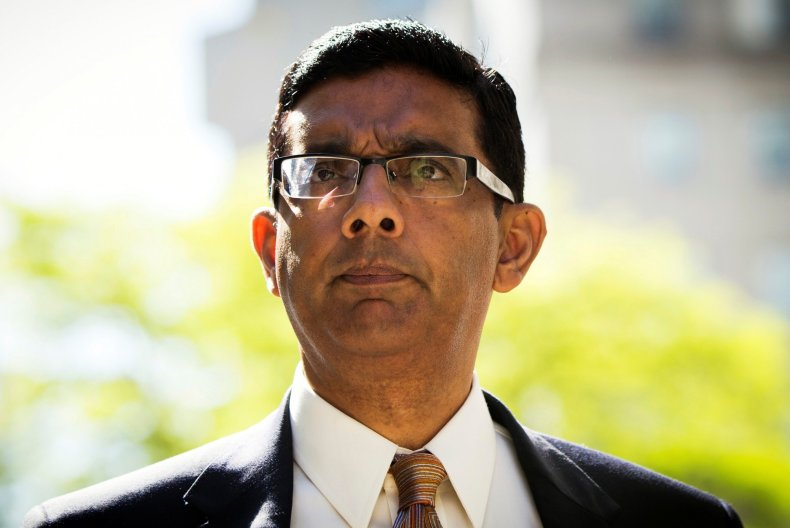 D'Souza told Fox & Friends that he did not know Trump was about to call personally call him to announce the pardon.
"I was in my office just working away and the operator came on the line and said is this Dinesh D'Souza. Yes. Hold the line for the President of the United States. And there was Trump," he said.
"And the president said Dinesh, you've been a great voice for freedom... he goes I've been looking at the case. I knew from the beginning that it was fishy. But he said upon reviewing it a great injustice had been done and that using his power he was going to rectify it, clear the slate.
"He said he just wanted me to be out there, to be a bigger voice than ever defending the principles that I believe in."
The conservative, who his critics accuse of spreading conspiracy theories, and who in one book blamed the "cultural left" for 9/11, said the penalty for his conviction was not proportionate to the crime.
"So what happened here is that Obama and his team... these guys decided to make an example of me. And I think the reason for this is Obama's anger over my movie that I made about him," he claimed.
"And so this was a vindictive political hit that was kind of aimed at putting me out of business, essentially destroying my credibility, making it impossible for me to make movies, write books. In that sense, it failed. But it still left a cloud over me.
"I would be a lifelong felon, I would never be able to vote, and never have my full rights. So I'm very grateful to President Trump for giving me those rights back."
D'Souza described being locked up with 120 "hardened felons" as an "eye-opening experience" but that he "came out of it fine."
"In some ways, I think temperamentally, emotionally, I'm even stronger than I was before and I've learned a lot. So I don't in that sense regret my experience," he said.
Most recently, D'Souza apologized after appearing to mock Parkland school shooting survivors campaigning for gun control and accusing them of "politically-orchestrated grief" that was "phony & inauthentic."
Dinesh D'Souza Reveals What Trump Told Him During Pardon Call | U.S.