Right-Wing Pundit Dinesh D'Souza Visits Bannon and Gorka in White House to Tout New Book Comparing Liberals to Nazis
In his new book, The Big Lie: Exposing the Nazi Roots of the American Left, conservative commentator Dinesh D'Souza counterclaims President Donald J. Trump represents the rise of authoritarianism in the United States. Far from it, D'Souza writes, casting the very same charge back on the left: "They are the ones who use Nazi bullying and intimidating tactics and subscribe to a full-blown fascist ideology." In his telling, little separates American liberalism from the murderous ideology of the Third Reich.
On Friday, D'Souza brought his angry excoriation of the Democratic Party and the greater political left to the White House. While there, he met with two of the most far-right members of the West Wing: senior political strategist Stephen K. Bannon and Sebastian Gorka, an anti-terrorism expert of questionable credentials who has largely devoted himself to attacking the mainstream media on Fox News.
Related: "Devil's Bargain," about Steve Bannon, is addictive, if not definitive
Christina Wilkie, politics reporter for Center for Public Integrity, appeared to be the first to notice that D'Souza had tweeted about the meeting.
D'Souza deleted those tweets, but then, as news of his meeting spread through social media, he retweeted a picture of himself with Bannon and sent additional tweets about the meeting.
Bannon has been accused of fascist tendencies, which reportedly include a fascination with Italian thinker Julius Evola. He was also accused of making anti-Semitic statements by an ex-wife. Gorka, meanwhile, is believed to have once belonged to a far-right Hungarian organization with Nazi sympathies.
D'Souza is a native of India who attended college at Dartmouth, where he was a contributor to The Dartmouth Review, a publication that helped start the campus conservative movement in the 1980s. One of his colleagues at the Review was Laura Ingraham, the right-wing pundit some believe may be in the running for a White House communications job. And in his memoir of the Great Recession, Stress Test, Obama-era Treasury Secretary Timothy F. Geithner recalls that he once encountered D'Souza "at a coffee shop and asked him how it felt to be such a dick."
Later, books like Illiberal Education and The End of Racism suggested that D'Souza might inherit the mantle of William F. Buckley Jr., as the intellectual leader of mainline conservatism. Instead, D'Souza embraced the far-right ideology that has vastly increased his fame, even as it has diminished his reputation with the Republican establishment.
His attacks on President Obama were especially vitriolic, in seeming solidarity with the more extreme elements of the Tea Party movement. In 2010, D'Souza published a Forbes cover story that argued Obama was in the grip of "Kenyan, anti-colonial" ideology, as former House Speaker Newt Gingrich approvingly described the central thesis. Two years later, he released a film, 2016: Obama's America, an awkward polemic that nevertheless found significant popularity with the right.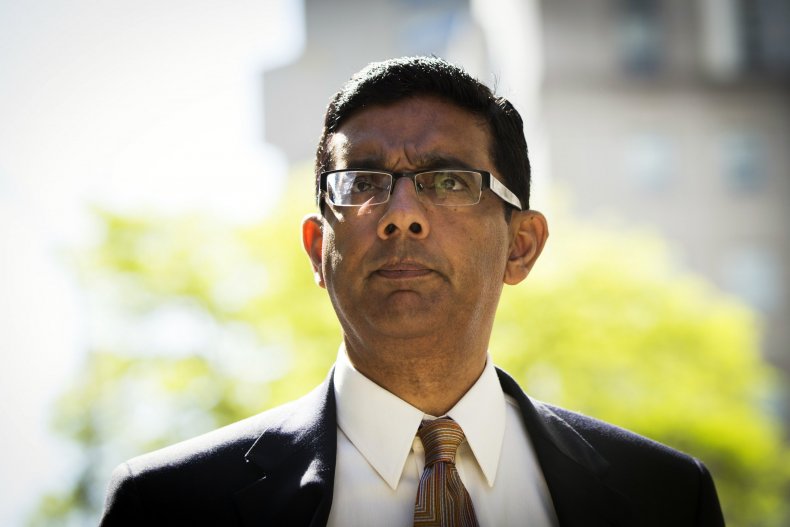 In 2014, D'Souza was convicted of making illegal contributions in a Senate race in New York. He suggested the prosecution was politically motivated by the Obama administration. While living in a confinement center in San Diego, D'Souza told Evgenia Peretz of Vanity Fair that he was toiling away on a "secret history" of American liberalism. The Big Lie appears to be the fruit of those efforts.
D'Souza arrived at the White House just as Trump was about to embark on a 17-day vacation. Although he did not meet the president, his appearance there underscores the continuing grip of divisive political rhetoric on the White House.