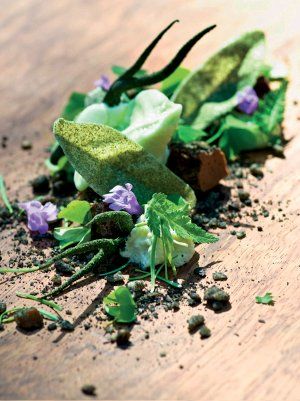 My first encounter with Nordic cuisine was in Iceland, where over the course of a wintry week two years ago, I tried whale, reindeer, and hákarl, shark meat that is left to rot in the ground for two months and dried for a few more. (The recommended chaser? A Brennivín schnapps, lovingly called the "black death.") Reeking of ammonia, the national dish came to represent the sort of strangely gimmicky palate I associated with North Atlantic fare.
So when I spent a long weekend in Copenhagen last month, with thoughts of enduring lutefisk and pickled herrings, my stomach initially gurgled in fear—at least until I learned that the world's best restaurant is in this fairy-tale town. In a prestigious annual poll of food critics and chefs earlier this year, Noma, which opened in 2003 and pioneered the concept of the New Nordic kitchen, snatched the top slot.
Noma's anointment marks a coming-out party for Danish gourmet dining. In the citation for the coveted prize, the judges declared, "Copenhagen is no longer the last stop on the gastronomic subway." Not that this town ever was the last stop for those in the know: after all, it boasts the same number of Michelin-starred restaurants as foodie destinations like Madrid and Berlin, and more than Amsterdam, Milan, or Venice. And while Nordic countries have had the occasional shooting star—Chez Dominique in Finland and Sweden's Mathias Dahlgren and Oaxen Krog—Copenhagen's roster has, hands down, the most depth and variety.
With the food scene here fast on its way to going global, my friend Leigh and I decided to devote the first 24 of our precious 48 hours in Copenhagen to stuffing ourselves silly, starting with Noma. Chef and locavore René Redzepi sources every ingredient—except the chocolates and coffee—from Scandinavia, Greenland, and the Faroe Islands. Dishes tend to be heavy on seafood and cured meat, such as pike perch with unripened elderberries and sautéed langoustine served on a hot rock, with whimsical imports, like a Danish play on macaroni and cheese, tossed in for good measure. In a food lab in a houseboat down on a canal, Redzepi experiments with such oddities as vintage carrots and "potato caviar."
The restaurant features just 12 tables, so it wasn't surprising that we couldn't get a reservation until sometime around Valentine's Day. I was really looking forward to seeing the place, inside a former 19th-century warehouse right on one of Copenhagen's iconic canals. Noma is legendary for its personification of the Danish concept of hygge, a hard-to-translate term akin to coziness that involves fine wine, candles, and good company.
For lunch, we decided to visit Herman, chef Thomas Herman's elegant abode in the devastatingly stylish boutique Hotel Nimb. With a view of Tivoli Gardens, the city's historic amusement park, the restaurant packed just as much punch in its food. Indeed, the seven-course meal had almost too much of a wow factor, with dishes I'd call performance pieces rather than items of sustenance. Herman's avant-garde streak comes through in his delicate flirtation with flavor, using emulsions (cucumber), gels (seaweed), and even artificial snow (asparagus). Meanwhile, the presentation bordered on the psychedelic: an amuse-bouche came on a polished piece of rock that functioned like a giant spoon, and one of the soups became a footnote to the vessel it came in, which poured out smoke for several minutes from dry ice.
After the meal, which lasted for almost three hours, we stumbled across Tivoli to the Paul, celebrated chef Paul Cunningham's Michelin-starred creation, housed in a hygge-fied all-glass structure. He had just returned from a weeklong stint as a guest chef at a Shanghai hotel, and was also in the middle of launching his fifth cookbook. But the jolly Briton gave us some marinated-black-plum-with-olive-oil sorbet and took a few minutes out of his daily staff dinner to tell us the story of the time he was forbidden from approaching Bill Clinton in his own restaurant; ignoring the wish of the former president's aides, he struck up a conversation with Clinton and gave him one of his cookbooks. Weeks later, Clinton sent him a handwritten note saying he was getting the cookbook translated into English by his staff.
For dinner, Leigh and I journeyed into the fantastical world of Mielcke & Hurtigkarl, possibly the only fine-dining establishment in the world to feature cockroaches on its wallpaper, hallucinogenic destination bathrooms, and a three-hour soundtrack of, among other noises, insect chirps. Jakob Mielcke, one of the two head chefs, is an experimentalist like Herman. One of our courses was a carrot "patch" in which the "dirt" was edible coffee grounds, although I don't recommend taking the edible suggestion literally.
But the weirdness was hit or miss: while the pumpkin-and-sea-urchin ravioli came together surprisingly well, the beetroot clashed with the white chocolate it was served with. And for the price of a dinner for two ($700, including wine pairings), you might as well buy the ingredients and go wild in your own kitchen, with money left over for new pots and pans. It wasn't until the next night, when we revisited Tivoli in all its Christmas glory, that we came upon something we could finally understand: Danish pastries.