Dior Faces Future With the Earned Aplomb of a Fashion Icon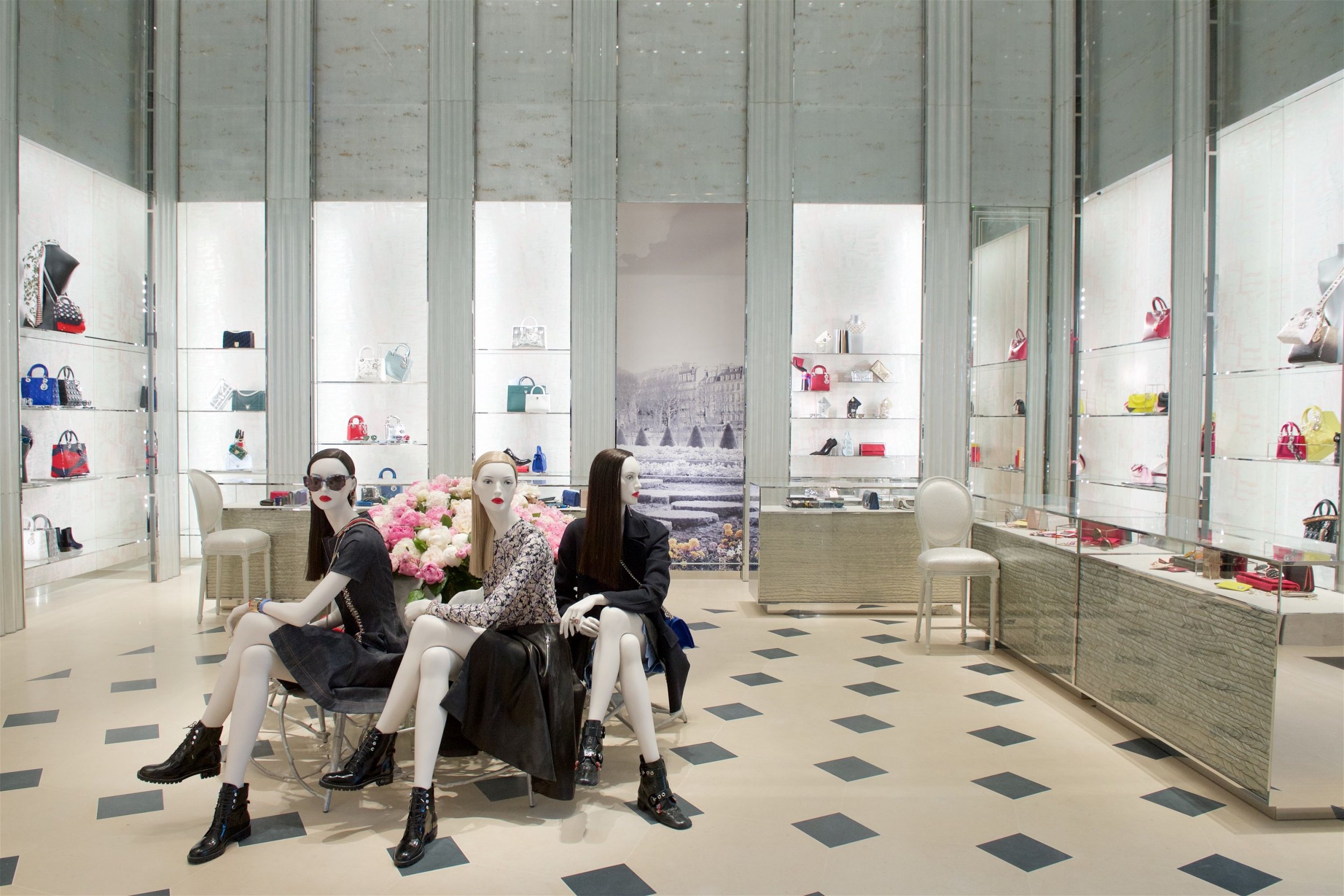 Sidney Toledano, president and CEO of Dior, likes to tell this story about his boss, Bernard Arnault, chairman of LVMH, the parent company of Dior. "Monsieur Arnault took a cab one day in New York, and he was chatting with the cab driver," Toledano says. "The driver knew about Monsieur Dior, even if he did not know the name of the president of the French Republic." To Toledano, the story explains how the famed Paris couturier is more than a mere fashion house.
Just how much more becomes apparent when one visits the new store Toledano opened on London's Bond Street in June. "We decided to represent the whole world of Dior: Baby Dior, homeware, menswear. So we put everything under one roof, like we have on the Avenue Montaigne, but with more space because we wanted to have more VIP rooms. Because for our kind of products, people love to be served for two or three hours."
Another reason for the scale of the new shop is "because our clients come often, they want to discover more." And there is certainly plenty to discover: room sets, backgammon sets, alligator skin men's overcoats, handbags designed by Marc Quinn, museum-quality artwork (including pieces by Quinn and Tony Cragg), hand-stitched pillows and, yes, even some ladies' shoes and dresses. This location dwarfs even the brand's main store on the Avenue Montaigne.
London is not the only site of Dior's retail expansion: Last year, the company opened a huge Dior building in Seoul, South Korea, with a top floor café in collaboration with pastry chef Pierre Hermé. Next year, a shop the size of the London store will open in Japan. The economic outlook may be uncertain. The world seems to be moving online. And yet, Dior is investing in bricks and mortar.
Toledano acknowledges the power and importance of the internet, but he also believes in the importance of individual experience, which is why he is particularly proud of the homeware department. "People invest a lot in interiors; they have the fashion, they have the bag, they have the shoes. The next step is what? The next step is inviting friends home and decorating." The stock in London is different from the stock in Paris, which helps create a sense of uniqueness often absent from big, famous-name flagship stores.
Christian Dior, the company's founder, worked for just 10 years before he died—and yet the company he created is now arguably the world's best-known fashion house. That's partly because Dior was about much more than making dresses for society women. Instead, he behaved like a modern brand: He sold fragrances, men's accessories and interiors; he went on frequent promotional tours overseas; he opened shops outside France; even the art in the new store can be traced back to Dior's time as a gallerist in the 1920s.
"Dior started in '47. If you see images of Paris in '45 and '46, it is not the Paris we see today," says Toledano. "I was born in Morocco, in '51, but I remember when he passed away in '57. I was 6 years old. It was a big moment, even in Casablanca, where he was represented"—and where Toledano's mother was a client. "Dior represented French elegance, femininity and the joy of France after the war." It has done so ever since.
Governments come and go, but Dior remains. So as well as running a global business, Toledano finds himself the custodian of a national monument. But he insists that haute couture, which today represents a fraction of the business, is more than just a heritage activity. He likens it to Formula One: "You don't sell F1 cars every day, but you learn from F1."
Haute couture is essential to the creative process that defines the company. He says that a 15-minute fashion show costs him more sleep than a multimillion-dollar, five-year-long project such as the Bond Street store. "The day before the opening, you check that everything is fine, the merchandise in the windows, the lighting and so on. But a show, even with a talented designer, even somebody that everybody loves, is a risk. It's more stressful, because you have 15 minutes to convince people. With the shop, the following day you can fix it."
The memory of his first show as CEO of Dior is still fresh. "It was July '98, and I was appointed in May." The idea was that the spring-summer show would involve a steam train and take place in the Gare d'Austerlitz. The show was late to start. "Finally, after two hours you see John [Galliano] on the locomotive. The image was fantastic. The train stopped, and all the models got out. It was five minutes of magic. It was a very accomplished collection. That moment is locked in my brain but not only mine—it is a moment in the history of fashion."
Galliano's career at Dior came to a squalid end after he made anti-Semitic comments in a bar in Paris. Toledano handled the Galliano debacle with aplomb, but then difficult decisions are part of the job. "Talented people often mean high maintenance. If you expect low-maintenance and talented people, you're dreaming. So you have to be ready for that." His past experiences might explain why he is taking his time to hire a new designer after the departure last year of Galliano's successor, Raf Simons.
Toledano has a busy year ahead. As well as appointing a new designer, he will oversee the celebrations for the 70th anniversary of the founding of Maison Dior, and he says the company will open a new high-end jewelry store and undertake a major refit of its main boutique in Paris. After the excitement surrounding the London store, he is keen to focus attention on where it all began. "Paris is our home. We have the atelier just above this ceiling here," he says, pointing upward, "and when I go there, I smell the Paris I discovered in 1958, when I came to the city for the first time." It is, he says, a feeling shared by the designers who are perhaps the real heroes and heroines of Dior. "They are not all French people," says Toledano. "They come from different countries. But it's like everybody feels the power of la France that we love."